March 2011

March 18, 2011 - Port Ghalib, Egypt
Welcome to Egypt! It's hard to even express how happy we are to be back together and in the "safety" of Egyptian waters. The past month has been filled with stress, anger, worry, anxiety, and finally relief and we are happy to have it behind us. Although Egypt may not sound "safe" to most of you seeing the news every day, to us it is a welcome change.
For the kids and I the trip to Egypt was relatively uneventful, although interesting. As we waited in line for our flight in Muscat, an older Egyptian man waiting ahead of us in line asked, "Where are you from?" When I said America, he smiled and asked if I was flying through Egypt. I replied, "No", that we were going there on holiday. He smiled broadly and said "Really????" which I think was a combination of shock and happiness. I do believe that we are the only Americans flying "into" Egypt right now. But for us, we were just excited to be going home to Marc and Imagine.
We were also introduced to the wonderful world of baksheesh in Cairo airport. Baksheesh is the Egyption form of tipping but it can also mean "bribe" or just plain give me a handout. Although I had read about the practice I really didn't expect to see at the airport and especially not from the workers at the security check point. We were the only passengers going through security when one of the workers tried to tell me that I couldn't take my power cords on the flight because I could strangle someone. I know that I don't travel much but I doubted that this was the case. He quickly told me in very broken English that he would let me pass for a little - rub your fingers together sign for bribe. I very politely told him that I didn't feel comfortable doing that but that I'd be happy to take my bag back to the counter and check it. Well, he didn't like that and told me "No". After I stood my ground and kept telling him that I didn't have any money, he let me pass. Wow, this will be interesting…
We had a 7 hour layover in Cairo which drove home the sorry state of tourism in the country that relies so heavily on it for a large part of its economy. The domestic terminal in the Cairo airport was a ghost town. Looking at the flight board we observed that over half of the flights to the major tourist destinations in Egypt were cancelled. Literally hours would go by in the airport where we saw only a handful of other tourists. It seemed as though there were more workers than travelers walking the empty corridors. For us, we are going to look at the positive side of th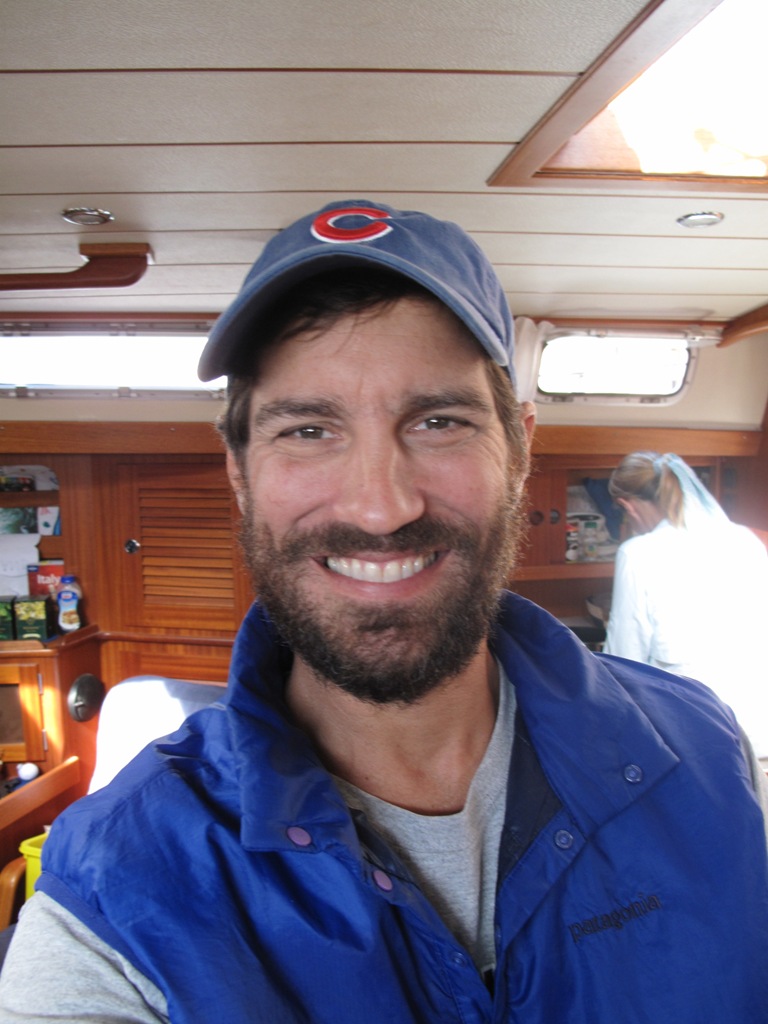 e situation and enjoy Egypt without the crowds.
Our homecoming couldn't have been more perfect. Marc and Mike braved the strong wind and big seas on the nose to get to Pt. Ghalib before we did. We were so surprised that Marc was at the airport waiting for us when we arrived. The kids spotted him first and ran out of the terminal into his arms. He looked great – happy, relieved, and well fed (Mike is a good cook), although with his shaggy beard, we almost mistook him for a local Egyptian man.
Port Ghalib Marina area is a very interesting place. It is not really a town but more of a tourist complex with 4 hotels (although only one is open right now due to lack of tourists), many western restaurants (Pizza Hut, TGI Fridays, etc), shops, and even a bowling alley. It is clean and nice but lacks in any Egyptian charm and has no real services for cruisers, such as, grocery stores, chandleries, etc. For us, though it was a great place to get together, relax, and get used to being back on Imagine. The dock itself is med-moor style and very new and nice.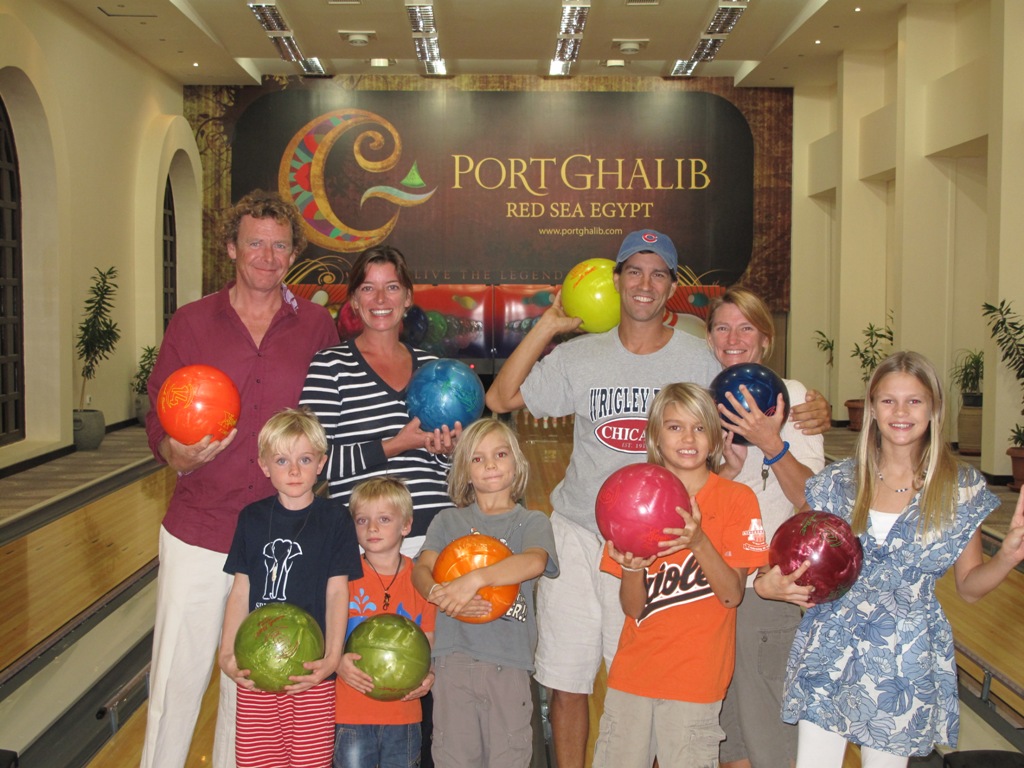 We are here with our friends, Jason, Amanda, Jean Jacque (age 6), and Louis (age 4) from the UK boat Pegasus. We are the only cruisers here who have come from the GOA. Most of the other boats are still in Sudan escaping the weather but Marc and Jason had reunions with their families pushing them on despite the foul weather.
The first order of business was to get Imagine back into shape. Although the men did a good job trying to keep her picked up, they had a few more important things on their minds like dodging pirates and cleaning and organizing weren't high on the priority list. So she desperately needed some Spring cleaning…..massive amounts of laundry, cleaning and defrosting freezer and refrigerator, and cleaning everything inside and out. It took us a few days but she is starting to look good. The second order of business was making Marc shave. After two months, he shaved off the beard. Don't worry, we do have razors on the boat, Marc just decided in the Maldives to rebel and refuse to shave until he was in Egypt. I'm not sure if it was a ploy to make the pirates think that he was one of them, but all I know is that it is sooo nice to have my clean shaven husband back.
We visited the tourist shops in the area. Since there is no real town here, the men who work in the shops are brought in from other areas in Egypt and live in the workers quarters at the complex. There were very few tourists in the complex right now so the shops were virtually empty. We did get a first-hand lesson in Egyptian Sales 101. First of all,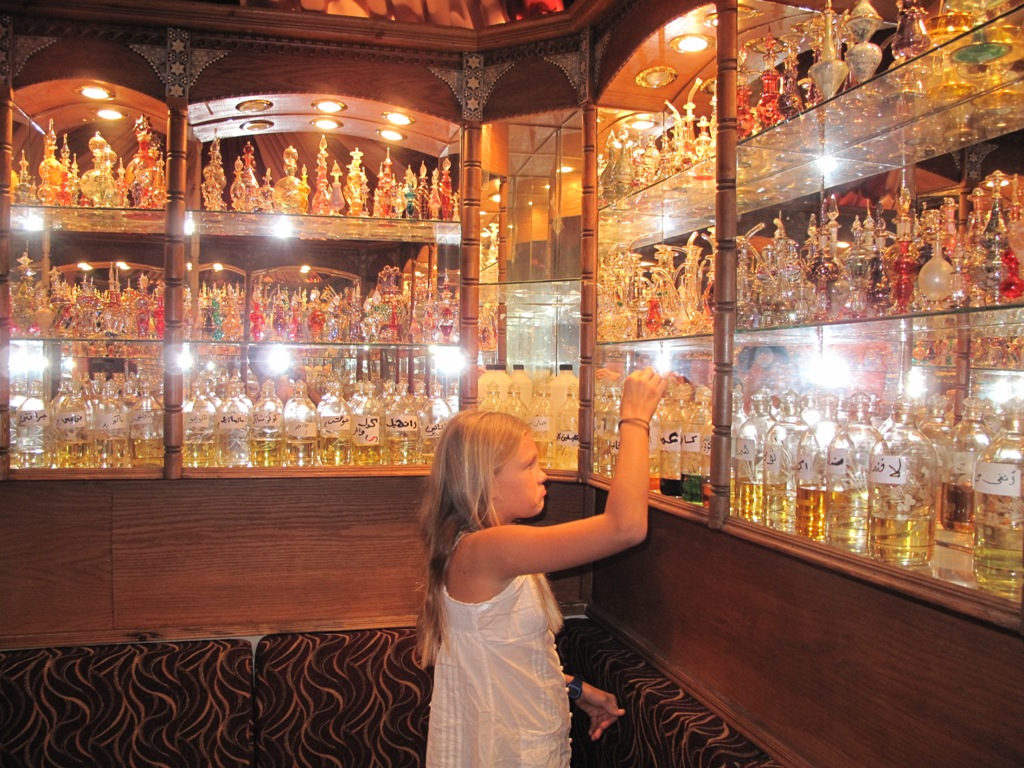 almost everyone spoke English and immediately wanted to know where we were from. Since they get so few tourists from the US, when we answered America we were always greeted with a smile. They associate America with freedom and with the revolution and new found freedom – they seem to have a kinship with us. Their keys to salesmanship is to give presents to lure us into the shops and then play on our guilt of getting a "present" to buy something. I have to admit that it worked a couple of times…..kid T-shirts, scarves, trinkets, and perfume. It didn't take long, however, to figure out the trick and refuse the presents or just let the kids take the cheap necklaces without buying anything and not feel guilty about it.
It looks like the wind is dying down and it is time to start pushing north. The predominant wind in the Red Sea this time of year is out of the NNW which is the direction that we want to go…not fun. The wind can be very strong so basically all movement in the Red Sea is planned when the wind dies down and you get a window. It looks like we are going to have that soon so we will head up to Hurghada which is an actual town so we can stock up on food and start touring this amazing country.

March 25, 2011 - Luxor, Egypt


While Imagine was safe and secure in the modern Hurghada Marina and the winds were howling out of the Northwest which is, of course, the direction that we needed to go, we took advantage of the time to check out the incredible ancient sites of Egypt. We hired a taxi driver to take us the 4 hour, 500 KM trip from Hurghada to Luxor. Although, our driver wasn't too bad for Egyptian standards, we quickly learned why Egypt has one of the highest traffic accident rates in the world. Although, it was quite intimidating driving through the many, many military roadblocks when armed guards would question our driver, we must have looked fairly peaceful as we were usually given a smile as we drove away.


We were surprised to receive a phone call right before we left Hurghada from Martin, on Anima, that he and the boat Margarita were going to get a taxi from Pt.Ghalib and meet us in Luxor. Mike, our crew, would also be joining us there so we were excited to have our own little tour group to enjoy the sights.


We chose to stay on the West Bank, across the Nile from Luxor at a peaceful little mud brick hotel. It was rustic with mosquito nets and fans but it was quiet and with bikes for the whole family, we were off to explore the ancient temples. We spent 2 days touring the incredible sights of the west bank and Luxor including the Valley of the Kings, Tombs of the Nobles, Habu Temble, Hatsheput Temple, and the Karnak Temple. As with most sights that we see, we all had different favorites but they were all awe-inspiring. The quality of the carvings and the brightness of the colors that still exist after almost 4000 years is absolutely unbelievable.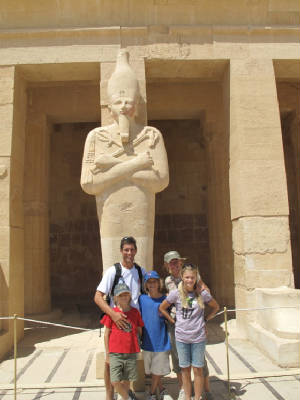 The Valley of the Kings is home to 63 magnificent royal tombs, including the famous tomb of King Tutankhamun. The tombs are from the New Kingdom period which ranges from 1550 - 1069 BC and are incredibly well preserved. In order to slow the damage to the tombs by the presence of tourists, you are only allowed to visit three tombs with each visit. They were each unique but all just amazing. In our spirit of taking the road less traveled, we decided to walk from the Valley of the Kings to Hatsheput's Temple. It was a serene, beautiful walk following our local guide Mohammed over the surrounding lunar like mountains and the view of the temple was just stunning.


After a busy day on the West Bank, we crossed the Nile River on a water taxi to the Karnak Temple. The Nile, the longest river in the world, was the life blood of Egypt and without it the Egypt that we know it would never have existed. In a country that it is primarily a dry, stark desert, the land around the Nile is green, lush and fertile. The Karnak Temple, which covers over 2 sq KM houses sanctuaries, kiosks, pylons, obelisks, and the largest religious building ever built. Construction on the temple was originally started in 1065 BC and contraction continued for the next 1500 years. The massive size and the quality of the carvings and paintings would be awe-inspiring if they were built today, let alone 3000 years ago. Amazing.


The only downside to our experience in the Nile Valley was the city of Luxor itself. We had read that Luxor was is considered the hassle capital of Egypt but even this warning didn't prepare us for what we encountered. From the minute you cross the Nile on the ferry, you are bombarded with people chasing you asking you to buy souvenirs, take taxis, go for carriage rides, felucca (sailboat) rides, etc. etc. We had also been warned about the scams involved in these "services" but again we weren't quite prepared. So when we all agreed to take a carriage ride for an agreed up on price of 10 Egyptian Pounds for all of us, we shouldn't have been surprised that at the end of the ride they wanted 10 EP per person…..we then had a long 'discussion' with money being thrown back and forth and ended up paying 10EP per carriage....(10EGP is less than $2USD)...We know...that's aweful.... This is just one example of what it is like to buy something in Egypt….exhausting. Welcome to Egypt!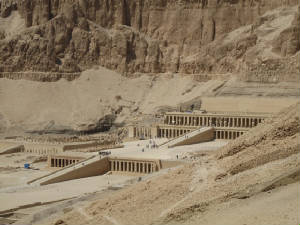 After another exhausting ordeal of negotiating (even Marc, the king negotiator, is already tiring of this process) we secured a van and driver to take us the eight++ hours to Cairo. We all decided that we were having sooo much fun that we might as well take our tour to the pyramids.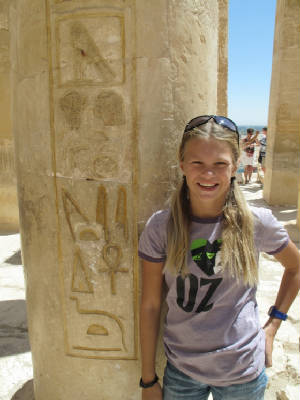 March 28, 2011 - Cairo, Egypt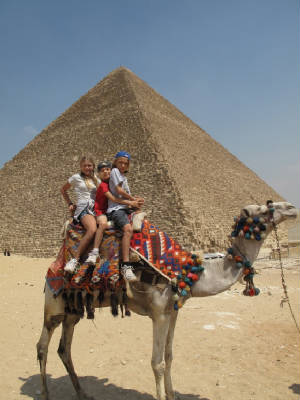 OMG!!! I have often said that the scariest part of our adventure has nothing to do with the sea but is generally the land travel that we do in third world countries. Aside from the last two months of piracy (obviously), this fact was proven -big time-in Egypt. We all agreed that we had just endured a white knuckled, 10 hour death ride from Luxor to Cairo. First of all the Egyptians don't use head lights except to flash oncoming traffic. After asking "why" several times and never really getting an answer we gave up. They also enjoy driving on the wrong side of the road….again we're not sure of the logic especially when there is a divider in the middle of the road. Yikes…..They also drive as fast as they can, literally, about 85 MPH most of the time and we are not talking expressway roads. Then to top it all off the driver wanted "baksheesh" on top of the fee that we had negotiated before we left. Since we were all still too scared to really talk we just shook our head "no" in disbelief. But before we said, "no" we made sure that the driver flagged downed a Cairo taxi for us to take us to the hotel. This turned into a new kind of death ride as the taxi driver had no idea where he was going and stopped several times to ask directions. Often the local man would just hop into the van and ride with us. There goes my strategy of keeping a "low profile" in the city where Americans still aren't suppose to travel.

Although a little frightening, it was all worth it, when we caught our first sight of the Giza Pyramids and the Great Sphinx. As a parent, it was so special seeing the faces of the kids as they saw the awe inspiring structures that they have been waiting to see for the last two years. Since before we left Chicago, Noah and Grant had been waiting for this moment. Now they say that they have realized a "lifelong" dream. To us they were even larger and more impressive than we had even expected. Grant and Noah will be writing research reports on the pyramids and sphinx for their blogs so I don't need to focus on that for now. But what I can tell you is just how special it was to witness these sights first hand. It is incomprehensible how the Ancient Egyptians were able to build these massive structures with no cranes, trucks, engines, or all of our modern "necessities". Purely amazing!!!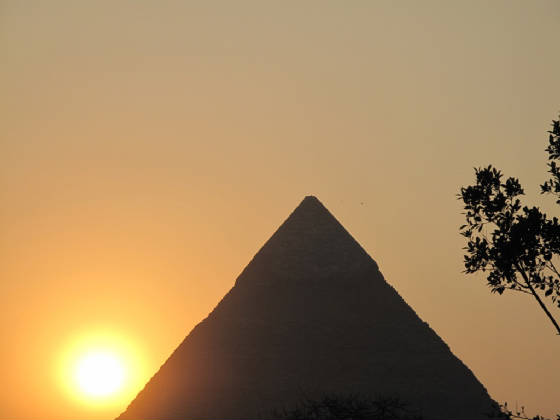 Although most of the locals feel that the Egyptian Revolution is a very good thing, it has been absolutely horrible for tourism in Egypt. This has caused mixed effects on our travels. The good news for us is that there are very few tourists at the attractions which means no crowds, no lines and lower prices (the revolution special). The bad news is that there are more hawkers than tourists so you are constantly being hassled to ride a camel, ride a horse, buy a trinkit, eat a schwerma, etc. etc. etc. Nowhere was it more evident than the pyramids. Literally there were more camels to ride than tourists to ride them. We had wanted to walk and just enjoy the exercise while appreciating these awesome structures but we were constantly being harassed. Although it was frustrating and at times came close to taking away from the beauty, you had to feel sorry for the people who rely so heavily on the tourists who just aren't there. But they are enthusiastic for the future of their country and we can only hope that they realize their dream of freedom.

In order to learn more about the pyramids we went to an educational sound and light show held at the Great Sphinx. Although, when we bought the tickets we didn't realize that this was the perfect way to see the pyramids and sphinx without the crowds of hawkers. The show is held at night when the park is actually closed and although there were seats for over 1000 only about 50 people were actually at the show. Seeing the whole plateau at sunset and lit up at night in peace was just beautiful. We also learned quite a bit about the history of the pharaohs and pyramids, what a field trip.
Our last big stop in Cairo was the Egyptian Museum which we had heard was one of the most comprehensive museums in the world. I hate to say it, but we were somewhat disappointment. Although the ancient artifacts, mummies, and treasures are absolutely amazing, the museum is in desperate need of repair, updating, and documentation. There are literally thousands of ancient items just stacked up on top of each other not even labeled and when they are labeled it looks like it was typed on a 1970's typewriter. You have to wonder where all of the money has gone from the millions of tourists who have gone through the museum. Despite our disappointment in the quality of the exhibits, the artifacts were still amazing especially those from King Tutankhamun's tomb and the ancient mummies. It's just incredible to be seeing items, such as, a golden chariot and mummies, perfectly preserved, that are thousands of years old.


After witnessing the incredible sights around Cairo, we were very ready to return to Imagine. It's been incredible but like any vacation, it was time to go home. So as customary in Egypt, we spent a half hour negotiating a fair rate with a taxi driver to drive us, the five hour, trip home. But this time we had a nice, safe enjoyable ride … no flashing lights, no driving on the wrong side of the road, and no screaming and honking…a little boring but a lot more relaxing. What an trip!