Route & Plan

Our journey began in Chicago, IL USA on 28 August 2008. After 3 years, 9 months & 16 days we completed our adventure and moved off of Imagine for good on 13 June 2012.

Our total mileage was 38,150 miles with 236 nights at sea on passages.

Below are the details of countries & islands visited and mileage.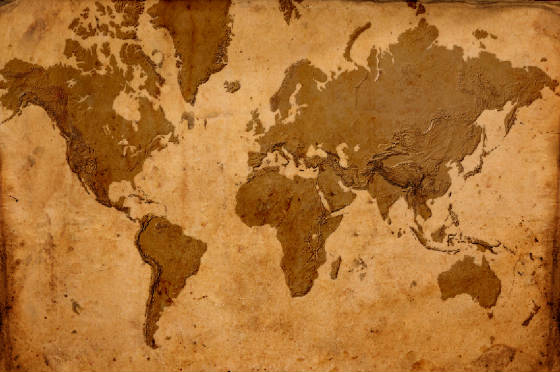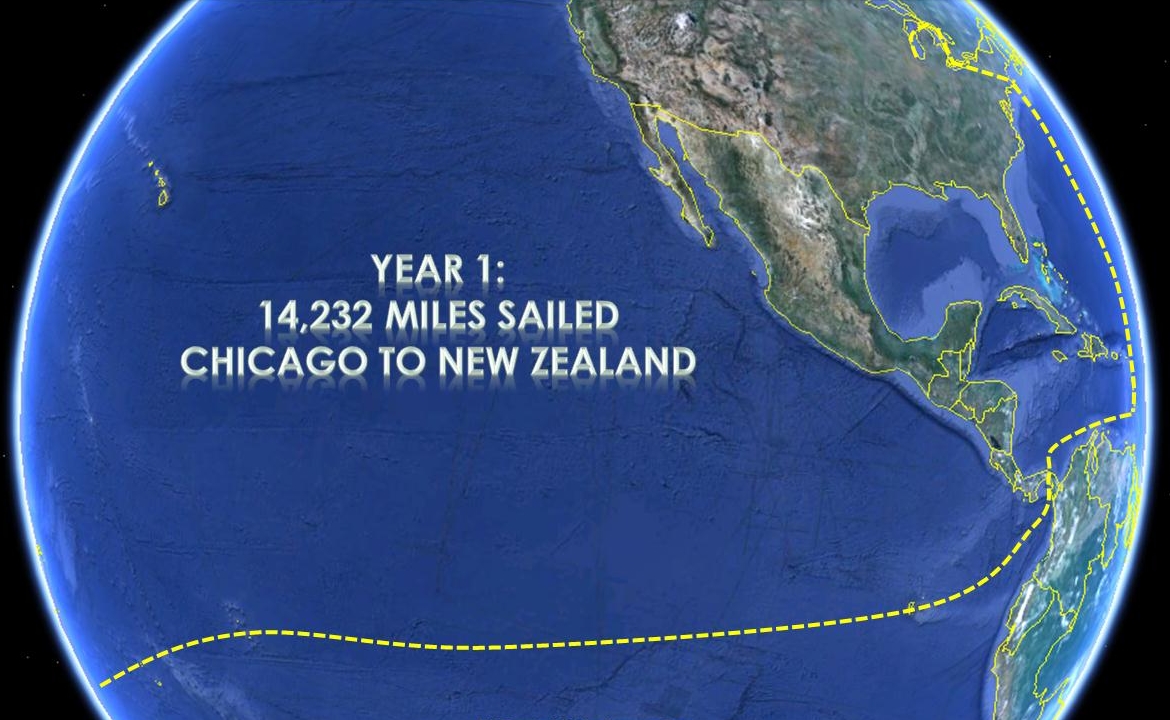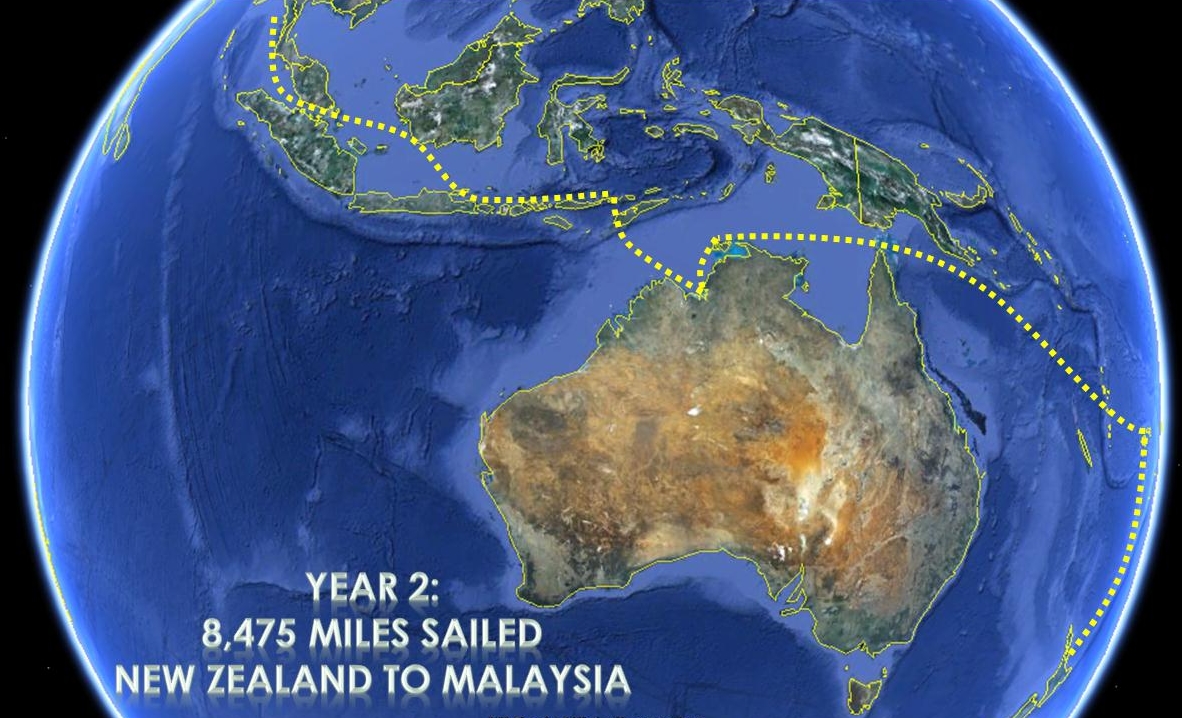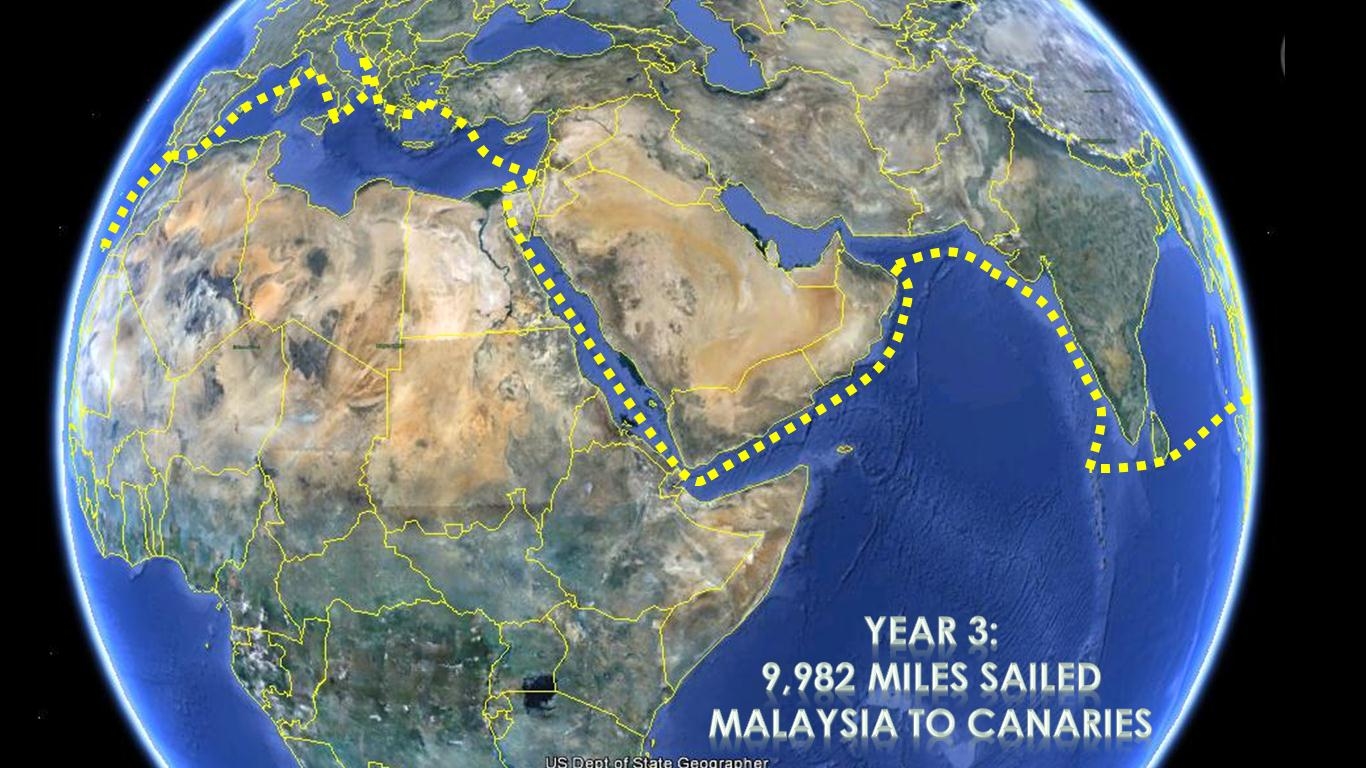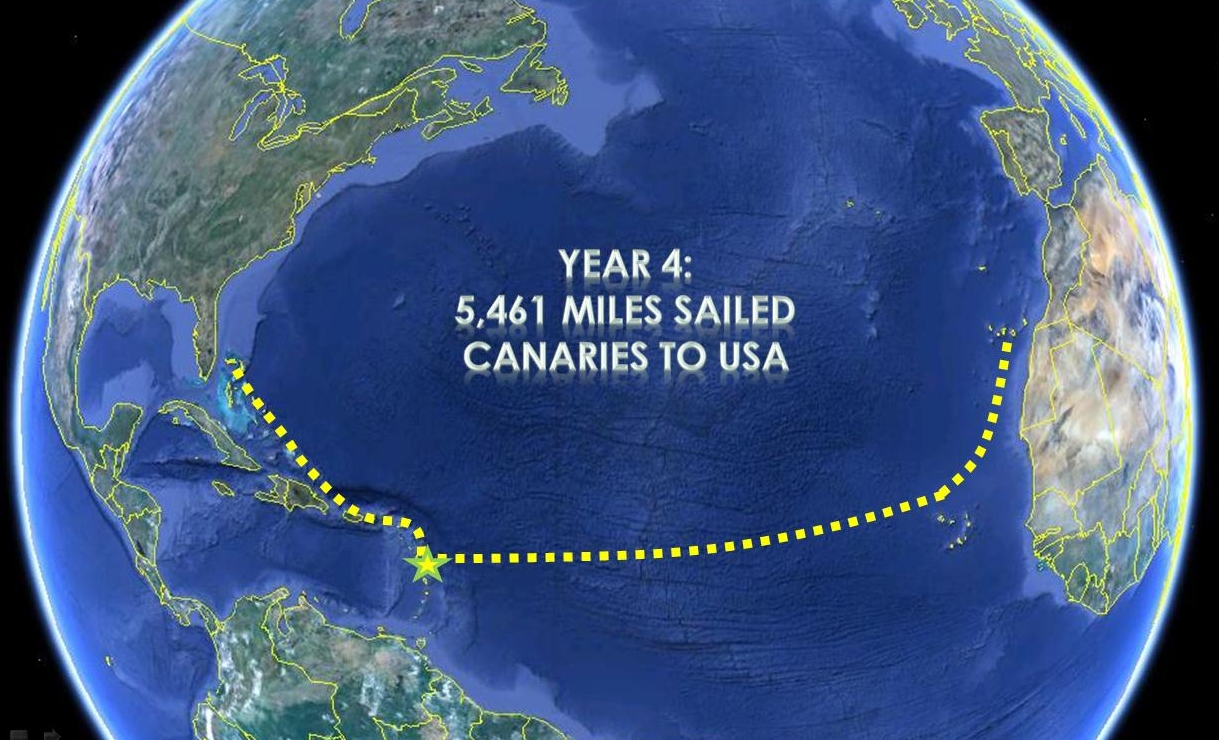 Attached below is the final completed route & mileage with arrival dates, nights sailing at sea and nights at anchor or on a dock.

| | | | | | | |
| --- | --- | --- | --- | --- | --- | --- |
| Starting Waypoint | Departure Date | Sailing - Overnights (0 = day sail) | Ending Waypoint | Miles Sailed | Arrival Date | Days in Destination Waypoint |
| | | 236 | TOTALS | 38,150 | | |
| Chicago | August 28, 2008 | 2 | Mackinac Island, MI | 330 | August 30, 2008 | 1 |
| Mackinac Island, MI | August 31, 2008 | 2 | Detroit, MI | 260 | September 2, 2008 | 0 |
| Detroit, MI | September 2, 2008 | 2 | Tonowanda, NY (Erie Canal) | 325 | September 4, 2008 | 10 |
| Tonowanda, NY (Erie Canal) | September 14, 2008 | 6 | Catskill, NY | 338 | September 20, 2008 | 5 |
| Catskill, NY | September 25, 2008 | 1 | New York, NY | 105 | September 26, 2008 | 8 |
| New York, NY | October 4, 2008 | 2 | Annapolis, MD | 310 | October 6, 2008 | 19 |
| Annapolis, MD | October 25, 2008 | 3 | Hampton, VA | 112 | October 28, 2008 | 10 |
| Hampton, VA | November 7, 2008 | 8 | Tortola, Virgin Islands | 1,492 | November 15, 2008 | 2 |
| British Virgin Islands | November 17, 2008 | 0 | US Virgin Islands | 110 | November 17, 2008 | 14 |
| US Virgin Islands | December 1, 2008 | 0 | Spanish Virgin Islands | 167 | December 1, 2008 | 11 |
| Spanish Virgin Islands | December 12, 2008 | 0 | US & BVI | 66 | December 12, 2008 | 7 |
| Virgin Gorda, BVI | December 19, 2008 | 0 | St. Martin | 95 | December 19, 2008 | 8 |
| St Martin | December 27, 2008 | 0 | St. Barths | 29 | December 27, 2008 | 2 |
| St. Barths | December 29, 2008 | 0 | Barbuda | 75 | December 29, 2008 | 3 |
| Barbuda | January 1, 2009 | 0 | Antigua | 40 | January 1, 2009 | 3 |
| Antigua | January 4, 2009 | 0 | Guadalupe | 114 | January 4, 2009 | 6 |
| Guadalupe | January 10, 2009 | 0 | Les Saintes | 36 | January 10, 2009 | 5 |
| Les Saintes | January 15, 2009 | 0 | Dominica | 40 | January 15, 2009 | 11 |
| Dominica | January 26, 2009 | 0 | Martinique | 76 | January 26, 2009 | 8 |
| Martinique | February 3, 2009 | 3 | Bonaire | 520 | February 6, 2009 | 8 |
| Bonaire | February 14, 2009 | 1 | Curacau | 46 | February 15, 2009 | 2 |
| Curacau | February 17, 2009 | 6 | San Blas Islands | 745 | February 23, 2009 | 11 |
| San Blas Islands | March 6, 2009 | 0 | Portabello & Isle Linton | 45 | March 6, 2009 | 2 |
| Porvtabello & Isla Linton | March 8, 2009 | 0 | Shelter Bay Marina, Panama | 50 | March 8, 2009 | 4 |
| Panama Canal Transit | March 12, 2009 | 1 | La Playita, Panama City | 48 | March 13, 2009 | 7 |
| La Playita, Panama City | March 20, 2009 | 1 | Las Perlas Islands | 57 | March 21, 2009 | 4 |
| Las Perlas Islands | March 25, 2009 | 6 | Galapagos | 859 | March 31, 2009 | 19 |
| Galapagos | April 19, 2009 | 20 | Fatu Hiva, Marquesas | 3,000 | May 9, 2009 | 10 |
| Fatu Hiva, Marquesas | May 19, 2009 | 0 | Hiva Oa & Tauhatu Marquesas | 127 | May 19, 2009 | 12 |
| Tuahatu, Marquesas | May 31, 2009 | 2 | Raroia, Tuamotus | 410 | June 2, 2009 | 8 |
| Raroia, Tuamotus | June 8, 2009 | 1 | Makemo, Tuamotus | 88 | June 9, 2009 | 4 |
| Makemo, Tuamotus | June 13, 2009 | 1 | Tahanea, Tuamotus | 87 | June 14, 2009 | 1 |
| Tahanea, Tuamotus | June 15, 2009 | 1 | Fakarava, Tuamotus | 49 | June 16, 2009 | 1 |
| Fakarava, Tuamotus | June 17, 2009 | 2 | Papeete, Tahiti | 260 | June 19, 2009 | 8 |
| Tahiti/Moorea | June 27, 2009 | 0 | Tahiti/Moorea | 75 | June 27, 2009 | 17 |
| Tahiti/Moorea | July 14, 2009 | 1 | Raiatea/Bora Bora | 128 | July 15, 2009 | 18 |
| Raiatea/Bora Bora | August 2, 2009 | 4 | Rarotonga, Cook Islands | 560 | August 6, 2009 | 9 |
| Rarotonga, Cook Islands | August 15, 2009 | 3 | Beveridge Reef | 455 | August 18, 2009 | 6 |
| Beveridge Reef | August 24, 2009 | 1 | Niue | 140 | August 25, 2009 | 5 |
| Niue | August 30, 2009 | 2 | Va'vau, Tonga | 250 | September 1, 2009 | 51 |
| Va'vau, Tonga | October 22, 2009 | 0 | Ha'Apai, Tonga | 428 | October 22, 2009 | 9 |
| Ha'Apai, Tonga | October 31, 2009 | 8 | Opua, New Zealand | 1,225 | November 8, 2009 | 11 |
| Opua, New Zealand | November 19, 2009 | 0 | Whangaroa, New Zealand | 35 | November 19, 2009 | 2 |
| Whangaroa, New Zealand | November 21, 2009 | 3 | Nelson, New Zealand | 425 | November 24, 2009 | 74 |
| Nelson, New Zealand | February 6, 2010 | 0 | D'Urville & Marlboro Sounds | 45 | February 6, 2010 | 8 |
| D'Urville & Marlboro Sounds | February 14, 2010 | 0 | Wellington, New Zealand | 35 | February 14, 2010 | 5 |
| Wellington, New Zealand | February 19, 2010 | 2 | Gisborne, New Zealand | 350 | February 21, 2010 | 5 |
| Gisborne, New Zealand | February 26, 2010 | 2 | Auckland, New Zealand | 300 | February 28, 2010 | 6 |
| Auckland, New Zealand | March 6, 2010 | 0 | Whangarei, New Zealand | 75 | March 6, 2010 | 22 |
| Whangarei, New Zealand | March 28, 2010 | 0 | Opua, New Zealand | 100 | March 28, 2010 | 19 |
| New Zealand | April 16, 2010 | 7 | Fiji | 1,090 | April 23, 2010 | 49 |
| Fiji | June 11, 2010 | 3 | Tanna, Vanuatu | 468 | June 14, 2010 | 7 |
| Tanna, Vanuatu | June 21, 2010 | 1 | Port Vila & Louganville, Vanuatu | 335 | June 22, 2010 | 12 |
| Vanuatu | July 4, 2010 | 10 | Thursday Island, Australia | 1,613 | July 14, 2010 | 3 |
| Thursday Island, Australia | July 17, 2010 | 4 | Darwin, Australia | 748 | July 21, 2010 | 22 |
| Darwin, Australia | August 12, 2010 | 3 | Kupang, Indonesia | 464 | August 15, 2010 | 4 |
| Cruising Indonesia | August 19, 2010 | 11 | Nongsa Point, Batam | 1,681 | August 30, 2010 | 46 |
| Nongsa Point | October 15, 2010 | 0 | Singapore | 15 | October 15, 2010 | 12 |
| Singapore | October 27, 2010 | 3 | Malaysia | 486 | October 30, 2010 | 36 |
| Malaysia | December 5, 2010 | 1 | Phuket, Thailand | 520 | December 6, 2010 | 27 |
| Phuket, Thailand | January 2, 2011 | 2 | Langkawi, Malaysia | 150 | January 4, 2011 | 3 |
| Langkawi, Malaysia | January 7, 2011 | 10 | Sri Lanka | 1,200 | January 17, 2011 | 7 |
| Sri Lanka | January 24, 2011 | 3 | Maldives | 442 | January 27, 2011 | 10 |
| Maldives | February 6, 2011 | 5 | Bombay, India | 825 | February 11, 2011 | 1 |
| Bombay, India | February 12, 2011 | 6 | Muscat, Oman | 905 | February 18, 2011 | 4 |
| Muscat, Oman | February 22, 2011 | 9 | Aden, Yemen | 1,245 | March 3, 2011 | 1 |
| Aden, Yemen | March 4, 2011 | 8 | Port Ghalib, Egypt | 1,050 | March 12, 2011 | 6 |
| Port Ghalib, Egypt | March 18, 2011 | 1 | Hurghada, Egypt | 110 | March 19, 2011 | 13 |
| Hurghada, Egypt | April 1, 2011 | 0 | Shaker Island/El Tor, Egypt | 60 | April 1, 2011 | 6 |
| Shaker Island/El Tor, Egypt | April 7, 2011 | 1 | Port Suez, Suez Canal | 120 | April 8, 2011 | 4 |
| Suez Canal | April 12, 2011 | 2 | Ashkelon, Israel | 226 | April 14, 2011 | 12 |
| Israel | April 26, 2011 | 3 | Turkey | 428 | April 29, 2011 | 0 |
| Cruising Turkey | April 29, 2011 | 0 | Cruising Turkey | 162 | April 29, 2011 | 34 |
| Turkey | June 2, 2011 | 0 | Greek Islands | 667 | June 2, 2011 | 35 |
| Greek Islands | July 7, 2011 | 2 | Croatia | 212 | July 9, 2011 | 24 |
| Croatia | August 2, 2011 | 3 | Sicily, Italy | 405 | August 5, 2011 | 11 |
| Sicily, Italy | August 16, 2011 | 1 | Rome, Italy | 367 | August 17, 2011 | 14 |
| Rome, Italy | August 31, 2011 | 2 | Balearics, Spain | 382 | September 2, 2011 | 25 |
| Balearics, Spain | September 27, 2011 | 2 | Gibraltar | 569 | September 29, 2011 | 9 |
| Gibraltar | October 8, 2011 | 4 | Canary Islands | 607 | October 12, 2011 | 40 |
| Canary Islands | November 21, 2011 | 19 | Barbuda | 2,913 | December 10, 2011 | 4 |
| Barbuda | December 14, 2011 | 1 | St Martin & Anguilla | 224 | December 15, 2011 | 23 |
| St Martin | January 7, 2012 | 1 | BVI & USVI | 85 | January 8, 2012 | 27 |
| BVI & USVI | February 4, 2012 | 0 | Spanish Virgin Islands | 76 | February 4, 2012 | 12 |
| Puerto Rico | February 16, 2012 | 3 | Mayaguana, Bahamas | 478 | February 19, 2012 | 83 |
| Bahamas | May 12, 2012 | 1 | Florida, USA | 750 | May 13, 2012 | 24 |
| Fort Lauderdale, FL | June 6, 2012 | 7 | Cheasepeake, DE | 935 | June 13, 2012 | |