Our story begins in 1988 when Jane looked across the room at a party at Purdue and saw a cute guy with a big smile. Over the last twenty years, we have enjoyed spending time with wonderful friends and family, living in Chicago, becoming parents, and of course some fantastic outdoor adventures. Our sailing adventures started with chartering in the BVI and the Whitsunday Islands in Australia with wonderful friends. It was then that Jane caught the sailing bug, too. It was all that M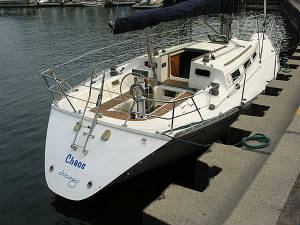 arc needed to start looking for a boat of our own. We purchased "Chaos" - a 1986 38' Jeanneau back in 1998. We struggled through that first year of being absolutely clueless and we had a blast. The kids like to tell people that they were born on a boat - well not quite but close. Caroline spent her first day on the boat when she was one month old for Marc's first Father's day. Grant was born two weeks after one of our annual sailing trips to Michigan (not one of the more comfortable trips), and Noah spent many nights with his pack and play tied into the salon with a bungee cord. We had a wonderful time on Chaos.
So how and why would a family decide to give up two successful and prosperous careers, leave a beautiful 100 year old brownstone that we had lovingly rehabbed, and take our kids out of a fabulous Catholic school. Well, it's a long story......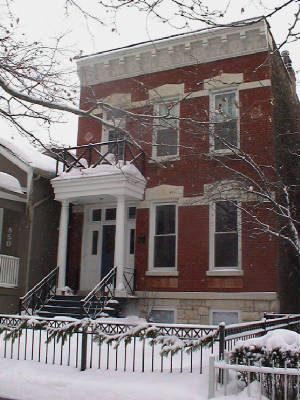 Ever since that first sailing adventure, Marc and Jane always knew that at some point they would live on a boat. At that time it was a dream to retire early and spend our retirement cruising the world. About 7 years ago, Marc had a little too much time on his hands to cruise the net and started to find websites of families who were cruising together with young children and seeing the world. Well, of course, Jane thought that he was crazy, and that it would pass. He started to email her little quotes about dreams, adventures, family, etc - many of which are included on the website. Finally, after a few years of "gentle" reminders from Marc, Jane began to read the websites. To her astonishment, she found that these were "normal" people who chose to give their children an experience and an education of a lifetime. Each of them had a different reason or a different situation but all of them wanted to slow down and teach their children a little differently about the world. Jane was in awe of these people and didn't want to say - we should've done that.
So now it's our time. It's our time to give our children this gift. It's our time to give up the endless hours of running to different activities, flying across the country on business trips, electronic games, and cable TV. It's our time to show our children the world - and maybe sail around it.....

Enjoy our journey!