April 25 - Ashkelon, Israel
Originally we had not planned to visit Israel as it is really not known as a "cruising" destination. But while we were enduring the struggles of the Indian Ocean and GOA, we decided that there couldn't be a better place to end our time in the Middle East. Although, Marc and I never really voiced it, after all of the prayers that we had said over the last two months, we both thought that it was time to say thanks. The twelve days that we spent here were quite spectacular and we are so thankful that we decided to spend Holy Week in one of the holiest places on Earth. What an amazing learning experience for the children. As we toured the area with our Children's Bible, they were able to see first-hand the religious sites, ancient cities, and wall that separates the Palestinians and the Jews, I can only hope that they will remember this better than any history or religious education class.
As I am sure that you can all imagine, the security upon entrance into Israel is unparallel to any other county that we have been in the world. Prior to arriving in Israel you are required to complete an entry form with all of the pertinent information about the yacht and crew, to notify the Navy of your arrival. Although we completed the form a week before our arrival and sent them a reminder 24 hours in advance, we were still called on the VHF about 50 miles outside of Israel and asked the exact same questions….not once, not twice but several times. Since you must sail past the Gaza Strip to go to Ashkelon from Egypt, the Navy and marina provide a route and coordinates that you must follow. Although we followed the course exactly, the Navy still wanted us to alter course to give a wider berth. Although annoying, they were non- threatening and sounded like "kids" on the radio just trying to do their job. As soon as, we entered Israeli waters we were greeted by an Israeli Navy boat with big "manned" guns who asked us the exact same questions that we had provided on the form and that we had been answering via VHF for several hours but they were very polite and welcoming and the boys were highly impressed by the weapons.
We arrived to Ashkelon Marina with one final security check as we were welcomed to the dock by about ten men; including the local police, Israeli Special Security Force (similar to TSA) , and the Passport Police (I think). At this stage, I couldn't keep them all straight. They were very serious but most were friendly and polite. The passport police had many questions for us; such as, why we had visited so many Muslim countries, naming them off one by one; had anyone given us any packages for Israel; do we have any weapons on board; etc. etc. I guess we didn't look very threatening because despite stamps in the passport from Malaysia, Indonesia, Oman, Yemen, and Egypt they let us in. That's when you are very happy to have the kids on board.
While walking around the marina, I had a very interesting conversation with one of the friendly TSA type agents who seemed very interested in our family. We spoke for quite some time on the security situation in Israel and he was very proud to tell me that the anti missile system, which shoots down missiles launched from the Gaza strip before they hit the land that was recently implemented, is 100% effective. I was impressed and somewhat relieved and asked how many they had shot down. He proudly informed me that they were 8 for 8! I'm not sure if it made more nervous to think that they had recently had that many missiles shot into the air or that they had only had 8 successes. But in the same breath he gave me a big smile and assured me that Israel was a very safe place to vacation especially with the ceasefire now for the holidays….glad we weren't here the week before.
Now that we have officially arrived, it was time to start exploring this phenomenal place. We decided that the best and least expensive way to see this very small country was to rent a car, do day trips, and come back to Imagine each night to our own bed. We received a good deal through the marina and were able to rent a car for 35 US dollars per day and we were off. Arguably, the holiest place on Earth for Christians, Jews, and Muslims, as well as, historically significant for the Roman, Byzantine, and Crusader period, there was absolutely no way we were going to see it all. Since we will be going to Rome, Greece, and Turkeys we decided to focus our attention in Israel on the Christian Holy sites especially those from the New Testament.
In our short time in Israel, we saw so many sights that I won't overwhelm you by listing them all. I'll try to focus on some of the highlights and some of our favorites. One point to make is that almost every Christian Holy site in Israel has a church built over it and many of the churches originally dated back to the Byzantine period circa 400 AD. Sadly, most of the churches were all or partially destroyed in the 600 and 700's when the country was first taken over by the Muslims, but fortunately many of them were rebuilt by the crusaders and others over the last 1500 years.
Timing was absolutely perfect and our first day of sightseeing took us to Mt. Olives and the Palm Sunday processional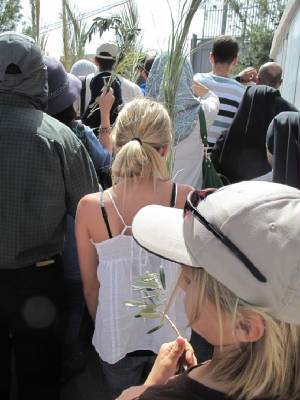 from Bethpage to Jerusalem. We marched and waved palm branches with thousands of others from around the world as we walked in Jesus' path. There was music from all over the world being sung and played on instruments as we walked and enjoyed ourselves. Mt. Olives was just an incredible place and as we stood outside of the Garden of Gethsemane where Jesus was arrested, we all, including the kids, could instantly feel how special it is.
We also had a very interesting experience "getting lost" trying to leave Jerusalem on this day. Due to the processional the main road around the walled city was closed. We thought, "No biggy, we'll just go around." What we didn't quite comprehend at the time is that the ancient walled city of Jerusalem has very few roads that surround it and the modern city of Jerusalem is partially in Palestinian areas which is separated by a modern, huge wall and guarded by very intimidating armed guards. We know this first-hand because we were driving along this massive structure as we were trying to find our way out of the city. Yikes!
The next day of sightseeing took us to the Mt. Zion, Bethlehem, and the Dead Sea. The highlight at Mt. Zion was Hall of the Last Supper, literally, where they believe the Last Supper was held and the Crypt of the Dormition where Mary is believed to have fallen into eternal sleep. How special as a mother, to pray beside my daughter at this holy site.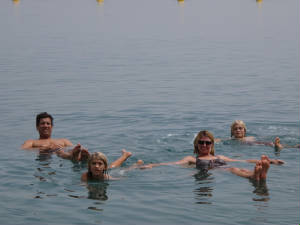 Although not a holy sight, the Dead Sea was fabulous and is highlighted from the kids' point of views in Noah and Caroline's blogs.
Bethlehem was an absolutely incredible experience for so many reasons. First of all, is the obvious – the birthplace of Christ which is located in the Grotto (caves) beneath the Basilica of the Nativity, an ancient church built in its honor. Although it was amazing to be in this holiest of holy spots, it was a little sad to be hurried through by a monk yelling, "Come on, hurry up, we haven't got all day". For a moment, I felt more like I was in line for a CUBS game than the birthplace of Jesus. Bethlehem was also interesting because the city, itself, is in a fully Palestinian occupied area. Jews from Israel are not allowed to enter through the security checkpoints outside the city but tourists can. When I first heard this, I was a little (OK, a lot) freaked out, but I have to say my fears were absolutely unwarranted. The city of Bethlehem was a beautiful, well kept ancient city and the people were incredibly friendly and helpful. Although predominantly Muslim, many of the locals that we met were Christian Palestinians and they welcomed us with open arms.
On another historical filled day we visited the ancient city of Caesarea from the Herodian Period, Nazareth, and the Sea of Galilee. Although not a holy sight, the city of Caesarea, with its ancient amphitheater and hippodrome and modern educational facilities, was a joy. Since it was one of Grant's favorite spots, check out his blog for more info. The Sea of Galilee, which is really Lake Kinnert, was just a beautiful place especially standing at the top of Mt. Beatitudes and by edge of the Sea where they believe St. Peter lived.
We had already seen so much but we still hadn't been inside the walled city of Jerusalem. Finally, we spent a day doing the Stations of the Cross and experiencing Old Jerusalem. I'm not sure what we were expecting but it wasn't the many, many souqs (markets) that line the ancient streets. Everywhere you go in the Arab and Christian quarters are lined with shop after shop of people selling T-Shirts, hookas, nativity scenes, etc. etc. To us, it took a little away from following Jesus' footsteps when some of the plaques for the stations were right beside a man selling key chains. Oh well, it's all part of the experience.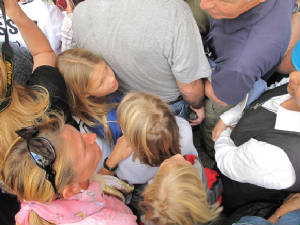 There were also downsides of being in Jerusalem during Holy Week, especially this year when Passover, Eastern Orthodox Easter, and Our Easter all fell on the same week and that was the crowds. Our only disappointment during our travels in Israel is that we never completed the Stations of the Cross or went in the Holy Sepulcher which is the site where Jesus was crucified and buried. We attempted to go on Holy Thursday with hundreds of our closest friends. We had been told that at exactly 3:00 pm they would open the doors to the church and allow people in for five minutes. Then they would close the doors and those inside would be locked in and required to stay for three hours. Although a little long in a church for our crew, we decided that it would definitely be worth it so we were up close in line and were excited. But 3:00 came and in came the processional with a big key and everyone CROWDED (scary, actually) toward the door, Marc and another big man blocked people out so that the kids wouldn't be crushed and I just kept thinking that this is not very Christian-like. Then the craziest part of it was that after standing in line and almost being crushed, the priest that opened the door didn't let anyone in, only a small group of priests. What a bummer! After almost getting crushed, the kids (and parents) had no desire to go back into the crowds during Holy Weekend. Oh well, next trip.
The Easter Bunny found us again on Imagine with a big egg hunt and lots and lots of candy. We were able to find a big Easter ham (not an easy task in Israel) and we had a feast with our friend Clint Bush from the boat Emmanuel. Although not venturing back to Jerusalem, we went to a very interesting Easter mass in Tel Aviv where the congregation was primarily Philippine and Indian immigrant workers and the readings took a new meaning as we had just visited most of the holy places.
One of my goals of visiting Israel was to gain a better understanding and develop a stronger opinion on the Palestinian/Israeli situation that plagues the Middle East. Unfortunately, I can officially say that after many hours of reading about the thousands of years of history, visiting the sites, and speaking to the people I am more knowledgeable but also more confused than ever. Seeing Israeli soldiers who look like young kids walking the streets of Jerusalem and guarding religious sites; speaking with a Palestinian Christian, the caretaker at the Catholic Church in Bethlehem, who can't visit the Jerusalem over Easter; reading of two Jewish men killed by Palestinian police visiting their holy sites in the West Bank all lead to my confusion and sadness. It is so hard to comprehend how places that are so beautiful, serene, and emotionally moving could be filled with such destruction and war over thousands of years. And although at times I wanted to ignore this sad part of country and bask of the joy of walking in Jesus' footsteps, I couldn't because it is all part of touring this amazing, sacred, and troubled part of the world.