May 2011


May 21, 2011 – Marmaris, Turkey


Oh, the joys of being out cruising again. Finally, it feels like we can just relax and enjoy our lifestyle. For almost a month, we have been cruising the beautiful bays of Turkey. After a fairly easy four day passage from Israel, we checked into Fethiye, Turkey in mid April. As we came into the giant, protected bay we could smell the fresh pines trees from the forests and see the snow peaks of the mountains. What a great feeling and a beautiful sight.
We spent the first couple weeks here just relaxing with friends and cruising around the beautiful bay here at Fethiye and Gocek. We spent much time with our friends on Pegasus and Lapalapa and met a new boat from the US; Leander with Paul, Sima, and 6 month old Alexander. Caroline had a blast helping with little Alexander. We also had a fun little reunion with two boats, that we had met way back in 2008 in the Caribbean 1500 rally; Destiny and Excalibur. They have been cruising the Med for the last two years and we heard them chatting on the VHF on Gocek. What an amazing coincidence.
The towns of Fethieye and Gocek are quaint, little tourist towns with nice, inexpensive restaurants, stores that supplied every thing, and innumerable barbers and hairdressers (we all splurged for haircuts). The only complaint was that the 4:30 AM call to prayer in Fethieye was the loudest and longest that we have heard anywhere in the Middle East and remember we've heard A LOT of calls to prayer by now. The bays around the towns were just beautiful with clear, cold water (it felt like we were in Lake Michigan), ancient ruins and amphitheaters, and lush greenery. This laid back lifestyle also gave the kids a chance, to accomplish a lot of schooling.

Although, I think that we could've stayed in this area for a month, we had to start heading NW to Marmaris to get Imagine's mainsail repaired. The next stop in Turkey was Marmaris which is a much larger tourist town and definitely not as charming, in our opinion. However, it is a yachting Mecca and provided Marc with lots of stores for exploring. We found an Elvstrom Sail Maker who did an excellent job of repairing Imagine's mainsail that had been torn and unable to be used since the Bab el Mandeb at the mouth of the Red Sea. We also enjoyed catching up with many friends like Bebe, Heartsong, and Songster, who had decided to ship their boats from the Maldives instead of sail through the Indian Ocean and GOA. It was great to see them and to share all of our stories.
The big highlight of our trip to Marmaris was celebrating Caroline's 12th birthday. We celebrated with a family bowling night and day for the girls at a Turkish Bath. Well, I have to admit before getting to Turkey, my idea of a Turkish Bath was naked, fat, old men in a big, dirty Jacuzzi. Well, it is definitely not the case in Marmaris, at least. They have developed "traditional" Turkish bathing into a relaxing, refreshing spa experience and the perfect way for the girls to celebrate Caroline's tween years. The full treatment lasted for three hours and included a sauna, hot marble and steam room, full loofa scrub down, traditional sudsy wash down, Jacuzzi, and massage. We returned to Imagine for homemade sundae cake, refreshed and rejuvenated.
After our wonderfully pampering in Marmaris, reality is setting in and we must move up to Bodrum to Yatlift boatyard for Imagine's haul out. Something tells me that I'll need another Turkish bath after we're done.

May 31, 2011 – Bodrum, Turkey
Beware – This entry may be boring for the non-boaters reading!!
As all of our friends who saw the seaweed and barnacle beard growing on Imagine's bottom can attest, she was in dire need of her own spa day. Every two years, most cruising boats need to have the bottom paint (anti-fouling) paint replaced. Unfortunately for us, we had just re-did our antifouling paint in New Zealand which was just a little over a year ago but it already needed replaced. We're not sure if it was the paint, the application, or just the fact that SE Asia holds probably the dirtiest, warmest waters in the world. But whatever reason, the growth on the bottom showed us that it desperately needed painted.
Now as with many jobs on the boat, this "fun" job is something that you can either hire out to have completed or do it yourself. Guess what we did? Why pay someone else to do what we can do ourselves?
First we had to find the boatyard that was the cheapest – oops least expensive. After much research, we took the advice of our friends on Excalibur and went to YatLift which was right outside of Bodrum. At $486 Euros for haul out, power wash, and hardstand for a week, this was over $100 Euros cheaper than anywhere else we contacted and it was almost 1/2 the price of some of the popular marinas in Marmaris. Although, nothing fancy, the staff was friendly, competent, and spoke English, the yard was clean, and the bathroom and shower facilities were brand new.
Now the work begins. After they hoist Imagine out of the water, they power washed most of the gunk and barnacles off of her and place her in a cradle so we can get to work. We then have to scrape and sand the rest of the gunk and some loose paint off of the bottom. Although never easy, this year was even worse as the anti-fouling that we had used last year became sticky and gunk up on our sandpaper. We ended up needing to scrape almost all of the paint off with little two inch scraper blades. No offense to Imagine but she has a big, fat belly and bottom and this job was exhausting and time consuming. But like all jobs on Imagine, we all worked together to get it done. The kids helped wherever they could and although, not fun, it was a family affair.
After the scraping and sanding comes the easy part, if there is an easy part, and that is the taping, priming, and painting. Other than the fact, that we ran out of paint and they didn't have our brand anywhere in Bodrum so Marc had to drive about 3 hours each way to Marmaris to pick up more; the rest of the painting was uneventful.
We also decided that Imagine needed some extra TLC to make her look more beautiful. So we made the decision to hire a "professional" to re-paint her boot stripe at the water line. This was a big deal for us as we rarely hire out work and now we know why. What's the saying…..If you want something done right, you do it yourself. Well…….how true it is. There were streaks running through the stripes after the first group of painters said they were finished. One look by the Marina management and they told us that it needed to be re-done. Since we had used the marina to contract the services, there was absolutely no issue about having it re-done, they completely agreed. We didn't have to pay any additional Euros and they didn't even charge us for the extra day on the hard. They contacted another team, who had to start from scratch but did it quickly and professionally.
Although we were pretty stressed out by the whole process, when it was all done Imagine looked great and was ready for another season of sailing. Exhausted and sore, the crew of Imagine was back in the water and was ready for the big passage….20 miles….to our first European country, Greece!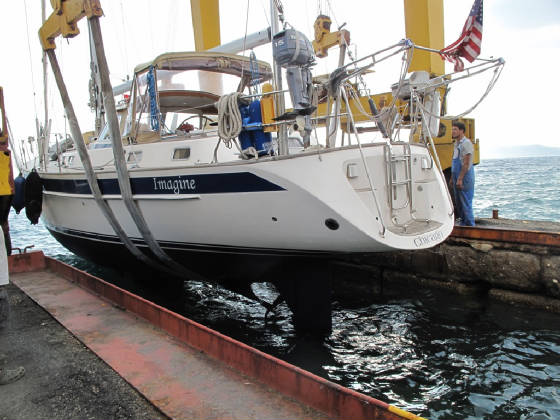 Relaunching Imagine

May 31, 2011 – Bodrum, Turkey
Ruins, Ruins, and More Ruins
With the history of Turkey reading like a who's who of ancient power houses, including; Persia, Greece, Rome, Byzantine, Arabs, Ottomans, and, of course, the Turks, it's no wonder that Turkey was abound with ancient ruins for us to enjoy. Almost everywhere that we went had some sort of old amphitheatre, temple, or rubble for us to explore. With everything open and nothing roped off, we had a blast hiking, climbing, and learning.
While we were hauled out we took a land trip to the Granddaddy of them all, Ephesus. Known now as the best preserved classical city in the Eastern Med, Ephesus was once the center for trade and culture for the Roman Empire in Asia. The city itself was first inhabited in 6000 BC and had its many ups and downs through thousands of years of history. But now it remains as a beacon of the past, for thousands of tourists from all over the world which was no exception the day that we were there. Constructed between AD 41 and AD 117, the Great Theatre with a capacity of 24,000 people was once the greatest theatre of the ancient world. As we all climbed the steps to the top row, we could almost imagine watching a performance there. The other ancient masterpiece that was at Ephesus was the Library of Celsus constructed as a tomb and library in 117 AD. As we toured the many intact remains from this ancient capital, I couldn't help but wonder what Washington, DC would look like in 2000 years.
Although we really enjoyed Ephesus, I believe that we all preferred the ancient ruins of Milletus and Pyrene which were smaller, much less visited ancient cities. However, many of the structures were still standing tall as they were 2000+ years ago. Almost alone, we explored the large ancient amphitheatres, temples to Greek and Roman Gods, Senate Halls, and huge columns strewn throughout the area. Pyrene's small, intact theatre provided the perfect setting for the kids to practice the Greek Mythology play that they wrote during our week on the hard. Now that the script, scenery, and costumes are completed they are ready for the big performance for Aunt Michele and Uncle Philippe next week.
Another ancient city that we enjoyed exploring was Knidos which is located right off of a large bay and anchorage. What a great experience to drop the hook, dinghy to shore, and climb around on some ancient ruins. I'm not sure that there is anywhere else in the world, where a boater can do that. The kids used the beautiful setting to go to shore, write in their journals, and sketch the beauty of their surroundings. Although the anchorage itself was a little too full of charter boats for our liking, it was a beautiful setting and a great history lesson.
As the time approaches to say good-bye to Turkey, we are all a little sad. This is one of the few places that we have been to in our travels, where we wish we had more time to explore. With sincerely friendly, helpful people; beautiful landscape; incredible history; picturesque anchorages; and relaxing cruising we can definitely understand how many cruisers spend a whole season here. But for now, Greece and Europe are calling us so we'll have to spend more time next trip.