October 2011

October 3, 2011 – Gibraltar
After Fred and Margot left, we spent the last week or so making our way to Gibraltar. We spent a couple of days anchored at a beautiful beach on Espalmador near Ibiza. It was, by far, the best beach that we had seen in the Med. Although, the weather wasn't great (a little cold) for swimming, it was still great just to walk along the soft, sandy, not rocky, beach.
But it wasn't all fun and relaxing, for the kids and teacher it was the start of a new school year. We took our "summer vacation" to spend time with Grandma and Grandpa so now it was time to hit the books. Many, many school books came from the US with Fred and Margot and it was time to put them to use with Caroline now in 7th grade, Grant in 5th/6th, and Noah in 3rd/4th, it will be a busy year.
After months of motoring and fighting the wind in the Med, we were determined to have a decent sail to Gibraltar so when the weather looked good we went for it and we FINALLY had a nice run. Although it wasn't perfect it was much, much better and we were able to actually sail a large percentage of the way with the wind behind us. We made a quick stop in Cartegena to sleep and enjoy some of our last Roman ruins (amazing how far their Empire spread) and then sailed the rest of the way to Gibraltar.
As we expected, when we got close to Gibraltar the seas picked up, the currents swirled, and the skies turned a dreary gray color. But seeing the Rock break through the clouds was quite a sight. It looked just like the commercials and, for us, was a milestone as it meant the end of our time in the Med and the beginning of our next leg – the Atlantic crossing.
We've enjoyed our time in Gibraltar. It's an interesting little place with so much history for a country that consists of only 2 1/3 square miles. We took a day and did a walking tour of the whole country: hiking out to the point, seeing the famous Gibraltar apes, and exploring the miles of WWII tunnels carved throughout the Rock. We also took some time to enjoy some good old English fun like seeing an English movie, "Mr. Popper's Penguins" and eating Fish and Chips with a pint of beer.
While we were in Gibraltar, we stayed at Queensway Marina and at 20 Euros a night this was also a welcome change. Lined with restaurants and bars, the marina area itself was quite nice not to mention the cheap laundry and duty-free soda, beer, and wine. The other huge bonus over Spain is that there was No Siesta. How nice to be in a country where they actually worked in the afternoons – wow, novel concept.
Although we really enjoyed our time in Gibraltar, we decided to move about 5 miles up, just over the border, to the marina in La Linea, Spain to meet up with the Hemingway family on Mehari who were there and to rent a car and finally take an inland Spain excursion.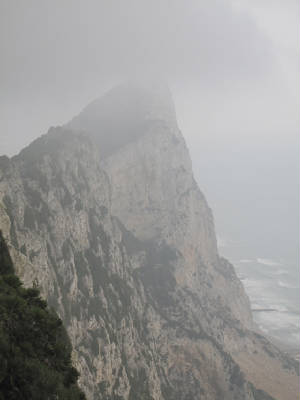 October 8, 2011 – La Linea, Spain
We enjoyed our final days in Spain. La Linea Marina was a nice stop and it was great hanging out with Mehari again. We were even able to celebrate Emma's 11th birthday with a yummy raspberry pie, game night with both families, and Caroline enjoyed a sleepover.
One place that I had really wanted to see in Spain was The Alhambra in Granada so we rented a car in La Linea and took off for a little excursion. We quickly realized that our usual travel routine of "winging it" was not the right approach for Granada. Even in October, the Alhambra, a huge tourist attraction, was packed and by noon when we arrived the tickets were already sold out for the day. This was a big bummer, because our plan was to see Alhambra in the afternoon and go to a flamenco dance show in the evening. But what happened next was an even bigger bummer.
While I was waiting in the information line to learn about our options to see Alhambra, Marc went to the ATM which was really a ticket dispenser that had an ATM function. Well instead of dispensing cash, it ate our ATM card. After trying everything that we could at the Alhambra; calling the emergency number and seeking help from security and information, we decided to try to go to the primary branch of the bank in the city which was about 20 minutes away. We finally made it downtown to the bank at 2:15 pm and guess what???? You guessed it, they were on siesta until 8:00 pm. Can you believe it?? But as I lurked outside the banks windows, someone took pity on me, let me inside, and attempted to help. After quite some time and a number of phone calls, we were informed that nothing could be done and the card was gone. We had anticipated this but we at least had to try, it's not like we're on vacation and can go get a new card when we get home next week. Well, it is a great way to stay on budget.
So now, it was back to trying to see the Alhambra. We learned that all pre-order tickets were sold out for the next few days, so our options were to go to the night viewing or attempt to purchase same day tickets the next morning. We decided to go to the night viewing at 10:30 PM since we didn't seem to be very lucky right now and probably wouldn't be able to get tickets in the AM.
We found a great hostel close to the Alhambra and relaxed for a little while. The kids were thrilled to have Disney channel in English. Forget about another palace, they would have stayed in front of the TV all night. But we rallied and ventured back into Granada for some traditional Spanish Tapas before heading to the Alhambra.
The fortified palaces of Alhambra were originally built, between 1000 AD – 1300 AD, by the last Islamic Emir of Spain. They were later occupied by Queen Isabella and King Ferdinand in 1492, after the expulsion of the Muslims. Today a UNESCO World Heritage Site, the massive red fortress, gardens, and palaces stand guard over Granada and are quite a site. Although, the night tour did not allow us to see the scope of the grounds, the palaces glistening in the light were amazing. The intricately carved walls resembled fine lace curtains and were visible throughout all of the rooms. The views of the valley below were just stunning.
On the way back to Imagine, we stopped in Nerja to visit the massive cave structure. After all of the European castles, ruins, and churches that we have seen, it was a treat to see something a little different. The caves, believed to have been occupied since 25,000 years BC, are so huge that now there is an auditorium built inside to hold summer concerts. It also boasts the largest stalagmite column in the world according to the Guinness Book of World Records. We were all appropriately impressed and enjoyed exploring.
After a couple of whirlwind days, not without a little drama, we were happy to get back to Imagine. We used our last days in Spain to prepare for the passage to the Canaries. Since we did not know what the shopping would be like in the Canaries, we took advantage of the huge Carrefour (very nice Supermarket that delivers) to make sure we were totally stocked up until we reached the Caribbean. After over-filling three grocery carts, we decided that we couldn't fit anymore on Imagine - if we still wanted to float, that is.
We spent our last night in Spain having some good, old fashioned American fun with Mehari. We took a quick trip over the border back to Gibraltar and went bowling. We had a blast with all 12 (Miles – Age 1 isn't quite ready yet) bowling, laughing, and cheering. We followed our night of bowling with a gourmet meal at McDonalds. What a treat for all!
The weather looks pretty good for a sail to the Canary Islands and Imagine is packed with goodies. So after six jam packed, exciting months it is time to leave the Med. Since we went through the Suez Canal in April, we have visited Israel, Turkey, Greece, Croatia, Italy, Spain, and Gibraltar. We have seen many innumerable historical sites, enjoyed incredible experiences, and spent time with wonderful people. But now it is time for us to move on, to start the next leg of our journey, and return to the Atlantic Ocean.

October 13, 2011 – Lanzarote, Canary Islands, Spain
After a very nice 4 day sail, we arrived at Lanzarote, Canary Islands yesterday. Now that we are back in passage mode we have resumed sending passage updates from our satellite phone to our family. Attached is the email correspondence for the passage from Gibraltar to Lanzarote.
October 9, 2011

Hi Everyone -

With all of the short passages in the Med, we hadn't sent out one of our passage updates in a while. That has all changed now as we are back in the Atlantic Ocean. In order to take advantage of the crazy currents in the Gibraltar Strait we left Gibraltar yesterday morning at 3:30 AM for our 600 miles/4 day passage to the Canary Islands. We had a great first day and we have actually been sailing for over 24 hours. After the months of no wind or wind in the wrong direction in the Med, this was a welcome change.

We enjoyed our last month in the Med exploring Spain and Gibraltar and especially Fred and Margot's visit in September. But now, we are very ready to get to the Canaries where we'll relax, swim, and get Imagine ready for the big crossing to the Caribbean.

We hope that you are all having a great weekend.

Love to all,

Jane, Marc, and the kids

N34 degrees 10 minutes

W008 degrees 24 minutes

October 10, 2011

Hi all,

Just a quick note to let you know that all is going well out here in the Atlantic. We have been able to sail most of the way so far which has been so nice. But as we expected, the winds are starting to decrease and we will probably need to motor for much of the rest of the way. The kids are happy because motoring means endless power so they can play the wii and watch movies.

It's also nice to be back in an ocean with consistent waves. The often choppy, confused seas of the Med reminded us of Lake Michigan on a rough day. With the calm seas, we've been doing lots of school especially history and science. Although our kids are well versed on ancient Egypt, Persia, Greece, Rome, etc, they definitely need a little brush up on the Native Americans, American Revolution, and Civil War. US History will be a big focus this year.

Well, we hope that you all have a great weekend.

Love to all,

Jane, Marc, Caroline, Grant, and Noah

N32 degrees 00 minutes

W10 degrees 39 minutes

October 13, 2011

Hi all,

We are in the Canaries! After what turned out to be a very nice 4 day sail, we arrived in Lanzarote, Canary Islands yesterday. We are anchored in a nice spot off a big beach beside our friend Roger from the boat Lapalapa. The water is clear and not too cold (like Lake Michigan in July) and the beaches look great except for all of the naked Europeans - again. I think that someone needs to introduce board shorts to these people.

We are all looking forward to catching up on sleep, swimming, cleaning, and doing school and boat projects.

We hope that you are all well and having a great week.

Love to all,

Jane, Marc, Caroline, Grant, and Noah