Up until the news of the tragic events of the crew aboard Quest, most Americans were happily oblivious to the events unfolding in the Indian Ocean. Although many people had heard of Somali pirates, if piracy was mentioned, most people's first image was Johny Depp and the "Pirates of the Caribbean". Although there are over 600 people, primarily professional seamen and approximately 30 vessels held hostage, since very few were American, it wasn't high on the priority list of the mainstream press. Very, very sadly this year proved to be different – and as quoted from a seaman aboard a USS warship 'This is the most violent I have seen this area so far. I've made 4 trips out this way and all the attacks this year are just unbelievable.'

We, on Imagine, and approximately 150 other boats endured this saga that is more fit for fiction than real life and we only hope that it does not define or become the legacy of our adventure together. We hope the Med brings new life to our cruising and the month of February, the month of Piracy, simply becomes a means to an end.

History and Events Leading Up to our 2011 Indian Ocean and Gulf of Aden Crossing
As with any major decision in our lives, Marc had researched and prepared for this dreaded part of our trip for years. The fact that there were pirates in the Indian Ocean and Gulf of Aden was in no way a surprise to us. We did not enter into this part of the world blindly. We knew and understood the risks as they had been for the last few years. What we could not and did not predict or expect was the radical change in both number and location of piracy attacks this year. Attached are some of the facts regarding piracy in the Indian Ocean/Gulf of Aden (GOA) as we knew them going into the 2011 passage season.
Approximately 150 sailboats were planning to make the passage across the Indian Ocean to the Red Sea this year which is approximately the same number that do so each year. Marc had most of the names of the boats on a spreadsheet that he had been compiling over the last few months. There were 3 Rallies organized to make the passage, each with approximately 30 boats. The rest of the boats were going independently and assembling convoys in Salalah, Oman.
The three rallies that were offered to cruisers for a fee ranging from ($350 to $6000 US) were also focused on the GOA. None of the rallies had set up convoys for the Indian Ocean because it was not deemed necessary based on previous years. We seriously inquired into all of the rallies. But Marc believed strongly that this would be the most important and dangerous part of our trip and he did not want to rely on an unknown entity to guide us through the process. These initial thoughts on this have been proven correct over and over. You didn't need a rally to prepare you, the information and assistance is there for everyone, if you just look and ask for it.
According to EUNAVFOR, the number of total attacks for January and February 2010 were 11 (were 9 attacks in the GoA area & only 2 in the broader Indian Ocean) - See Bar Graphs below
In previous years, the primary concern was the Gulf of Aden (GoA) area specifically. This is why all boats, including the rallies, would assemble for convoys in Salalah, Oman, not for the passage across the Indian Ocean (Maldives or India to Oman).
Although many cruisers that we met in Thailand, Sri Lanka & Maldives believed that the pirates were simply not interested in yachts, we DID NOT believe this for a minute. Many of our cruiser friends, liked to quote the fact that only 1 yacht had been taken in the last 2 years – and that yacht was simply in the wrong place. We have always felt that the pirates will strike at anything they see – a yacht is just a soft target and easy pickings for them. We felt that there had not been more attacks on yachts because the pirates had just not come across yachts in the big ocean. We believed that yachts were vulnerable.
In January, in Sri Lanka and into the Maldives, Many cruisers quoted that no yachts had been taken this year (2011) – a statement that caused us to scratch our heads as almost no yachts had made the passage yet this year.
We knew, thanks to Marc, all of the government agencies that we should report our positions to. We had the phone numbers for all of these organizations keyed into our satellite speed dial and we were already receiving daily reports from MARLO (Maritime Liaison Office). Click on the MARLO logo below to see the piracy reporting for the timeframe mid-December to early March. This is the data we were receiving on a daily basis.
We had always, since before we left Chicago, agreed that the children should not be on the boat during the GoA passage. We had always thought that this would be the most dangerous part of our journey. We had already made plans to assure that this would happen.
February 6, 2011 – Uligan, Maldives
Unfortunately the beauty of the Maldives could not hide what awaits us in the Indian Ocean. The threat of piracy in this part of the world has been a huge concern for us since we left Chicago. We have watched the trends closely and last year had been somewhat encouraged that the coalition forces and world's warships had started to make some strides against this despicable activity, as the attacks in the Gulf of Aden (GOA) had dropped in 2010. Despite this, we had always agreed that the children should not be on the boat through the GOA.

While in SE Asia, as this part of the world was no longer in our distant future, we began the immediate preparations. Marc poured over piracy websites, such as, ICC (International Chamber of Commerce Commercial Crime Services) which maps all pirate attacks. He also began the process of contacting the various government/military organizations of our plans, such as, MARLO and UKMTO to better understand our options. Jane began to research the cities in the Middle East where she and the kids could fly in and out of and safely stay while they waited for Marc. And Marc began the exhaustive search for crew to sail with him.

We were so fortunate (lucky, really) with our search for crew when friends who we had met crewing in the Carib and Pacific, Mike Felner and Kieran Dooley, happened to respond to our Christmas newsletter and prompted Marc to say….."Hey, what are you doing for the next month???" This lead to several emails and commitments that Mike would meet us in Sri Lanka and Kieran in Salalah, where the kids and I would leave Imagine to meet back up in safer waters.

For several months, Marc had been tracking the sailboats that would be making this passage this year and had been contacting those with compatible timing and boat speed to convoy with in the GoA. He also had been studying previous year's routes and convoys to determine the safest route for Imagine.


So although still very worried, we left Thailand thinking that we were all set. Even though we were anxious, we were committed to enjoying the countries of the Indian Ocean. But then, quite frankly, all hell broke loose. While still in Sri Lanka, Marc and Martin from Anima, began to notice that the January pirate activity was increasing significantly and spreading throughout the Indian Ocean and Arabian Sea. We also began to get daily reports from MARLO with accounts of pirate attacks & hijackings and their coordinates (sometimes 2 or 3 a day). Very concerned, we vowed to continue to follow it in the Maldives and possibly change some plans, routes, flights, etc.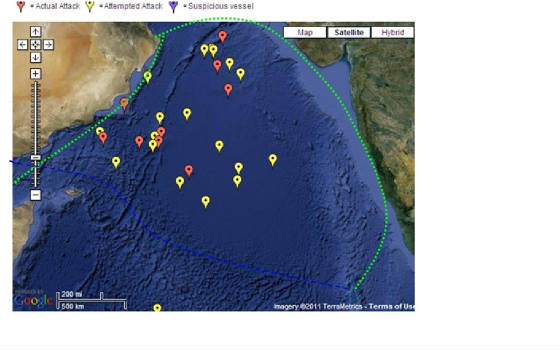 Above is the piracy reporting in only the Indian Ocean (not including GoA) YTD as of the end of January while we were in the Maldives and evaluating which route we would take. Remember that there were only 11 attacks in Jan and Feb 2010 in the IO and GOA. This map shows 28 attacks in January, only in the Indian Ocean. The trends were absolutely alarming. The Green represents the track that we decided to take and the Blue roughly the track that many cruisers in the Maldives chose.
While in the Maldives, it just got worse. Marc and other cruisers in the area were speaking with representatives from MARLO and UKMTO directly to better understand the situation. The military representatives from these organizations were VERY, VERY concerned. They said that the pirate activity had become "ballistic" and none of this sounded like CYA rhetoric.

Being government agencies, they would provide absolutely no advice to the 30+ boats now in Uligan except for DO NOT GO. We asked more than once, for advice on safest routes - were there specific areas where there would be more warships, etc. Being the gov't, I am sure that they were concerned that if they provided advice and something happened to one of us, they would be liable. And although, they provided no recommendations at all on best possible routes, they did mention more than once that many large, commercial shipping vessels were now being diverted up the coast of India and around the Indian Ocean.

We spent many hours discussing our options:
Sail a modified direct route from Maldives to Salalah, Oman in convoy
Stay in Maldives for 2-3 months, then sail to Chagos, down the coast of Africa, around the cape, back north up the coast over to Brazil and then back to Caribbean.
Turn around, sail back to Singapore, back north to Japan, across the Aleutian Islands to Alaska and back to the west coast of US.
Sail toward India and follow the coast of India north to Pakistan and cut across to Muscat, Oman. Then follow closely the coast of Oman to Salalah then to the GoA
Martin on Anima and Marc even looked seriously into the very real possibility of having armed (AK47's and RPG's) Yemini security personnel on board our yachts. These were private contractors who had crossed eastbound on cargo vessels and were looking for a ride back to Yemen. The deal was to meet them offshore so they would not have to throw their weapons overboard on arrival to Sri Lanka. Although it sounds crazy, this was a very legitimate offer that in the end, didn't pan out….not sure if that was a good or bad thing.
To be honest, none of these options were appealing
1. Even with a convoy, there was no assured safety crossing through these pirate infested waters to Salalah. Although a 'modified direct' course would be south of the pirate attacks, it would be in between the recent attacks and Somalia – home to all of the pirates. We did not want to be the last boat that they stumbled upon on their way home.
2. The route around S. Africa is not free of pirates either. In fact, the number of attacks near Madagascar has increased drastically. And the weather can be just dreadful.
3. Although we love Alaska, the 3000 mile N. Pacific ocean passage did not sound friendly.
4. Going up the coast of India and around the attacks would require an additional 1000+ miles of motoring with wind probably "on the nose". We did not have an Indian Visa so we weren't even sure if we could stop in India.

At the same time, we had to consider the best place for the children and Jane to leave the boat and return to the boat. With everything going on in Egypt and the Middle East, this became an issue that we had not expected. If we did decide for Marc and Mike to continue directly to Salalah in a convoy, we looked at homes to stay in Uligan with a family which would have been QUITE an experience.

When all of these discussions first occurred there were less than 10 boats in the anchorage and by the time that we left there were about 35. Every day at 4:00 pm, all of us met up on shore to discuss new information, possible routes, strategies, weather knowledge, etc. Marc spoke to MARLO and had a representative from UKMTO call us at a meeting with all of the cruisers. Although this was a horrible process, we made some new friends as we all struggled with this truly life or death decision. Marc called our original group….the Uligan Refugees because that is what we felt like. Of our original group, the first boat to leave was Convergance, a US vessel. Although we weren't ready to leave, as Randy eased out of the anchorage we were somewhat jealous that he had made the decision to move on. We anxiously received email messages every day and prayed for his safety. (Convergance is now safe in the Med)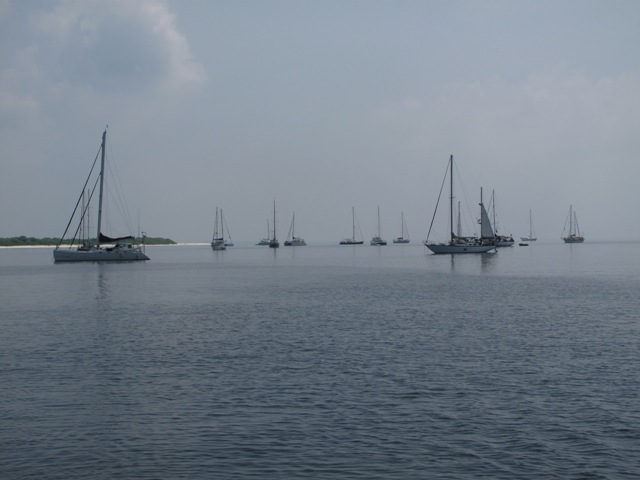 As more and more people arrived to the anchorage, what became amazing to us was the lack of knowledge and preparation by many of the boats. Most boats had not been following the ICC attack website, had not registered with UKMTO and MARLO so they were not receiving the reports, and quite frankly did not know the risks that faced them. In the last two years on this trip (and really 20 years in our marriage), I have had many times when I thanked God for the preparedness of my husband but probably never was I more thankful than during this time. Marc was, by far, one of the most prepared people in the anchorage and acted as a leader (although reluctantly) in the early meetings to educate the rest of the cruisers on the procedure for reporting and the current attack scenario.

But despite the many meetings and sharing of knowledge, we still had to make our own decision. We had many sleepless nights with 2 AM conversations. For a few days, every day held a different direction….go up the coast of India, go somewhat straight in a convoy, go to S. Africa. In fact, one morning (about Day 5) after an emotional breakdown, we made the decision to go the S. Africa route. We had never had a desire to go this direction and it would mean never realizing some of our dreams for this journey, such as, seeing the Pyramids and sailing in the Med. But we did believe, at the time, that it would be the safest way of realizing another dream of circumnavigating the world. So we arose early to a beautiful sunrise and glassy water sitting on our back deck and invited Martin over to share our "final decision". Marc even called home and told his parents the news. That lasted for one day. We made contact with a friend who was in the process of sailing around Africa, and several factors started making this option less desirable – not the least of which was the very real threat of piracy in the Mozambique Channel and the treacherous seas that are common around the cape.

Emotionally spent, we cannot think of any other decision in our lives that we have made or been faced with that was fraught with more fear, anxiety or danger. For you, as you read this (and especially after the tragic events of Quest and ING), there is no decision – you don't go – simple, end of story. Anyone thinking otherwise must have rocks in their head. But we're sorry folks, it's just not that simple when you are out here. It's not like a snowy day when you just go back into your driveway. A decision to turn around or change our course could affect our schedule for a year or more and take us to areas of the world that we had never planned to go and can be equally fraught with their own dangers.

Through all of this what made us laugh was to think about the silly decisions we would fret over in our old life….which computer to buy, what color to paint the bedroom, what to do for the weekend…..we longed for that type of decision. But we HAD to make a decision. Although the officials in Uligan (where we were only supposed to stay for 3 days) had been patient and understanding, they would not let us stay forever without a cruising permit. We started to call Uligan "Hotel California"….you can check out but you can never leave.
So after a little over a week of stress, we went back to the decision we had made right after Marc spoke to MARLO the first time. We decided to take a 11 day 1000 mile detour motoring into the wind the entire way to stay as clear from the pirates as possible based on the data we had available. We would sail up the coast of India, close to Pakistan, and over to Muscat, Oman in close convoy with two other boats, Laroobaa and Saildance II both Blue Water Rally boats.

We chose this option for many reasons. The Indian Navy and Coast Guard had been very aggressive in protecting their waters against pirates, recently sinking a mother ship 200 miles from their coast. We would basically "hug" the Indian Coast within 20 miles to assure this added security. We would go to at least 24 degrees north which would keep us hundreds of miles from the most recent attacks. It would also provide the least amount of time in the open ocean where the majority of the attacks occurred. Although the passage itself, would be predominantly into the wind and would require much motoring, Imagine carries a lot of fuel and motors well into the wind. Really, if any boat can do it, she can. Many boats are just not equipped to motor for this many miles into a headwind and therefore this route is simply not an option for them. By taking this route, which we felt was the least risky, the kids and I would remain on the boat to Muscat. This would allow us to better assess the situation in Egypt and the Middle East, in general, to develop the next path forward.

Of the original "Uligan Refugees", everyone made their own decision. Some friends chose to go back to SE Asia, many went direct with a convoy, some went direct alone, some plan to go to South Africa, and some stayed in the Maldives and waited for more information. Most of the independent boats in Uligan, that did the Indian Ocean passage did a direct/varied rum line course from Maldives to Yemen or to the IRTC. Most of these boats went in a convoy with other sailboats.

On the day that we were about to leave, we went ashore early in the morning to get the bread that was baked for us the night before from the locals. We passed the palm tree area where all the cruisers had met each day to plan strategies and discuss options. It was a place we gathered in angst, fear, and emotion, and that morning it was empty and quiet – it was a strange feeling, and for some reason, that moment was one that we won't ever forget.

We finally hoisted the anchor at mid day, and set off from the Maldives. It was bittersweet. Hugs and well wishes to those who we were leaving behind. Martin & Jason, and new friends we made there and we were all wondering where we would next see each other. I don't think that anyone who was in Uligan this year will ever forget their time there, or the feelings and emotions we were all going through. We hope that we are all making the right choice for ourselves and pray for everyone's ultimate safety.