February 6, 2011 – Uligan, Maldives – Jane's Website Entry

Although it was very difficult, we refused to let pirates completely ruin our time in this absolutely breathtaking location. Over the years we had heard much about the beauty of these atolls in the Indian Ocean and they are even more beautiful than we expected. So here is our "real" blog of the Maldives with no reference to those thugs from Somalia.

We were the third boat to arrive in the crystal clear waters of Uligan. In contrast to Sri Lanka, the officials were extremely polite and did not ask for one thing. In fact, they gave us a Maldives courtesy flag for free.


As soon as we went to shore, we met Assad who is a yacht services rep who sets up fuel, tours, and anything that a yachtie would need. I mean anything…..he even gave us the sim card out of his own phone. Although eerily quiet, the village was immaculate with homes made of white coral lining the perfectly aligned streets. Approximately 400 people live in the Muslim village and although friendly, the traditionally dressed women tended to avoid us.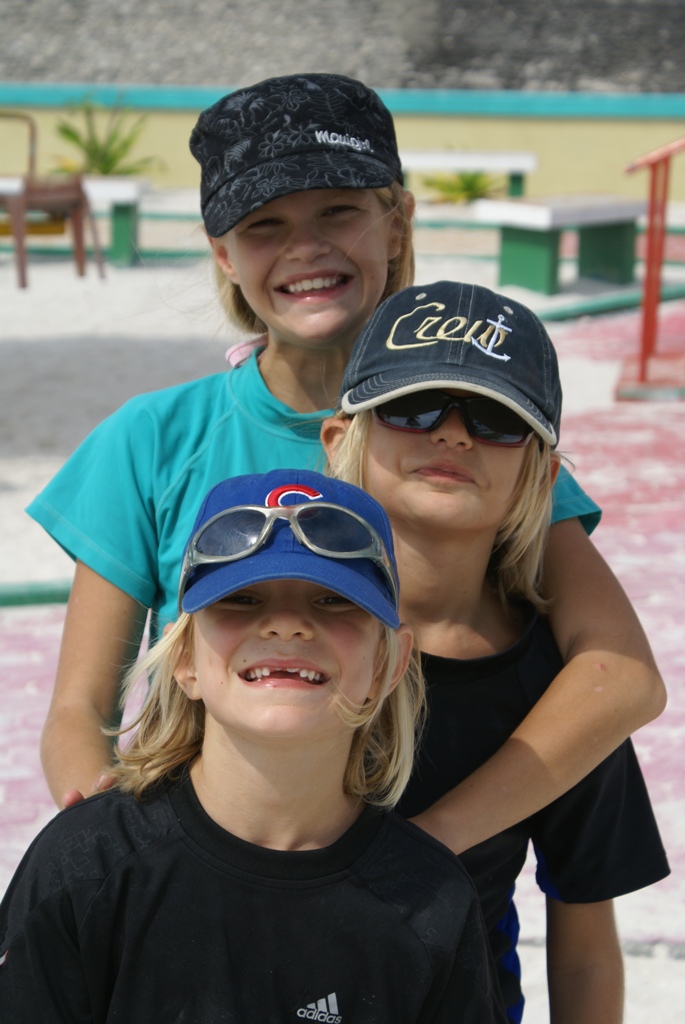 The Maldives pride themselves on maintaining their conservative values, despite the expanding tourist industry. They do this by only allowing resorts to be built on uninhabited islands and having strict rules on visits to villages. For a yacht, this means that unless you have a very expensive cruising permit (about $600) your boat can not leave the port where you checked in. Since we did not get the permit, we had to stay in Uligan…which was not too bad. We were able to roam freely on the island of Uligan, seeing the village and spending time on their beaches. Assad planned an island hopping trip for many of the boaters so we could see some of other islands. The restrictions of these other islands quickly became apparent to me when the kids and I left the group at a grocery store to go to the park and play. As I was walking down the street, two men came into the street from their homes to politely ask me: where was going; how did I get there; where was my guide; and most importantly, where was my husband. After, I explained that I was with a group but wanted to take the children to the park, they smiled and waved me on but it was obvious that they took their privacy seriously.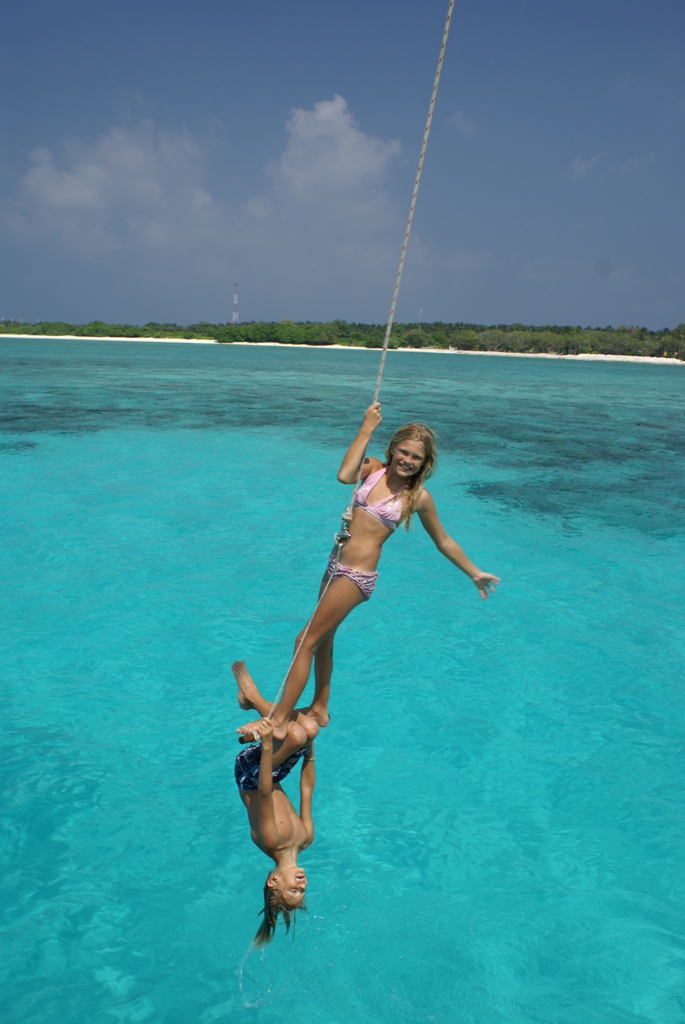 One of the most special components of the Maldives is the crystal clear water which is packed with marine life. From our boat, we could snorkel and see giant angels, triggerfish, etc. etc. And from the beach we were entertained by a SeaWorld worthy show of 50+ spinner dolphins. But the highlight was the giant manta rays that swam in the anchorage daily. The kids were so excited when they first saw them that they jumped out of the dinghy with their clothes on.

Assad worked with the island to host two wonderful parties for the cruisers. The first was a beach BBQ potluck where the locals provided fish and rice and all of us provided the side dishes. Martin, from Anima, played the guitar and we all sang our favorites and relaxed. The other event was a very special dinner hosted by the island with local foods. Assad (who is only 21) and his young friends had decorated a courtyard with white lights and they had music playing. They created a picture perfect event . It is really one of those nights that I won't forget.

This little slice of heaven is one of the places that we wish that we could have stayed longer and enjoyed more. This should have been paradise savored. Every day we were there, we promised to dive with the kids, snorkel, play on the swing, swim, or play a game. Every day to our deep regret, we were distracted by the drama of the day and the looming decision of what to do. Although, we desperately tried to enjoy the beautiful islands and our time together, we were consumed with planning and anxiety. Hopefully, this soon will be a distant memory. Next time, we'll stay longer and relax more.

Satellite Email Messages – Passage from Uligan, Malidives to Muscat, Oman
7 February 2011
Hello everyone -
Well we have left the beautiful waters of the Maldives and we are on our way to the Red Sea. The Maldives were absolutely lovely with dolphins and manta rays swimming in the anchorage and huge, gorgeous reef fish swimming right under our boat.

We really tried to enjoy the gorgeous scenery but we have to admit that the stress of the upcoming passage wore on all of us in the anchorage.

As you all know the Gulf of Aden between the Indian Ocean and the Red Sea has been plagued by pirates in recent years. We had been preparing for this and had planned to sail from the Maldives to Salalah, Oman where we would meet up with other boats and form convoys to go through the GOA corridor (Gulf of Aden). However, while we were in Sri Lanka we received reports that there were pirate attacks occurring further out into the Indian Ocean basically right in the path that we had planned to Oman. So for the last week, we've been analyzing every option to avoid this area (including getting to the Caribbean via S. Africa instead of the Med or turning back to Thailand and then getting back to the US via Japan and Alaska)....neither option seemed great to us. So after much thought and prayers, we have decided to sail 1000 miles out of our way around the Indian Ocean to avoid the trouble spots.

So we are out here now, making our way over to Oman. It will be a long trip and probably not very fun since the predominant wind will be "on the nose" but we think that it's the best option for us. We are traveling very close to two other boats that we have met.

We will send you a quick update each day letting you know that we are safe.
We hope that you are all staying warm and shoveled out of the big snowstorm. "Go Packers!!!" So when is the Super Bowl anyway.

Love to all,
Marc, Jane, Caroline, Grant, and Noah

9 February 2011
Hey everyone,
Just a quick note to let you know that we are still doing well out here. We've had a pretty comfortable ride so far. The wind is not quite on the nose so we've had sails up most of the way but have been motoring as well to keep our speed up. We are still sailing very closely with two other boats and should be with them the rest of the way.

We are all doing well and the kids have been doing school everyday - unlucky for them. We've also even managed a little baking with muffins for breakfast and homemade pizza last night for dinner. The worst thing has been the many, many fishing boats, out of the 1 billion Indians here, I think that at least a million are fishing on the western coast. It was a crazy night trying to see them all and then maneuver the three boats around them. But the best thing was hearing the Indian warships calling vessels yesterday, which reminded us why we are taking this course.

We hope that you are all doing well and keeping warm. We'll continue to keep you posted.
Love to all,
Jane, Marc, Caroline, Grant, and Noah (and Mike)

On this day we received an email from our friend, Bill on Bebe informing us of the possibility of a transport ship stopping in either Cochin, India or Male, Maldives to pick up boats and deliver them to the Med. We were already past Cochin and after some discussion decided to keep on going. If that option would have presented itself when we were still in the Maldives, I believe that we would have seriously considered the option. The cost would be about $35K for Imagine. Hind sight being 20/20, we may have made a mistake by not turning around at this time.

11 February 2011
Hey all,
Just a quick note to let you know that we are still doing OK out here. We should arrive in Mumbai mid-day tomorrow for our quick 24 - 48 hour stop for fuel and hopefully food. If we can't reprovision, we will be eating a lot of pasta and peanut butter (not together) on the next passage. Oh well, we have plenty of Pringles and Oreos on board.
Although it has not been a great sail and we have run the engine every minute to keep a good pace, it has not been as bad as we expected - at least, so far. Except for the fishermen, who are everywhere and make watch very, very busy. Thankfully with Mike on board helping us, Marc and I are able to get a little more sleep than usual.

We'll keep you all updated. Thanks for the emails, it's great to hear from you.
Love to all,
Jane, Marc, the kids (and Mike)

FRIEND OR FOE???
On the passage from Maldives to Bombay, India, we had 2 very close encounters that we felt threatened by. As we were travelling in convoy with Saildance & Laroobaa, we were approached at high speed by an open bow fishing boat with twin outboards – the picture of the typical 'pirate skiff'. This skiff had at least 6 men all standing in the boat – but could not tell if they were armed or not. Alarmed that the skiff was coming directly at us at high speed, we quickly went into our 'attack formation' essentially bringing the 3 boats in close quarters (within about 20 meters of each other). We altered our course by 90 degrees, and they easily matched our course and with their speed were right on top of us in no time at all. Imagine was in the middle of our formation, and Marc was at the helm – our speed was at max between 7-8 knots and the adrenaline was pumping fast. The kids went below to their 'secure' location (basically between the engine block & freezer), and Marc, Jane & Mike were in the cockpit, communicating with Laroobaa & Saildance.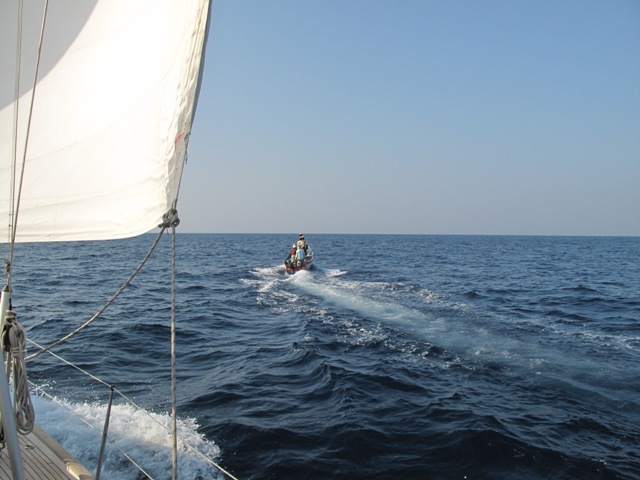 This skiff was not going away and Marc had enough. Marc turned the helm hard to starboard, circled behind our formation, and made a course directly for the skiff at max speed. In a sort of 'chicken' with the skiff, we felt the only way this skiff was going away is if we chased him out. Fortunately, this time the strategy worked. As soon as we got closer to the skiff, he veered away and left the scene. We were all spooked by this, and were shaken by how quickly and easy they came up on us from out of nowhere.
The second approach by another skiff came later that day. Similar circumstances to the first skiff, we did a great job pulling our 3 yachts together into formation in short time. This time, the skiff appeared to be going after Saildance, and Saildance maneuvered in front of Imagine with the skiff fast on its stern. This positioned the skiff directly in front of Imagine and Marc again took an aggressive approach to the situation. As the skiff crossed our bow, Marc accelerated and got within 10 feet of the stern of the skiff. At that point, the skiff first noticed Imagine bearing down on them and quickly accelerated out of the way and eventually bugged out.

After the stress of the situation calmed and the adrenaline subsided, we could make a better assessment of what happened.

First, any vessel approaching us at high speed – especially one that had been described as how the pirates operate, was an immediate threat to our safety. We were not taking a 'wait and see' approach. Any approach was a potential threat. In reality, looking back, we know that these were most likely innocent fishermen who were probably looking to trade, or for water, or most likely just to say hi. It is very unfortunate that the threat of piracy has everyone spooked to the point of this, and under normal circumstances, we would always be welcoming of the local fisherman to see their catch of the day, or simply to wave and say hi in some way. I'm sure these two boats were no different, and wondered what the hell was going on with the three sailboats and the one in particular who was trying to run them down….. Looking back, I think I would still react in the very same way.
12 February 2011
Hi all,
Quick update to let you know that we are anchored here in Bombay - arrived 2pm local time. We arrived without visa's which is presenting a problem. We are requesting a 24 hour 'safe harbor' refuge to obtain diesel before we proceed. At this moment, it is unclear as to what will happen. They may kick us out of the country....

Our plan briefly at this point Phase 2 is to sail far north to almost Pakistan, and cross the Gulf of Oman to Muscat. Phase 3 will be sailing down the coast of Oman to Salalah, Oman. Phase 4 will be sailing through the Gulf of Aden to Djibouti & Phase 5 will be to sail up to Port Ghalib, Egypt.
Jane & Kids plan to fly from Muscat to Djibouti.
Jane, Marc & Crew

13 February 2011
Hello Everyone -
After hiring the services (for a nominal fee) of a very nice, ex-Olympic sailor, marine service agent, we were approved to anchor, fueled up, and out of India within 24 hours. We are debating if we can actually say that we have been to a country if we never actually stepped foot on it. We don't think so....
We have been sailing (motoring actually) up the coast of India for about a day along side our friends on the boat Laroobaa. So far, so good although it is still quite stressful. Last night our AIS (which is the instrument that locates large ships for us) was maxed out at 250 boats. At one time we were sailing between oil fields and rigs on the port side and literally a thousand+ fishing boats on the starboard side. It takes A LOT of fish to feed 1 billion people.

This morning was a little rough so the kids got out of school but the seas have laid down nicely and now we are playing games and doing origami. We are already planning to make valentines and a pink cake tomorrow to celebrate Valentine's Day.
We hope that you are all doing well and thanks for the emails.
Love to all,
Jane, Marc, Caroline, Grant, and Noah (and Mike)

14 February 2011
Hey all,
Happy Valentines' Day!!!! Just a note to let you know that we are doing OK out here. We were actually able to sail with no motor today for two hours. This is the longest that we have sailed since we left Maldives. But then we hit a squall and had to take in the sails and motor through it. Oh well, it was better than nothing.

It's a bit lumpy today so no one feels like a big Valentine party but we did have muffins decorated with hearts for breakfast and if it calms down we are going to make a valentine cake today.
I think that I forgot to mention yesterday about our call from UKMTO which is the UK Maritime Trade Organization of the Royal Navy (sounds impressive, at least). We report our position to them daily and they called us to let us know that they are receiving our emails and are monitoring our progress. Sounds good, at least.

Well we hope that you all enjoy your Valentine's Day with the ones you love.
Miss you and Love to all,
Jane, Marc, Caroline, Grant, Noah, and Mike

15 February 2011
Hi all,
Just letting you know that we are still out here motoring into the wind. Wow, this is a very annoying passage. Although, we knew we wouldn't have great wind, we didn't expect to have 15 - 20 knots on the nose all of the time and from the looks of the weather reports we could have it this way all the way to Muscat. Fun, fun, fun.

But we are still doing OK and hanging in there. We are trying to do some school today to keep us busy.
We hope that you are all doing well.
Love to all,
Jane, Marc, and the crew

16 February 2011
Hey all,
Just letting you know that we are still motoring away out here in the North Indian Ocean. Although the wind is still "on the nose" it is not as strong and the seas have laid down quite a bit so it is much more comfortable today. The kids are busy reading right now....They have a strategy that if they are reading
nicely, they won't have to do school. I'm not sure about that one.

The big past time this trip has been doing origami and Grant has made almost every animal in his book. In fact, he is now giving lessons (for a fee of course) and I progressed to a fox yesterday.
Marc and I are hanging in there but pretty stress out. Again, we're glad to have Mike on board this trip so we can at least get a little more sleep.

We hope that you are all doing well and staying warm.
Love to all,
Jane, Marc, and the crew

17 February 2011
Hey all,
We are 130 miles and 20 hours and 59 minutes from Muscat. We are STILL motoring and have used so much fuel that we actually had to borrow some from Laroobaa, the boat we are sailing with. This is a first since we have huge tanks and usually pride ourselves on how much fuel we carry but, of course, we're not used to motoring for 6 days straight into the wind. It was pretty exciting getting the boats close enough today, while going 5 knots, to pass jerry cans of fuel from Laroobaa to Imagine. Good driving on the captain's part.

The big excitement yesterday was a fly over by a naval helicopter. We couldn't see a flag to know who it belonged to but it flew close to us and tipped toward us so he was definitely checking us out. It's good to know that they are out there.

We hope that you are all doing well. Stay warm and good skiing to the Adams' family in Snowbird.
Love to all,
Jane, Marc, Caroline, Grant, Noah, and Mike

February 18, 2011 – Muscat, Oman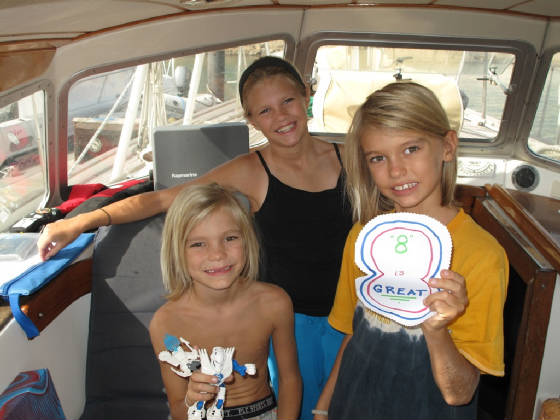 "Happy 8th Birthday, Noah" !!!!! We arrived in Muscat, Oman just in time to celebrate Noah's Bday. Noah was so excited for his birthday and we were all so excited to be on land after a very long haul. We started the special day with a very special Bday breakfast of "Fruit Loops". Now for most kids this might not be special, but for boat kids this is a real treat because we never know when we'll see this American delicacy again. Then Noah opened his presents of Bionicles, the game Rush Hour, and a backpack full of Ben 10 toys.

We also started the day arriving in Marina Al Rowda Bander in Muscat, Oman. Although they let us fuel up, we were quickly told that we had to go to the main port to check in. Fueling up was exciting as it was some of the cheapest fuel we have had in the world…gotta love the Middle East. However, we quickly learned that this was the only "cheap" thing in Oman. We, again, were forced to get an agent and with his fee of $150 US, VISAs for everyone at $60 each, this would be one of our most expensive countries….we didn't even know yet that the dock fee would be $100 per night (again the most that we have ever paid). Oh well, we're here and it looks beautiful and we definitely deserve a rest after 12 days on the boat.


We celebrated Noah's Bday with dinner out at the marina restaurant and Kieran met us for the celebration. Now the new crew Imagine is complete. One thing is for certain, Noah had plenty of deserts. At the restaurant the waiter brought a small cake, candle, and we all sang Happy Bday…..and ice cream was included in the meal. Then back on Imagine, we had a dinosaur cake that Caroline had decorated and jelly from Laroobaa (which is the Aussie name for Jello). Noah said that it was his "Best Birthday Ever" which, of course, brought tears to my very tired eyes after what we've endured the last couple of months and then we all had a GOOD night's sleep.

Satellite Email Correspondence – re: Quest
19 February 2011
Good Morning Everyone,
You may have heard that a US sailboat - 'Quest' was taken by Somali pirates in the Indian Ocean yesterday 2/18 - late afternoon. We became aware of this today and know that it is already in the mainstream press. We just wanted to reassure all of you that we are safe and sound in Muscat, Oman. Although we do not know all of the details on the attack, from what we have heard it took place hundreds of miles from the course that we took from Mumbai to Muscat.

This is why we made the decision to sail over a 1000 miles out of our way and stay close to the Indian and Pakistani coast to avoid the known areas where the pirate attacks had occurred. Although it was a long and sometimes arduous journey we are so thankful that we made the decision that we did.
Marc is going to get a cell phone sim card right now and we'll try to make some calls later today. Again thanks to all of you for your assistance, prayers, and emails.
Love to all,
Jane and Marc (and all of the crew)

February 22, 2011 – Muscat, Oman – Jane's Website Entry
I stood on the dock at the marina and watched Marc, Mike, and Kieran set off toward Salalah, the Gulf of Aden, and the Red Sea. I've said worried goodbyes to my husband before as he has gone off to climb mountains, but this was different and we all knew it. This was the most concerned that I have ever been for his safety. Although I feel quite strongly that we have chosen the least dangerous route possible, it is not without risk and we all know it. This was obviously driven home this week with the hijacking of the Quest. We are sickened by this recent news and pray for their safety. We do not know the crew of Quest personally, but they were anchored directly behind us in Mumbai, India. Based on their position at the time of the attack, they took a much more direct course.

Marc left in convoy with Larooba. We have sailed over 1700 miles with them and have never been more than ½ mile apart. This is really quite a feat in itself. Although we have an autopilot which holds our course, boats do not have cruise control and the seas and wind conditions greatly affect our speed and it's a testament to our tenacity that we have been able to stay together.

The kids and I will be staying at the National Hospitality Institute which is a college for the hospitality trades. They rent out small reasonably priced apartments so that their students can "practice" their skills in housekeeping, maintenance, front desk, etc. It seems like the perfect place for us as we determine our next step.

On a much more positive note, we have thoroughly enjoyed our time here in Muscat. It is a beautiful clean city with traditional Middle Eastern architecture surrounded by red, dry mountains dotted with ancient forts. The landscape looks somewhat like our southwestern states like NV or NM. The people still wear the traditional Muslim clothing with the long white robes for the men with hats or headscarves and most women covered head to toe. Although the attire at first seemed intimidating, we have found that it is just the way that they dress and is like "jeans and a T shirt" for us and the people are so warm and friendly.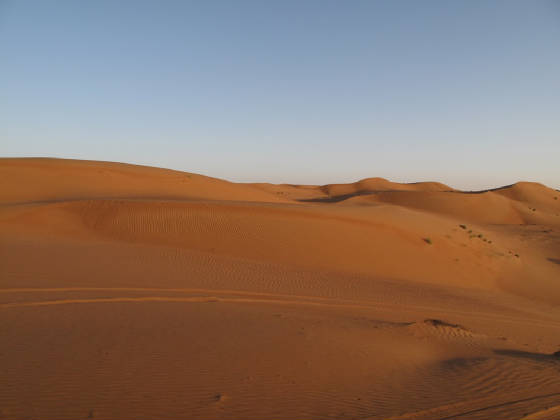 We were determined to enjoy ourselves here despite the pressure that we are under. So before Marc, Mike, and Kieran left we did a tour into the Wahiba Sands desert. We had an absolute blast and for a brief time forgot almost about the pirates. We stayed in desert huts run by the Beduin people. Abdullah, the manager and our guide, was fabulous and did everything possible to make our stay enjoyable. We rode camels, snowboarded down the dunes, and visited a traditional Beduin village. But the experience was the dune bashing in the 4WD. Abdullah drove our family and the two children from Laroobaa. We screamed, laughed, and held on tight as we went up and down the huge dunes. The harder the kids laughed, the faster Abdullah drove and the more he smiled. It was great!!!!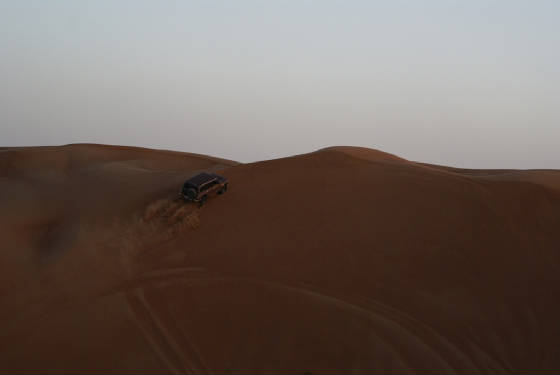 But after all of the fun, it was back to Imagine and to face the reality of what lies ahead. So after lots of hugs, kisses, and a few tears we wave good bye to the men and just pray for their safety.