Thoughts about the month of February.


Below are the attacks YTD as of March 14, 2011, which includes the time while we were transiting. The 2 Red spots below represent the approximate location of the attacks on Quest who left from Mumbai & ING who left from the Maldives.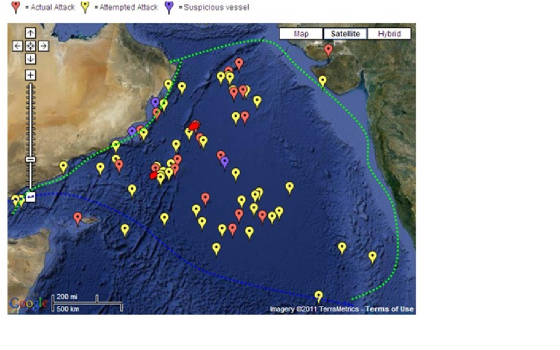 You'll notice a number of attacks that occur along the coast of Oman. These appear closer to shore – in fact, most are at least 30-50 miles offshore. When we sailed along the coast, we stayed within 12-15 miles of the coast and most times closer. That being said, attacks had been occurring shortly after we had passed through that area. We did receive a phone call from UKMTO reporting that a Pirate mother ship & skiffs were in an area ahead of our position nearby Masirah Island off the coast of Oman at 20°14N. We altered our course to attempt to stay clear, and fortunately saw no pirate activity as we passed. It was only 2 days after we passed that point that an attack had occurred approximately 20 miles from our course line.

Somali Pirate –
Somalia is a country of 9 million people with a literacy rate of 38%, a life expectancy of 49.6 years, and no working government. It is an international embarrassment that the world's military powers have allowed these approx 2000 thugs to completely commandeer an entire ocean. It is believed that the ransoms paid are in the hundreds of millions of dollars each year with total economic effects $7 – 12 billion. Not to mention the horror that the 600 hostages are enduring right now.
Isn't it time for the world to wake up and do something to actually resolve the issue, not just put a bandaid on it. We are excited when we hear of a mother ships and pirates being captured by our military, but let's face it a Somali taken prisoner will have a life 1000 times better in our jails (with 3 meals a day and a clean mattress) than any life they had in Somalia, so what is their downside? http://saveourseafarers.net/problem-of-piracy.html

EU NAVFOR forces responsibilities – http://www.eunavfor.eu/
EU NAVFOR acts in accordance with United Nations Security Councils resolutions. EU NAVFOR Somalia – Operation ATALANTA's main tasks are to escort merchant vessels carrying humanitarian aid of the World Food Program (WFP) and vessels of African Union Mission in Somalia (AMISOM).

Example of the INEFFECTIVENESS of EU NAVFOR
From their website: "On 5th March, an EU NAVFOR aircraft and the EU NAVFOR French warship FS NIVOSE disrupted a suspected pirate whaler off the Somali coast. The whaler was suspected of leading a Pirate Action Group (PAG) at the time of the incident. On the morning of 4th March, a merchant vessel reported being chased by one skiff about 350 Nautical Miles south of Mogadishu. In response, the EU NAVFOR warship FS NIVOSE was immediately ordered to locate and disrupt the suspected PAG responsible for the incident. In addition, the EU NAVFOR Maritime Patrol Reconnaissance Aircraft (MPRA) was also dispatched to join the hunt. The aircraft located the suspected PAG, consisting of a whaler-type open boat, soon after and guided the FS NIVOSE to intercept. There were no attack skiffs found in the vicinity of the whaler. Upon finding the whaler, the FS NIVOSE launched its helicopter which was forced to fire warning shots ahead of the vessel to force the suspected pirates to stop. The crew of the whaler had already been filmed by the MPRA throwing equipment overboard. The French warship launched its boarding team to intercept the whaler and 3 suspected pirates were found on board. Apart from a large number of fuel barrels, no pirate related equipment was discovered. As there was insufficient evidence to pursue a prosecution, the three suspected pirates were returned to the whaler. Most of the fuel was confiscated but they were left with enough fuel, food and water to reach the Somali coast. This disruption has hampered pirate action in the area and is assessed to have prevented attacks on merchant and other vulnerable vessels."

EUNAVFOR may have been a noble program in its day – providing food aid. Today however, the facts are far different, and the EU Nations that still direct their Naval forces under this charter are wasting their money and resources dealing with pirates in this manner. Until the forces are allowed to take an aggressive stand against the piracy by taking out the motherships & skiffs before they enter open seas, or when they are found, this threat will continue. Allowing pirates to freely return to Somalia is simply shocking.

United States Naval Forces & MARLO
We were in daily communication with MARLO via email and phone, and had direct contact with several US Warships throughout our passage. In addition to our experience with the US Naval presence, we have heard from other cruisers who also had high praise for the US Navy forces, as well as the level of support we received from MARLO. Several of the US Warships in the area including the USS Bulkeley, Mason, Enterprise, Leyte Gulf, Sterett and presuming several others who have been actively engaged throughout the region & we are thankful for their presence and assistance. Recognition also goes to the Indian Navy for their active role in taking out pirates & the Russians and South Koreans should have been praised not chastised for the use of force against the pirates.

A special note of thanks to Chris Godier, LCDR, U.S. Navy. Executive Officer Maritime Liaison Office. From our early decisions while we were in the Maldives, Chris has been a resource for all cruisers – although constrained most of the time with the level of intel he could provide. When we thought we were in trouble, I called from the Sat phone and Chris was there for us throughout the ordeal and was responsible for getting the USS Mason to come to our assistance. Thanks again Chris, and look forward to sharing those beers with you, somewhere, sometime!

UK Maritime Trade Organization - UKMTO & Maritime Security Center – Horn of Africa MSCHOA
UKMTO was active in tracking & reporting of all vessels in the region. We reported daily to UKMTO & MARLO. UKMTO is supposed to be the first call in an emergency. It was our first call, and unfortunately, other than taking a position, offered nothing. At one point along the coast of Oman, we were called on the sat phone by UKMTO and were notified of suspicious activity along our intended route, and 2 days later, it is the scene of a piracy attack – they have the intel, but unfortunately do not proactively take action on the intel. As for MSCHOA – I have no idea why we were reporting to this agency – absolutely nothing came from MSCHOA.

The Internationally Recognized Transit Corridor 'IRTC' –
In concept – a great idea. In practice – not all that effective. The coalition forces are spread way too thin to act as a protection force or to react to suspicious vessels. We saw this first hand on 2/28 – we relayed a report of a dhow towing a skiff in the IRTC to UKMTO & MARLO and nothing was done. No helicopter, no warship, no plane was sent to investigate it! This shocking reality was one of the reasons we diverted to Aden.

Yachts –
I always believed and still do, that a yacht is the easiest target for a pirate, and that if a pirate came across us, they would attempt to hijack us. Unfortunately, the ransoms paid for other cruisers, make us just as profitable to a Somali, and I think we would be a hell of a lot easier for them to handle.

Sailing Convoys –
We convoyed with 1 or 2 other yachts the entire way. Other than the comfort of having someone close by, I feel strongly that it is NO deterrent to a Somali pirate. Even if they came across a convoy of 10 yachts, I believe 10 yachts would be in as much danger as a single yacht.

Rallies –
We will preface this section by acknowledging that we really aren't "rally people". But truly in this situation we saw little value in the rallies - note that a convoy is far different than a rally. The rallys were no better informed and in many cases, rally members over-relied on the organizers when it came to the safety and planning for this passage. The only rally that we were impressed with was the Vasco da Gama. The cruisers and the coordinator of the group were welcoming and helpful & most importantly, they all stuck together and helped each other throughout. So if you are "rally people" this would be the only Asia to Med option that we would even consider.

Private Armed Security Guards and Escorts –
We knew very little about the private security firms that were available to either provide armed escort boats to accompany a boat or armed security guards on board. When Jane was on land she gained insight into these companies through the US Embassy and our friend, Scott Witte who is a former Marine. Unfortunately for us, none of the companies had vessels or guards available at the time we needed them. Although it is not cheap, for those cruisers who are planning for an Indian Ocean passage, you may want to seriously look at this option. The companies that Jane spoke with were Solace Global Maritime and PVI Limited.

Military Escorts –
We were informed explicitly that this was not available to ANY vessels transiting the area. No military escorts or convoys were organized. In reality, we saw no less than 4 military escorts in and around the IRTC! Each escort had at least one warship and most had two that were accompanying generally 8-12 merchant vessels. When asked specifically about these convoys to MARLO or UKMTO, they denied that these were taking place.

The question of course is WHY these escorts were not made available to the more vulnerable yachts that are transiting the area?

Armed or not – The ultimate question.
If we could have armed ourselves in some way, I would have. Especially after the result of 'Quest' – I was prepared to defend myself to the end. Again, going to Somalia was not an option I was willing to consider. We were prepared with what little defenses we had to prevent a boarding. Firing back during a pirate attack appears now to be the only deterrent that pirates react to. This comment will trigger a lot of debate among cruisers as it always has, but for this cruiser – I would have liked to have some sort of self protection of a weapon on board. Would I have fired warning shots on those fishing boats off the coast of India?? I hope not. But the reality, as easy as it is to talk about it, in reality, obtaining weapons is a very difficult thing to do.

So Why Do Cruisers Take This Route
We realize that there are a lot of arm chair quarterbacks out there wondering why in the heck someone would actually sail through this body of water and for recreation. I very stupidly, read the many blogger comments regarding this after the hijacking of Quest. As with all of the decisions regarding this passage, each Captain and crew had their own reasons but we will try to list a few.
1. At the time that we were in Uligan there was no opportunity for transport. Even if there was, for many cruisers the 35K pricetag would have been too costly. For most cruisers, this may be more than their whole cruising budget for a year.
2. For our friends from Europe, this was their only way to get home. The only other option would have been to stay another year in Asia or attempt to sell their boat. Many did not have the money to extend their trip another year.
3. For others, they felt that the risks were overblown and believed, wholeheartedly, that yachts would not be of interest to the pirates.
4. Some felt that the safety of a convoy was enough to get them through the scariest waters. On contrast, many others believed that the best approach was to go alone, fast, and stealthy. It is a vast ocean out there and what are the chances that a pirate is going to come across us.
5. There were also those that just didn't know or want to know the increased danger in the Indian Ocean…..the head in the sand approach.
6. And I can't say anyone was so bold as to think they were invincible or immune to the dangers, but there were a few who either concealed their fears better than I or they were far braver than me.

Knowing what we know now, would we do it again? NO, of course not, you'd have to have rocks in your head to do what we just did. But we say that now sitting here in the 'safety' of Egypt knowing with certainty that pirates DO attack yachts and that the attacks continue to increase daily. But knowing what we did in Uligan, we probably would still have done the passage similarly. We still liked our course along the coasts of India, Pakistan & Oman, but in hindsight Marc would now have continued along the coast of Yemen instead of using the IRTC. However, if the option of a transport was available before we left the Maldives, I think that it would be very likely that we would have enjoyed a couple of months in the Maldives and happily paid the $35 grand to put Imagine on the ship.


Finally, A note of thanks to a few folks who were incredibly helpful to both Marc & Jane over the last couple of months.

We were without internet for most of the time in the Maldives and the entire time on our long passages. We had many friends and family who offered assistance to research everything from hotels, travels destinations, flights, marinas, piracy attack reports, military assistance, arms acquisition, and anything else that you can think imagine. Thanks to Mark Lynch, Chuck Peruchini, Julie Hettenbach, Martha Paczosa, Michele Adams, Seth Hynes, and Scott Witte (our Military liaison).

Michele Kilgore. Thanks for all your prayers and daily emails. The church must certainly have run out of candles over the past month.

Thanks to the members of the US Embassy in Muscat who assisted us during our visit. Marcy Brown, Lt. Col Ed Sullivan, and Tracey Thornton answered an email that I sent after we decided to stay in Muscat. They all provided much information including contacts for armed security agencies, direct phone numbers to almost every US embassy in the Middle East, and even invited us to school activities and neighborhood pizza parties. Their assistance and friendship to us went above and beyond their jobs. I hope that any American faced with a similar situation will be given as much assistance. They made a very difficult situation much easier.

To all our family and friends who have called and emailed us over the last month with your assistance notes and updates. Thank you!

Finally, the biggest thanks goes to our guest Crew members of Imagine:

Mike Felner – Mike joined Imagine in Sri Lanka and has been with us through to this point.

Kieran Dooley – Kieran joined Imagine in Muscat, Oman where Jane and the kids waited till we arrived in safer waters. Thanks Kieran for your patience and multiple flight changes and for sticking with us!