March 2009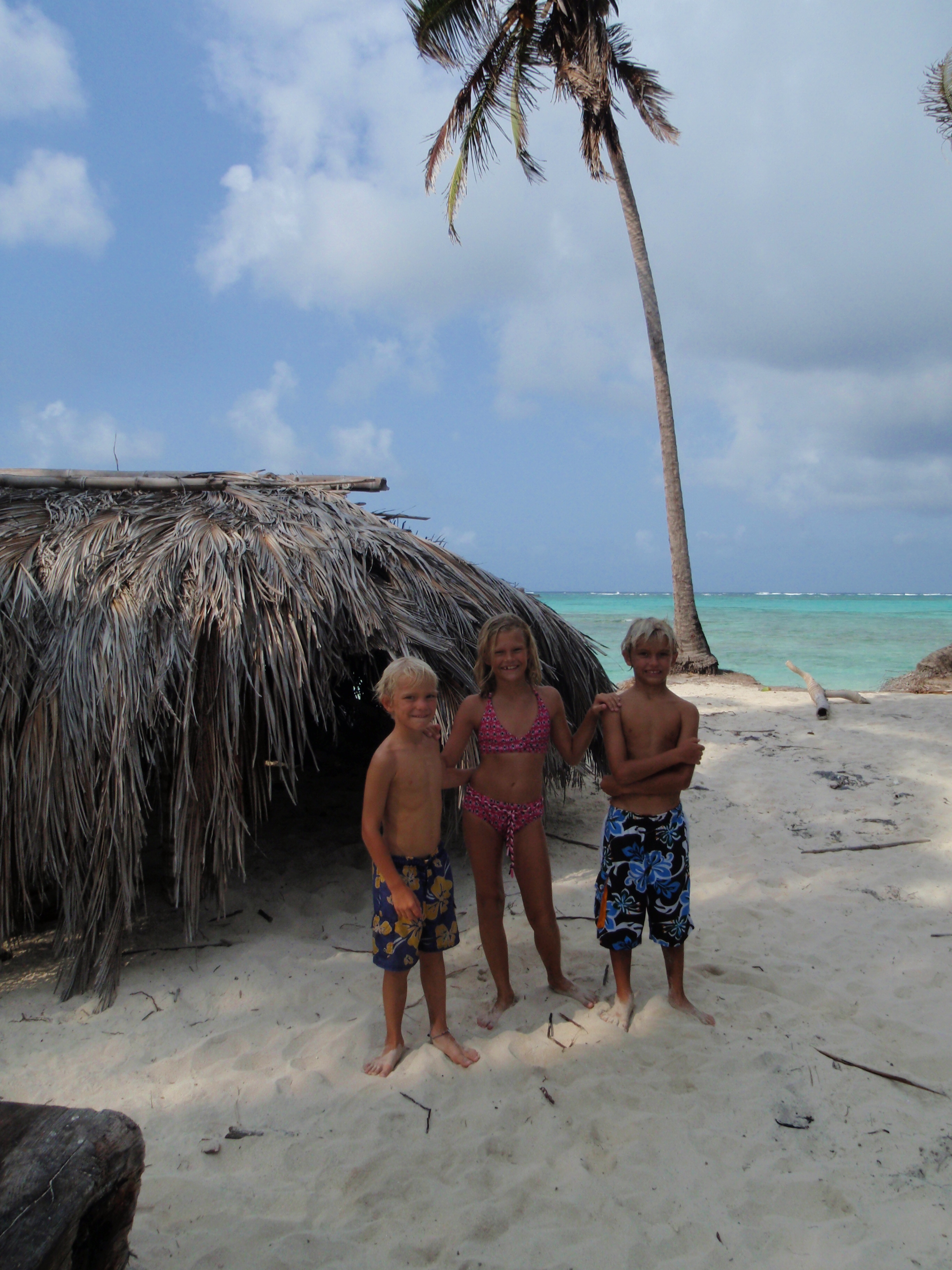 March 5, 2009 - Chichime Island, San Blas, Panama


We had a wonderful, relaxing stay at the San Blas Islands. Although there are over 200 islands that make up the San Blas, we only visited 3 of them. I think that for all of us we just needed a little down time to relax, swim, snorkel, and play and the San Blas were the perfect place. The islands are home to the indigenous Kuna Indians who have preserved their culture and traditions. Each of the islands looks like a slice of heaven with sandy beaches and tall palm trees.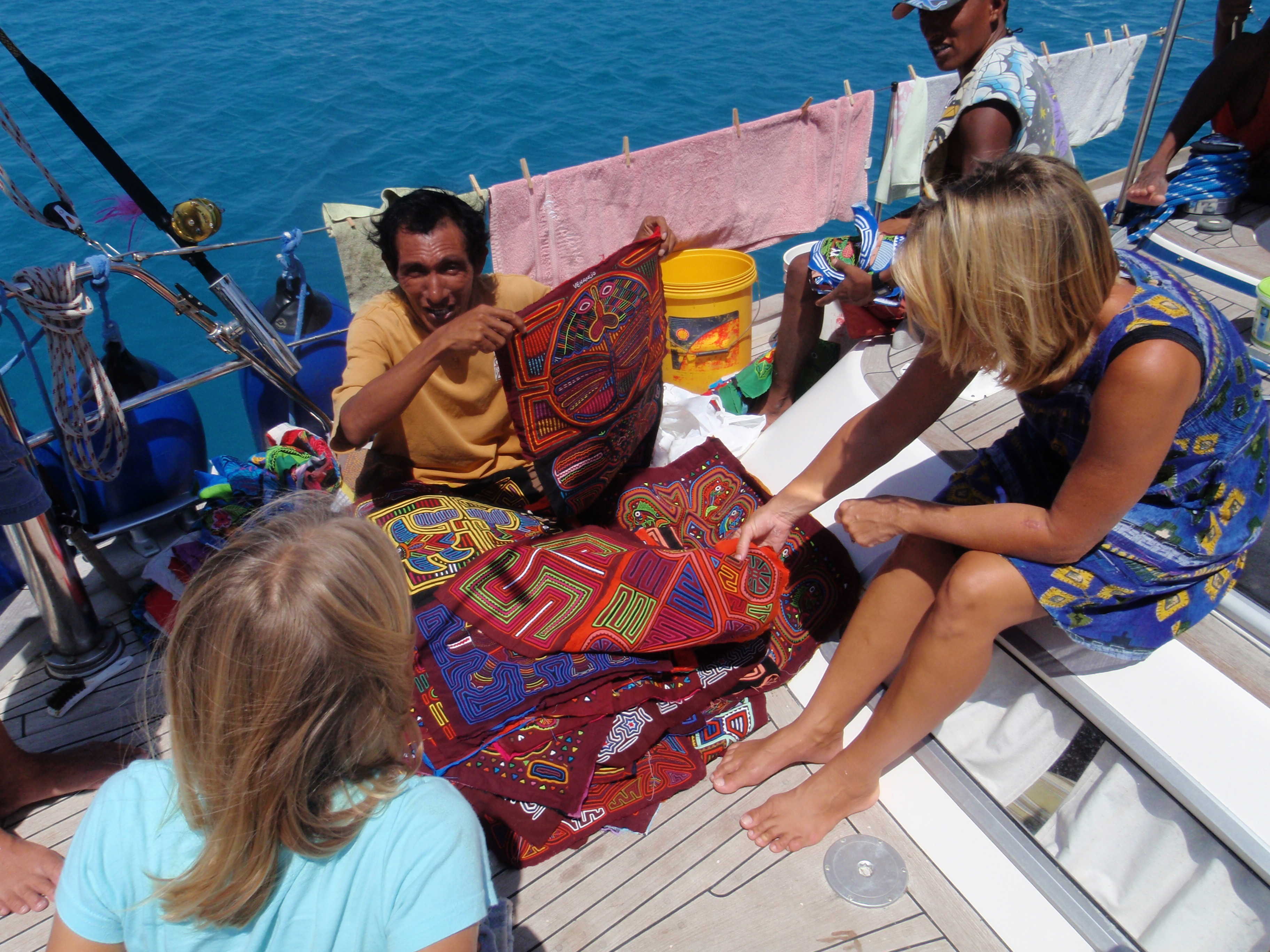 Since we visited the outer islands, we did not see any of the larger Kuna villages but most islands that we saw were a home to a few Kuna families who live in thatch huts with very little furniture. They sleep in hammocks, have no electricity, and travel by dugout canoes often without a motor. The only part of their lives that even resemble our previous life at home is that they have been brought into the cell phone world. However, without electricity they ask cruisers to charge their phones for them. Their main source of income is selling, trading, or receiving items from cruisers. They sell molas which are hand woven cloths with beautiful designs, fish and lobsters, and fruits. There are many happy children on the islands and our crew enjoyed playing with them and trying to communicate.
The water is beautiful and we enjoyed some excellent snorkeling. We saw sting rays, squirrel fish, incredible coral, and even nurse sharks. We enjoyed spending time with our friends on Honeymoon and Ariel. Honeymoon hosted an 80's party with everyone dressed up and 80's music. The kids even got involved with the boys in double polo shirts with collar's up of course and Caroline having "big hair", big jewelry, blue eye shadow, and leggings. Seth, from Honeymoon, taught Caroline and Grant to surf. He was a great teacher and they picked up on it very quickly with both of them riding the "big" waves to the shore. We also met two new kids boats while we were here. We met Vagabond Heart which is an Australian boat who will be traveling in our same path back to Australia to complete their circumnavigation. They have two boys, ages 13 and 8, and a girl who's 10. We are so excited that we will be crossing paths with them in the Pacific. We also met Ohanakai which is a boat from Seattle that is completing their 4 year circumnavigation. They have two boys ages 13 and 10. Our kids were in kid heaven. The kids from the other boats would paddle over to Imagine on their surf boards and kayaks pick up the Adams' kids and then head up to the nearest uninhabited island to explore. They would be on the island for hours just playing on the beach, exploring, and being kids. It was amazing. As I watched them from the boat, it reminded me of my childhood, riding bikes, horses, or walking all over the countryside where I grew up. This is something that we never could have done in the city and I am so glad that the kids are getting this opportunity. We had a great time getting to know Vagabond Heart and Ohanakai and look forward to meeting up with them along the way.
Of course, no update would be complete without a few boat repair stories. The bad news is that we had more repairs (replace the alternator and throttle cable and repair the water maker), the good news it that Marc and I are starting to accept the fact that this is just the way of life on a boat. When you have all of the conveniences that we have on Imagine things are going to break. The more we talk to other cruisers the more that we realize that everyone experiences it. So we have decided that Marc has given up his successful sales career to be a boat mechanic and he gets better at it everyday. We are just so happy to have good cruiser friends to help us along the way. Thanks to Seth and Mike for all of their help.
From the San Blas we start heading west to the Colon, Panama which is at the mouth of the canal. In less than a month we should be in the Pacific Ocean. It seems hard to believe that we are at this point and we are all very excited.

March 12, 2009 - Shelter Bay Marina, Panama

We are here at the mouth of the Panama Canal. Although, our last update was only a week ago, a lot has happened. We arrived in Shelter Bay Marina at the mouth of the canal on March 8th. We checked into a beautiful marina with a pool, lots of kids, a restaurant, laundry, and free electricity and water and fabulous grocery stores. We are also on the edge of the jungle with great hiking and exploring. Wow - we are all in heaven. We haven't been on a dock since December in Puerto Rico so this is quite a treat for all of us. Every minute that they were not in school, the kids spent their time at the pool or on nature hikes in the area.


Transiting the Panama Canal is a source of excitement but also anxiousness for all cruisers. In order to transit the canal all boats must complete a large amount of paperwork, be measured by the canal authority, pay a fee, and then wait for the date that is assigned. Last year, the wait was sometimes up to 8 weeks, however, the intel that we are receiving from other cruisers suggest that the wait will be about 1 week this year. There are agents that you can hire to help with the process. But, of course, there is a fee for that so guess what the Adams' family did? You guessed it, about 2 hours after landing in Shelter Bay, Marc and Mike from Ariel were in a cab headed for the ACP office and the port authority to complete the paperwork to start our process. Within 3 hours they were back to the marina, had scheduled our measurement for the the next morning, and were having a beer. The admeasurer arrived on Monday morning and since Imagine had already been through the canal with previous owners, he didn't even have to measure her. We just answered some questions and reviewed some paperwork. Marc called on Monday night and learned that we were scheduled to go through the canal on Thursday. Wow - only 4 days after arriving in the area we are scheduled to transit. Although this is fantastic for us, it is a sorry statement for the economy since a big reason for our quick transit is the low number of cargo ships that are transiting due to world economic slow down. Although, we are happy to have the date, I have to admit I was looking forward to a few more days in Shelter Bay to relax, catch up, and just enjoy the luxuries. Oh well, we can not complain.
As I had mentioned, the Shelter Bay Marina is on the edge of a jungle. This provided some great hiking and animal watching. We were also close to an old US military base, Ft. Sherman, and all of the military living quarters for the canal workers that was abandon when the US gave up control of the canal in 1999. It is really sad because absolutely nothing was done with the structures. It seems as though the living quarters could have been made into apartments and there is even an abandoned movie theatre, chapel, and restaurant. But for us, the abandoned structures were perfect for exploring. We even found an old prison and we all felt like we were in an Indiana Jones movie. While we were exploring we heard the loud howls from Howler Monkeys coming from the jungle. We followed the noises into the jungle and were so excited to see a group of about 20 howler monkeys playing the trees. We just stood very still and quiet (which was not easy) and watched them play, eat, and care for the young in the trees. They watched us, as well, and when we started to leave the largest one jumped from tree to tree and followed us out of the area. He did not bother us at all but I think that he was making sure that we left his territory. It was pretty incredible, watching these creatures that we have only seen in zoos, in their natural environment.
We have met more kids boats here who are going our way. With all of the kid boats that we have met in Panama, I think that the Adams' kids will be all set with playmates. Although, the kids hate to leave the pool, we are officially ready to transit the canal later today or at least we think we are. We'll see you on the other side.


March 13, 2009 - La Playita Anchorage, Panama City, Panama


We Did It!!!! We are in the Pacific! After all of the planning and anxiety, it was really pretty easy but it was awe-inspiring to go through this amazing structure. We were met by a Panama Canal Pilot who accompanied and instructed us through the process. We started to motor to the locks at about 6:00 pm on Thursday evening. As luck would have it for us, our friends on Honeymoon were delayed by a day and actually were crossing at the exact same time as us which is very cool and comforting. Imagine was ready to go although she was hard to recognize under about 26 black tire fenders that are necessary to prevent any damage to the boat by the locks. In order to go through the locks you must have 4 line handlers on board to help throw and secure the lines to the boat and the canal workers. We had four friends join us to assist so that I could spend time with the kids, take picture, cook for everyone, and not have an official boat "job". Erica, Neal, and Jontey from Gilleroo and Jack from Arielle offered to help us to gain some experience prior to their own crossing. After the pilot met us we motored to the Gatun Locks and officially started the next adventure. We actually drew the easy route for the evenings locks. Instead of having to tie up to one or two sailboats and the wall we were able to tie up to a tug boat. This was great because we only had two lines to worry about and they were tied to a big, strong tug that was not going anywhere. After going up through the three locks and 26 meters we motored into Gatun Lake where we spent the night tied to a mooring. It was a beautiful place and our friend Jontey brought his fiddle and serenaded us. Later that night we were an audience to a different serenade - the howler monkey chorus. After a somewhat peaceful sleep we met our next Canal Pilot at 7:30 and were on our way to the next set of locks. We were so lucky to transit the next locks tied to Honeymoon. It made the trip much more special as we took pictures and video of each other. After hours of motoring and three more locks we were officially in the Pacific Ocean.

We were so busy and a bit nervous going into this that I didn't really have a chance to really appreciate what we were doing until it was over. It was really a milestone for us and was exciting to think that we were a part of one of the man-made wonders of the world. We tried to explain to the kids the significance of the canal on commercial shipping for the world. I think that they get it, take a look at their blogs as they explain some of the things that we learned. As Grant explained it to some friends, "It's just another great reason to love Teddy Roosevelt." Since Grant learned that Teddy Roosevelt started the National Park System, he has replaced US Grant as his favorite president. I think that Roosevelt's role in the canal cemented his place in the Grant's heart.

The canal was incredible and actually an easy process but we are exhausted. Instead of celebrating with champagne tonight we are ready for bed at 8:30. We will stay in the Panama City area for a week or so as we have some major shopping trips and try to provision for three months. Yes that's right, we probably will not see another large supermarket until Tahiti in June. Try to imagine that with three kids on board…

Below are screen shots from the webcam at the Miraflores locks courtesy of Honeymoon who had a friend who was downloading the pix live as we were going through the locks. We are tied up with Honeymoon (a Lagoon 38 Cat) and are being lowered to Sea level and the Pacific Ocean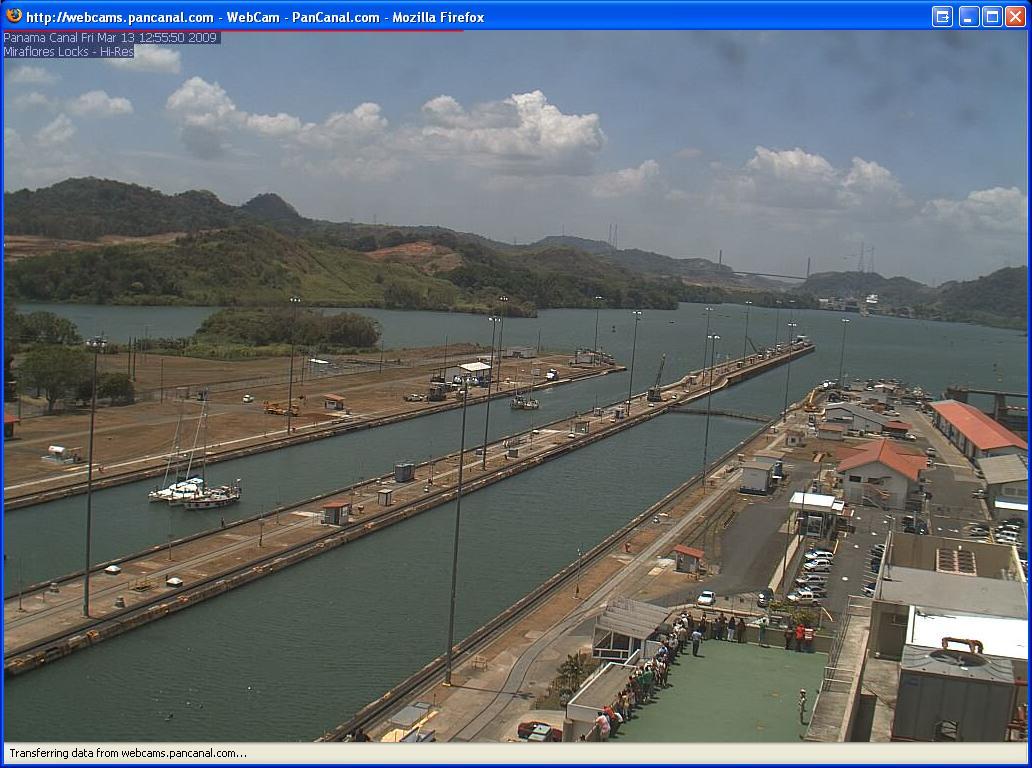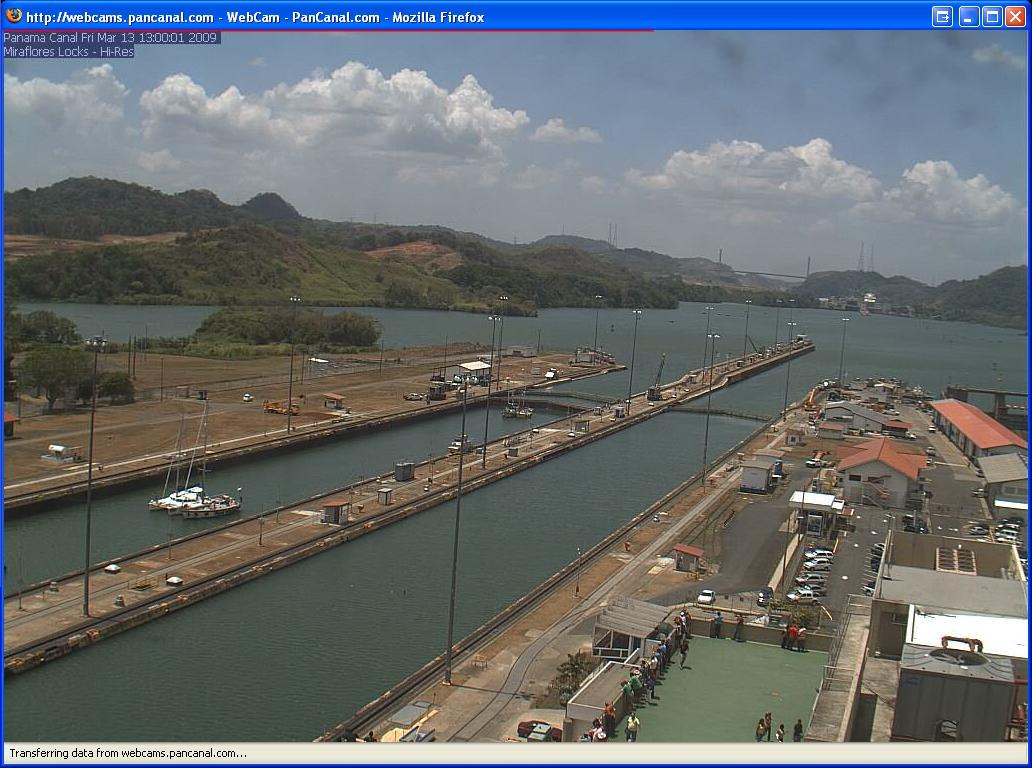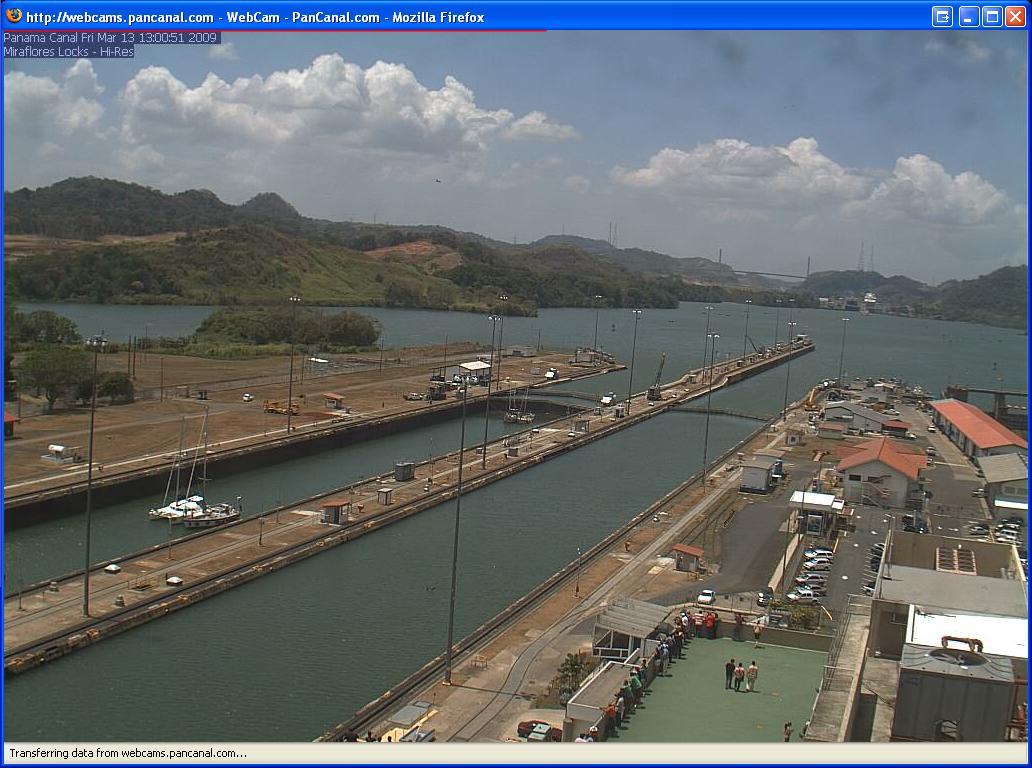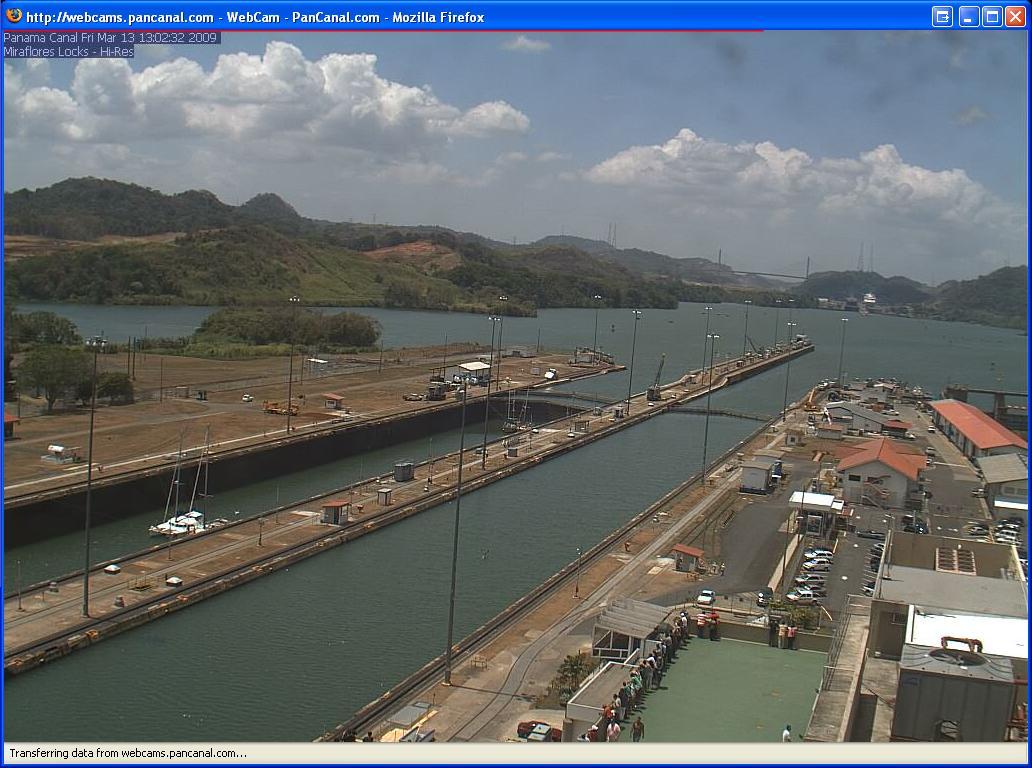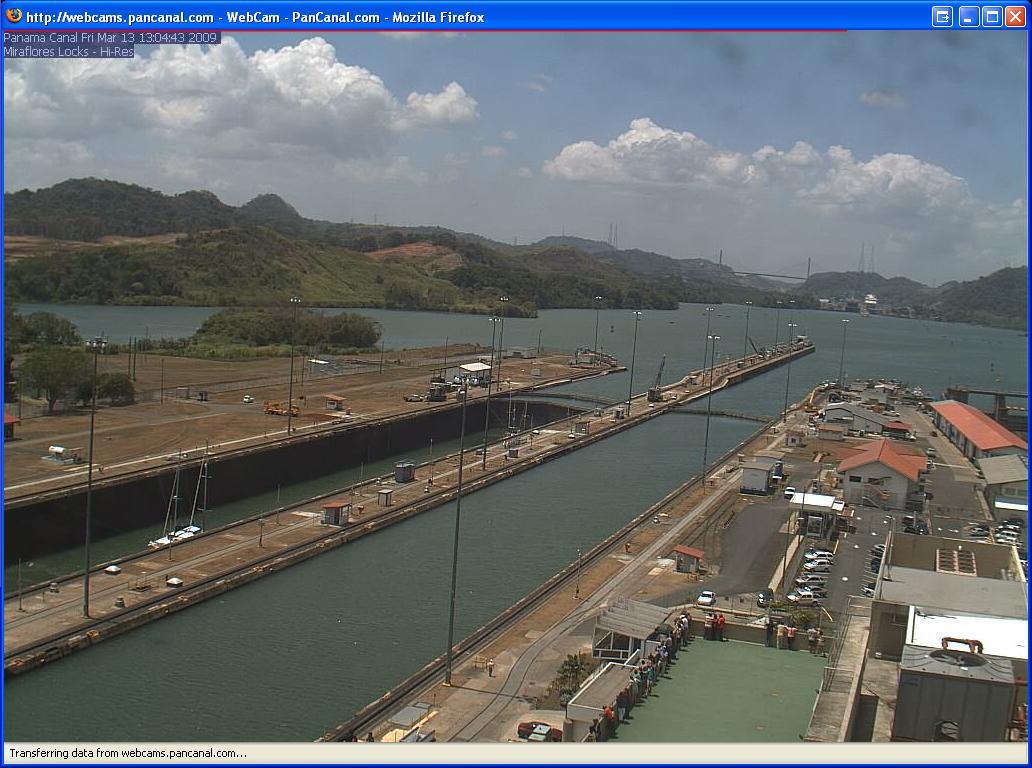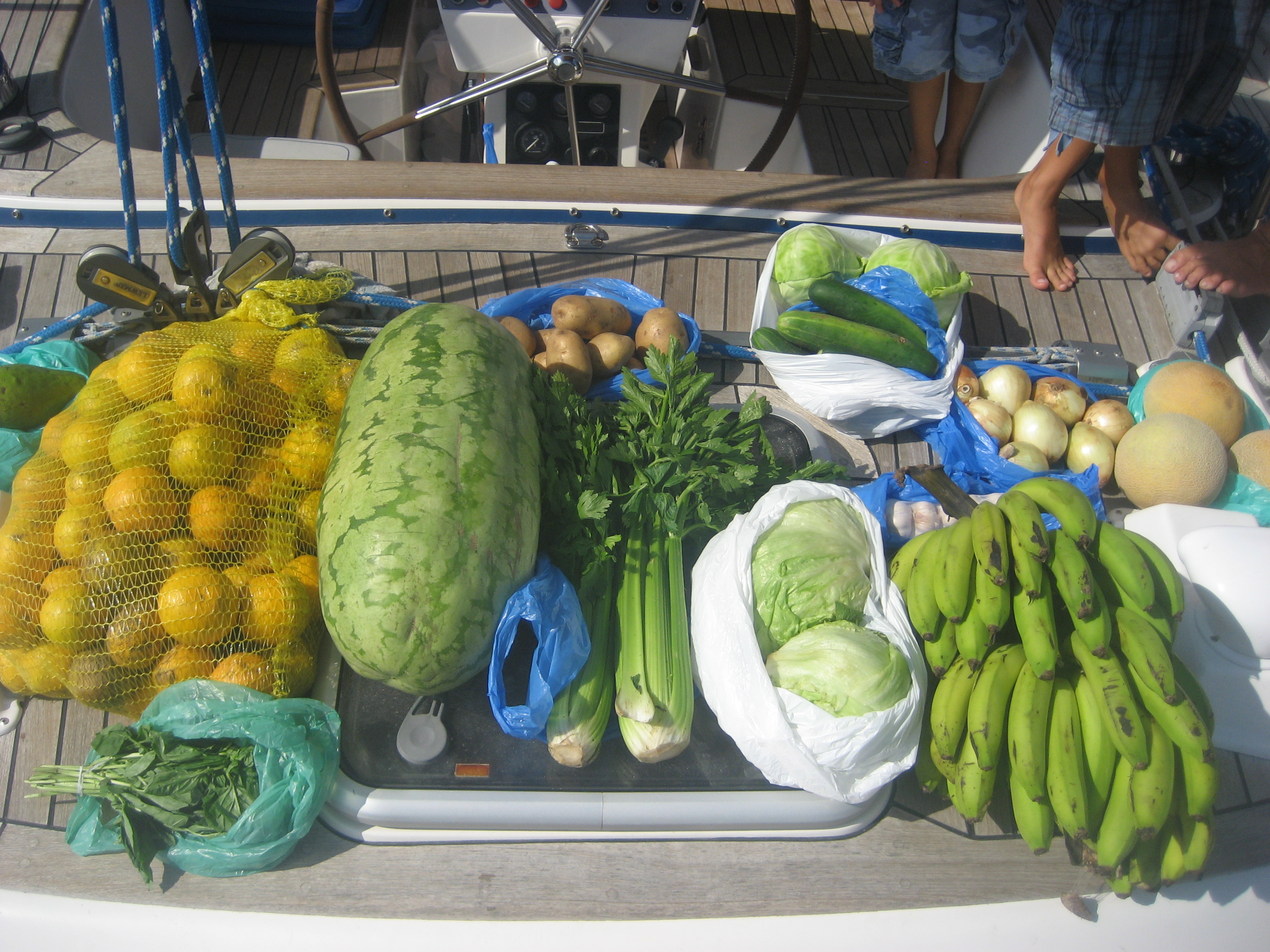 Fruit Market
March 21, 2009 - La Playita Anchorage, Panama City, Panama


We have spent one week in Panama City and I can say that the majority of time has been spent shopping. At first, it was exciting to see American brands and stores again but after a week of taking taxis to stores, transporting our supplies back to the boat, storing and storing and storing, and then starting over again the next day it is time to hit the beach.

I have been shopping for a family of five for quite some time but in the states I always knew that I could stop at Walgreens on the way home if I needed to. Now we are trying to provision for a three month period where much of the time we will be on the high seas or on very remote islands. Just planning for it was not easy let alone actually purchasing and storing everything. The good news was that there was a bulk store similar to Costco here (we even found Fruit Loops) and a fabulous fruit market where you could get a stalk of bananas (like from the tree) for $2 and a huge bag of oranges for $3. Caroline was my interpreter and the farmers all loved her ability to speak some Spanish. The boat is now completely stocked, every bit of storage is filled and we are even using the kids shower to hold paper goods until we find a home for them. I have to admit it does amaze me that we could fit everything on a 46 ft boat - Soda, beer, and wine fill the bilge; can goods fill the storage under the chairs; and cereal, flour, and UHT milk are secure behind the settees. Almost everything is hidden and the boat looks like a home again, now the trick is finding everything when it is time to make dinner.

Although, much of our time in Panama City was spent provisioning, we did have time for a little fun. We visited the Panama Canal Museum at the locks and enjoyed it quite a bit. It was very informative and tied up any loose ends for the kids regarding the canal history and structure. We also had a chance to go for pizza with our friends. It is probably the last pizza we will have at a restaurant for months so we thoroughly enjoyed it. It was almost as good as Chicago pizza and it helped that it is was only $6 for a family size cheese. Probably the most fun that we had in Panama City was hanging out with our friends on other boats. We finally shared our champagne with Honeymoon, the night before they left for the Galapagos. They are traveling a little quicker than we are now so we hope that we can catch up with them somewhere in the Pacific. We didn't say good bye just see you soon. We had a St. Patrick's Day/Birthday Party for Mike from Arielle with the crew of Gilleroo and Arielle. Of course, Caroline made a cake to celebrate. We said good bye to Jack and Little Mike from Arielle who have to go back to the states after spending 3 months as crew members for Big Mike. We will miss them. They have been good friends to us and the kids. We also had a chance to spend time with the crew from Ohanakai before they start heading back to WA to finalize their 4 year circumnavigation. The kids had a blast with the Ohanakai boys and we even hosted a sleepover - five kids all sleeping in the salon of Imagine (2 on the settees and 3 on the floor).

All in all, our time in the country of Panama was a success. We enjoyed all of it and especially the people. The kids even commented on how friendly and helpful all of the locals were. I didn't know much about Panama before we started cruising but it is a beautiful country to explore. It has fantastic beaches and snorkeling, jungle hikes, wildlife sightings, the Panama Canal, great fishing and even a mall. I'm not sure where else you can get all of that in a small country. It's also reasonably priced and a quick flight from the states. If you ever have a chance to visit, the crew of Imagine would highly recommend it.

We will leave Panama in a few days and start our 800+ mile sail to the Galapagos. This leg of our adventure is known for light winds and small seas. We are all hoping for the small seas but hopefully we'll have enough wind to sail Imagine. If not, that 250 gal fuel tank is full and we'll use the Volvo if needed. Marine iguanas, giant tortoises, and a visit from the Lynch's await us in the Galapagos and hopefully even a visit from the Easter Bunny.




Happy Monday everyone!
It hasn't been too long since our last update, but wanted to send one from Panama before leaving for the Galapagos (where we aren't sure of internet access there).
We made it through the canal in great form, and without drama - a very good thing. We got some good webcam shots of us going through the locks that we posted in the blog section.
After a successful crossing, and LOTS of provisioning, we are loaded for a Pacific crossing. The standard approach for boats headed for the Marquesas is to buy EVERYTHING in Panama since provisioning in the S. Pacific is limited. Every single space on the boat is now chock full of fruit, veggies, can goods, drinks, cereal, pasta, flour (40 lbs) bisquick (50lbs), UHT Milk and a few treats like 30lbs of popcorn, and Rum & Tequila & cigarettes for trading. We hear a $5 bottle of Rum can fetch a sculpted pearl in the Marquesas, and a pack of Marlboro's goes a long way with armed 'officials' who like to board to 'check the cruising paperwork'.
Our plan is to leave on Wednesday from Las Perlas, motor through the Inter Tropical Convergence Zone ITCZ (Doldrums) to the Southern Trades, cross the Equator (marked with a celebration when the GPS comes up Zeros with a swim and the Pollywog to Shellback ceremony for the crew and paying the appropriate homage to the sea gods.
We hope you all are having a great Monday & we'll get back to our Monday (school, repairs & an afternoon of beach exploring).
Fair Winds from the Crew Imagine.
Hello,
Well we are on the high seas again sailing from Las Perlas, Panama to the Galapagos. The good thing is that the seas are not so high. So far, we love the waves in the Pacific and we agree with Columbus that it is Pacifico (Peaceful). It is amazing we are 150 miles off shore in the Pacific and it looks likes glass. I am sure that the Pacific has big waves in store for us sometime in the future so for now we are just going to enjoy the calm. The downside is that the wind is almost non-existent. We were able to sail yesterday with about 10 knots of wind most of the day using the spinnaker and mainsail but today the Volvo is getting a workout. We are fortunate to have a strong current pushing us along which has allowed us to make good time despite the lack of wind.
The kids are doing very well. With the calm seas we are able to have school. Noah is mastering "Green, Eggs, and Ham" and Caroline and Grant have a Science test today. We need to get ahead in school so we can play in the Galapagos with the Lynch family. Big hits for yesterday were bottlenose dolphins swimming at the bow and catching a fish. It's Spanish Mackerel for dinner tonight.
We are checking in every morning and evening on the Pacific/Panama net on our SSB radio and also on an informal net with our friends from Gilleroo who left today. We are also within VHF radio contact with two boats; Victoria and Piper.
We will continue to send our daily emails. We hope you enjoy them.
Jane, Marc, Caroline, Grant, and Noah
Lat:06 degrees 13 minutes North
Long:080 degrees 24 minutes West