February 2009


February 4, 2008 - Marin, Martinique
The generator is fixed!!! Let's have a beer or a few and celebrate. I will let Marc fill in the technical details of the repair but all I know is that I can now have AC, Laundry, and not have to worry about using the toaster and microwave. It's a beautiful day! I also no longer have a husband who has his head in the engine room every minute obsessing about it.
Martinique has been OK but probably our least favorite island as a destination spot so far. But, it does have great boat services and that's what we needed right now. Although, it was not easy to find someone to fix the Fisher Panda, once Fred from Caribe Greement got to the boat, he fixed it that day. The other repair we needed was to the secondary autopilot. For those landlubbers out there, most cruising boats have an autopilot which is somewhat like the autopilot on an airplane. You set the coarse, push the button, and it steers the boat. It is extremely tiring, steering a 40,000 lb boat for hours at a time so in a passage situation we find the autopilot essential. Well, a wonderful thing about Imagine is that she not only has one autopilot but she was two. So if the primary autopilot stops, we switch a switch and then we use the secondary. It's very cool and many boats don't have that luxury. It gives us a great deal of peace of mind since one of the big concerns of cruisers is that their autopilot may go out on a long passage. That being said, we had this great feature but the secondary wasn't working. We had Alex on board from NavTech and he quickly found the problem and fixed it. Now we are all set for our longest passage since the Caribbean 1500.
Although, there weren't near the beaches or natural beauty on Martinique, we did find a lot of kid boats so Caroline, Grant, and Noah had a lot of fun. We met many boats from all over Europe; the Netherlands, UK, and Norway. Most of the children spoke some English which was wonderful and when they didn't we found that the universal language was Lego's or HS Musical. We also met up with our friends on Orona II. This is an Australian family that we met in Point a Pitre. They have two children and the kids had a great time catching up. It looks like they may be on the same schedule as us through the Pacific. This would be great for the kids and for me. I have sorely missed much girl talk since leaving Stray Kitty and Pickles. There are only so many times that I can talk about anchors and engines. Until meeting the moms of the kids in Martinique, the closest thing to girl talk that I'd had in awhile was chatting with an old Dominican woman up in the rainforest about how beautiful Michelle Obama looked at the Inaugural Ball. Technology at it's best. I live on a sailboat and am watching the clips of the ball via internet news and this woman lives in a tiny, very rural island in the Caribbean. This proves that it really is a small world and that women no matter what their background can always talk about fashion.
We leave today to go from Martinique to Bonaire which is a 450 mile passage or 3 days without land. It should be downwind sailing which will be a bonus for us this time. We have been beating into the wind or close hauled for so long, I hope that we remember how to sail downwind. We are all excited and a little nervous. Those of you who have been following us know that the last multi-day passage (the Caribbean 1500) was a little rough especially for Mom. I am all stocked up with my seasick meds and ginger tea and cookies and I'm ready for a new adventure. It will also be our first ocean crossing on our own, with no crew member. Again, this is exciting but a bit nerve-wracking. I am sure that it will be tiring but it will be nice to see how we do on our own. I just really hope that the kids enjoy the trip and feel good. I'd love for them to enjoy this passage to prepare them for the Pacific passages we have in the future especially the long one from the Galapagos to Margueus.

February 14, 2009 – Kralinjidk, Bonaire
The trip to Bonaire started with a very easy 3 day passage from Martinique. The wind was behind us the entire way and with the winds and waves pushing us, we made very good time. Too good actually, we arrived in Bonaire before daybreak and had to heave to outside of the harbor entrance for a couple of hours before arriving at our mooring. Bonaire is known as one of the best diving and snorkeling areas in the world and it did not disappoint the Adams' family. Since the Bonarians are so committed to preserving the reef surrounding the island they allow no anchoring and only provide moorings in one area of the island which is right outside of the main town of Kralinjidk. Even at the mooring area the water was stunning and we could see the bottom at about 20 feet below. Snorkeling right off of the boat was great with a group of angelfish, an eagle ray, and parrot fish swimming right below the boat.
We also had a chance to meet up with our friends on Honeymoon again. We haven't seen them since Antigua and it's great to catch up. Seth and Elizabeth even volunteered to babysit the kids one night so Marc and I had a first date night since October. In fact, I think that it was the longest time that we've been away from the kids since October. Wow!
We stayed in Bonaire for about a week and had a great time. The people are very friendly and although the official language is Dutch, almost everyone there spoke English and Spanish as well. It was very easy to communicate. We also found a welcome change in the Supermarket with many US brands there, including "real" Diet Coke (Jane's favorite), "real" Lay's potato chips (Marc's favorite), and soft wheat bread which is perfect for the many PB&J's that we make on Imagine. Since the diving is so incredible Marc and our friend Mike from Ariel took the opportunity to receive their PADI certification for Scuba diving. Congrats Marc and Mike! Jane decided to pass on the chance this time, since it was a perfect time to really hit the books with the kids prior to our busy time in Panama and the Galapagos.
We spent much of our time in Bonaire enjoying the gorgeous water. We swam off the boat, set up the whisker pole swing, and snorkeled. We rented a car on Friday and took a tour of the island to see the sights. The island is very dry and barren but it still beautiful and very different from the other islands that we have a visited. There is a true concern about the environment and conservation of the beauty here which is very refreshing. It was evident on our drive. In order to preserve the pink flamingo population on the island they have set up a sanctuary. We were able to drive through it and got very close to these beautiful birds. We also saw Yellow Headed parrots and many blue tailed skinks. I now can appreciate all of those books I have read to the boys over the years on lizards, snakes, and sea life. It gave us great background as experts on the wildlife we are seeing on the islands. We were also able to see ancient, 200 BC, Indian rock drawings. We concluded our stay on the Bonaire with an early B-Day party for Noah. Since we will be at sea on his actual birthday, we wanted to have a party while we together with our friends from Arielle and Honeymoon. We had a lot of fun and an ocean themed cake that Caroline and Grant decorated. The b-day boy was happy. Today we head for Curacao for a short visit and a trip to the Sea Aquarium before the passage to Panama.
Grocery Shopping - I know that most often these updates are filled with the beautiful places that we go and interesting things that we see but just as a reminder we are also "living" on the boat and we have to do all of those boring tasks that you all do at home. The downside is that sometimes these tasks are much more difficult on the boat than they are at home and I can tell you that grocery shopping is one of those. Now, I remember the days well when I used to take 3 kids, ages 3, 2, and infant to Costco and I thought that was difficult. It is nothing compared to our trips today. First of all, we almost always anchor our boat out in a harbor so first we have to take our dinghy from the boat to the dinghy dock and then usually walk to the supermarket. Often, the markets aren't very close and we all have to walk there. The market itself can sometimes be an experience since we never know where to find things, often the labels are not in English, and sometimes the products just are not what we are used to in the states. A great example of this was the jar of Pork Penises that we found in Martinique. As you can imagine, this spurred uncontrollable laughter from the kids and I couldn't gain control again for several hours. Anyway, after the wonderful shopping experience, we have to fill our backpacks, beach bags, and anything we can with the groceries and hoof it back to the dinghy. Then we load the dinghy and we desperately try to keep everything dry as drive back to the boat. Once on the boat, we form an assembly line from the stern to the galley as we unload the treasures and try not to drop anything in the water in the process. I do have to admit that once in awhile we have a car or take a public bus back to the boat but usually it's the ten Adams feet that bring it all back. It's just another reminder that even though our life if simpler in many ways, many simple things aren't so easy anymore.

February 16, 2009 – Williamstead, Curacao
We made a quick two day stop in Curacao on our way to Panama. The main reason for the stop was to go to the Curacao Sea Aquarium for Noah's Birthday. Since Noah couldn't have the typical Chicago birthday party at Pump it Up, Little Gym, etc. with his friends, this year, we thought that it would be important to do something special. The Sea Aquarium was definitely special. We did a Dolphin Encounter for the family and it was well worth it. The five of us, along with a trainer, were able to enter the pool with the Copan. Copan is the 33 yr old Daddy Dolphin of the place. We spent 30 minutes, petting, hugging, kissing, and learning about Copan. It was great. I'm not sure who enjoyed it more, the kids or Marc and me. After the Dolphin Encounter we saw the dolphin and sea lion shows, looked at the displays, and even were able to pet and feed a nurse shark. Very cool. It was a great place and we all enjoyed it. It was a great way to relax before the long passage to the San Blas Islands of Panama.


The passage from Curacao to Panama is known as one of the top 5 roughest passages in the world. The large waves and currents sometimes can make it difficult to maneuver the boat and very uncomfortable even in the best conditions. The other issue is that our course will pass close to Venezuela and Columbia. Unfortunately, Venezuela has become known in the cruising world for piracy and general safety issues. So we will also make sure that we stay away from the coast line to avoid any issues. The passage is 450 miles which should take us about 3 days. The good news is that the wind and waves should be behind us pushing us along to Panama. We are also very happy to sailing with our friends from Honeymoon and Ariel. We have also met a new boat from Ireland, Gillaroo, who will sail with us. We will all check in with each other on the SSB radio every morning and evening to discuss weather and sea conditions, any safety issues, and of course, the fish report. We are really looking forward to arriving in the San Blas. They are suppose to be amazing.

February 20, 2009 – Chichime Islands, San Blas, Panama
Well we made it! This was a passage that I definitely was dreading but we made it safely and full of accomplishment. It did live up to everything that we had heard but Imagine and her crew handled it incredibly well. Although the wind was behind us which was a welcome change after "beating into" it for so many months, the wind was strong and the waves were high. The wind averaged probably 25 knots for most of the trip and we saw gusts up to 40 knots. The waves averaged 6-8 ft and there was about 24 hours when we probably had 10-15 ft seas pushing us along. It was a little intimidating seeing a 15 ft wave coming up on the stern of the boat. Most of the time, Imagine would ride up with the waves and they would pass under us. On the 3rd night, when the wind kicked up averaging in the high 30's, we got caught by a wave that crashed through our bimini and flooded the cockpit. This was the first time we had got hit by a wave like that and the sound of the water and the force that it came crushing in was amazing and of course it happened at 3am as usual, but through it all, Imagine and our autopilot managed with grace and confidence as did the crew - of which the kids were sound asleep and went unaware of the bit of drama topside.

The good news with conditions like this is that we made incredible time on the passage. We had our best day ever and covered 190 miles in a day and we also reached our max speed on Imagine at 14.3 knots per hour surfing down a wave. It may not seem much for all of you on land but for Imagine, it's a lot (our average cruising speed has been somewhere around 7 kts). The other incredible news is that no one got seasick! I am hoping that it means that the Adams' family finally has its sea legs and has kicked this sea sick thing but I don't want to be too excited until we have some more successful passages. We did this passage in the company of our buddy boats -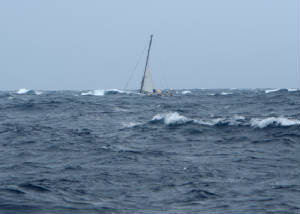 Honeymoon, Arielle, and Gillaroo. We organized a call in on our SSB radio in the mornings and at night to report our postions, weather, and of course brag about the days catch - Seth on Honeymoon took the prize with a 30 lb Wahoo that was later served up in the San Blas - awesome. We were running pretty close with Honeymoon the entire way, and were close enough for some great pix and regular chats on the VHF. As we were both passing Columbia, we got buzzed by a Columbian Coast Guard Aircraft, who called us both on the VHF wanting to know our destination, last port of call and crew information. We were glad to see they are monitoring the coast, and we never felt any issues on that passage as we came within about 40 miles of the coast on our way to Panama and the San Blas.

The kids were great on the passage. They were even part of the watch schedule. Every night, from 6-8 pm the three of them were officially on watch. Caroline and Grant split the duties of watching for ships, watching wind direction and speed, and tracking our course and radar. Noah provided most of the comic relief and spent most of his watch time playing with his dinosaurs on the floor of the cockpit but at least he participated.
For those of you keeping track of our fishing success, we caught four fist on the passage and finally caught our first Wahoo. Caroline reeled it in and we all stood on the aft deck and yelled "Wahoo!!!!!". We have heard so much about the wahoo and it was delicious but the kids still like Mahi Mahi the best and Marc loves his tuna sashimi.
The kids were great on the passage. They were even part of the watch schedule. Every night, from 6-8 pm the three of them were officially on watch. Caroline and Grant split the duties of watching for ships, watching wind direction and speed, and tracking our course and radar. Noah provided most of the comic relief and spent most of his watch time playing with his dinosaurs on the floor of the cockpit but at least he participated.
For those of you keeping track of our fishing success, we caught four fist on the passage and finally caught our first Wahoo. Caroline reeled it in and we all stood on the aft deck and yelled "Wahoo!!!!!". We have heard so much about the wahoo and it was delicious but the kids still like Mahi Mahi the best and Marc loves his tuna sashimi.