July 12, 2009 – Papeete, Tahiti


Although we love our adventure, the most difficult part is missing our family and friends back home. That is why we are so excited to have visitors. We feel so fortunate that my Dad, Dave and sister, Julie were able to join us in the beautiful South Pacific.
We had a wonderful time showing them some of the sights in Tahiti and Moorea and just sharing time together as a family. It was also Christmas in July in the South Pacific as Dad and Julie brought something for everyone…..art supplies, books, movies, magazines, and candy for the kids; People, Newsweek, and Time magazines for Jane; and a new watermaker membrane for Marc (OK, really for Flo). We thank them so much for bringing all of our goodies.

Well with the new membrane on the boat, the first order of business was fixing Flo so as Marc spent the day with Rob (a cruiser from Seattle who is happens to also be a roving Spectra watermaker expert) fixing Flo, the rest of the family went to explore Papeete. We went to the Marche which is a two story market filled with shops that highlight the best of Tahiti and her islands. We saw fresh fish, fruit, and flowers, hand woven baskets and hats, jewelry made of pearls and mother of pearl, handmade pareos (the local name for sarongs) and flowered shirts, wood carvings from the Marquesas, vanilla from Tahaa and many other treasures. It was the perfect trip for the first day because we were all able to stock up on our gifts and souvenirs early.
While we were spending money, Marc and Rob were successful in fixing Flo. Thank goodness….7 people on a boat without a water maker would have been a little uncomfortable. Thanks to Dad and Julie for bringing the membrane, Flo is now making perfect fresh water again. After a successful day for all we had dinner at the Roulettes. It is very hard to explain the Roulettes and I am sure that my explanation will not do it justice. The Roulettes are mobile diners from a camper/trailer that set up in a group of approximately 20 in Vaiete Square along the water. Each "diner" has tables and chairs and waiters and specialize in either fish, Chinese, steaks, pizza, etc. Think of really, really nice "Roach Coaches". I told you my description would not do it justice. Anyway we had a great Chinese meal at one Roulette followed by delicious dessert crepes at another Roulette. We all agreed that the Roulettes were a hit.

After our wonderful time in Moorea with Honeymoon, Marc and I wanted to take Dad and Julie there. We had a very calm sail over to Moorea and enjoyed a Fourth of July BBQ of New Zealand beef on the boat in the turquoise waters of Opunohu Bay. The kids were so excited to take Grandpa to see the sting rays that we left first thing in the morning. Well, the sting rays must not have had breakfast yet because as soon as we anchored the dinghy they were all over the boat. I am so proud of my Dad who was the first one in the water. He and Julie both got in the water with us and fed and petted the sting rays. Take a look at the pics!!!!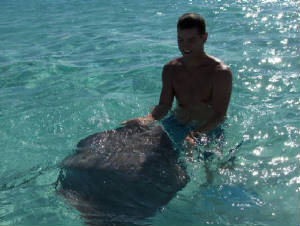 One of Julie's dreams has always been to swim with dolphins. We were so happy that Moorea gave her the opportunity to do it. The Hotel Intercontinental is home to the Dolphin Center of Moorea. Julie was able to participate in a private session in the water with a dolphin. She fed it, petted and hugged it, and learned about dolphins from the trainer. After the dolphin session we were all treated to spending the day at the pool at the Intercontinental…..ok, so we may have "crashed" the pool at the hotel but no one seemed to mind. The kids were in heaven….a huge pool to play in and Grandpa, Julie, and other kids to play with, and even kiddy cocktails. Now that the water maker is fixed, Marc even relaxed by the pool with a couple of Hinanos (Tahitian Beer). It was close to perfection….

Another, big hit of our time in Moorea was attending the Tahitian dance show at the Bali Hai Resort. The music and the dancers were great followed by a wonderful meal. Dad got his picture taken with the Tahitian beauties and I even got to dance with a young Tahitian hunk. My hips didn't shake quite as well as his did but it was fun. The Bali Hai Resort was the original Tahitian resort with the bungalows over the turquoise water. It was opened in the 70's by three young California men. Soon after they opened the resort, Tahiti airport opened for direct international flight from the states. Good timing….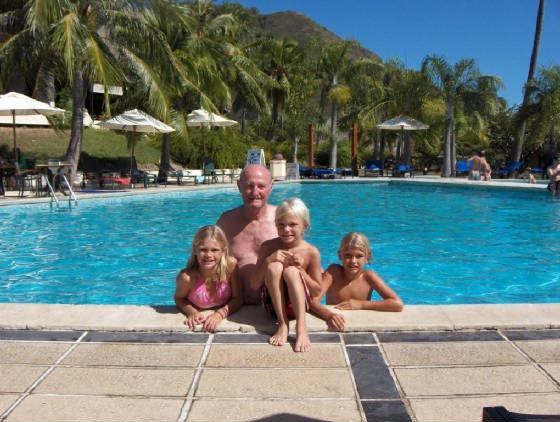 Other hits of our time together were "visitng" two additional hotel pools, snorkeling, swimming in the turquoise waters, a couple of really nice sails, and visiting the Tahiti museum. But the most fun of all was just hanging out together. It was so great to see them and we thank them for making the trip. The boat seemed very quiet when they left and we already miss them again. We now look forward to our next visitors, Grandpa Fred and Grandma Margot Adams in Tonga.

We spent the next couple of days finishing up our to-do list on Tahiti; shopping, boat work, customs, etc. We will also spend time catching up with some of our "kid boat" friends who are here in Tahiti. From here we head west to the Leeward Islands of the Society Islands which include Raiatea, Tahaa, and the famous Bora Bora.