June 2009



June 2, 2009 – Raroia, Tuamotus, French Polynesia
After easy 20 day sail from the Galapagos, I thought that the three day sail from the Marquesas to the Tuamotus would be a breeze. Well just when you start to get comfortable the sea gods play a joke on you. Since everything has been going so well recently with Imagine, we should have known that it could not last forever and, of course, it didn't.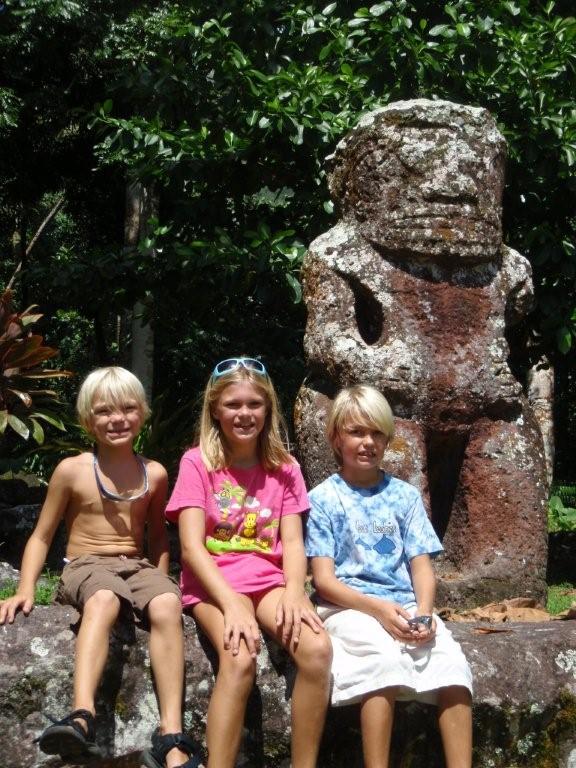 As for the actual sailing, the passage went very well. We made great time traveling 420 miles in 54 hours which gave us an average speed of 7.7 mph which is our best time ever. We sailed the entire way and only used the engine for a few hours. Unfortunately, we had some rough, rolly seas and a fairly uncomfortable ride. Although, we completed some school we didn't do much. We spent much more time just watching movies for something to do as we rolled along.
The bigger problem was the boat issues and there were many on this trip. The biggest issue occurred with our fuel tank. I have mentioned many times that Imagine carries a significant amount of fuel, in fact, our tank capacity is more than anyone else that we've met. Well usually (except when we have to buy the fuel) this is a good thing. In the Marquesas, we filled the two tanks which total 275 gallons. This was not an easy process since we could not bring the boat up to the gas station so we had to carry MANY 5 gal jerry cans on the dingy from the dock to the boat to fill the tanks. You can do the math on the number of cans that took….Once it was accomplished we were happy and knew that we wouldn't need to fill up again for quite some time. Well, not exactly, on the evening of Day 1 of the passage we started to smell diesel in the boat. At first, we thought that we had spilled fuel somewhere on the boat or that one of the tanks was just filled to full and the fumes leaked out. But with diesel in the bilge, we immediately determined it was a bigger issue but now where was the leak? We actually have 2 tanks – one is 90 gallons and one is 160 gallons. They, of course, are not easy to get to and we had to dissemble and move the table, take out all of the floor boards on the boat, and inspect the tanks. As you can imagine, that this size of fuel tank is not small but after much searching and swearing we thought that we had identified the source of the leak in the largest tank. Luckily, it was on the top of the tank. We pumped as much of the fuel from the largest tank into the smaller tank as we could so that it wouldn't reach the top. This in itself was not an easy process as Marc had to use a drill pump to siphon the fuel from the fuel filters in the boat through a long plastic tube while Jane had the other end of the tube outside the boat on the port rail filling the ancillary tank. This was accomplished in 20 knot winds and rolly seas. However, it did help to decrease the amount of fuel that we were losing. Although, we couldn't fix the leak at that time since it was under a pretty significant floor joice, we were able to clean the bilges which also helped to decrease the odor. Once we got to shore, our friend on Monkey Feet came to the boat and helped Marc plug the leak and all is well again on Imagine.
Of course, when it rains it pours and this passage was no exception. Our old issue of the freezer stopping occurred again and "Flo", the ever un-trustworthy water maker went out AGAIN. But, as always, Marc was able to get them working. So we have frozen meat and plenty of water again.
So all in all, the passage to the Tuamotus was not one of our better ones but we're here and we're safe. It is a beautiful place and we are looking forward to playing on the island, snorkeling, getting the boat put back together, and hopefully relaxing with some sun downers. We have read many times that the definition of cruising is, "Completing boat repairs in exotic places." How true it is……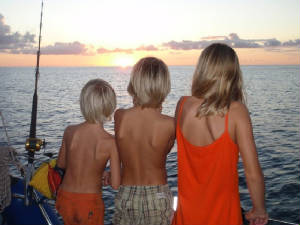 June 17, 2009 – Fakarava, Tuamotus, French Polynesia
Well the crew of Imagine thoroughly enjoyed our 2 ½ weeks in the Tuamotus. The Tuamotus are an archipelago in French Polynesia. They are composed of atolls with lagoons and motus (small islands) of a variety of sizes. It basically looks like a ring of small islands around a big lagoon. Since the lagoon is filled with coral heads and tricky passes the Tuamotus used to be called the "Dangerous Archipelago" and was usually avoided by cruisers. But with the addition of GPS and chart plotters on cruising vessels, these beautiful atolls are now open for cruising.
We split our time in the Tuamotus between the islands of Raroia, Makemo, Tahanea, and Fakarava. Each atoll was unique in many ways but all had in common the turquoise blue water, beautiful beaches, stunning coral, and amazing sea life (lots of sharks).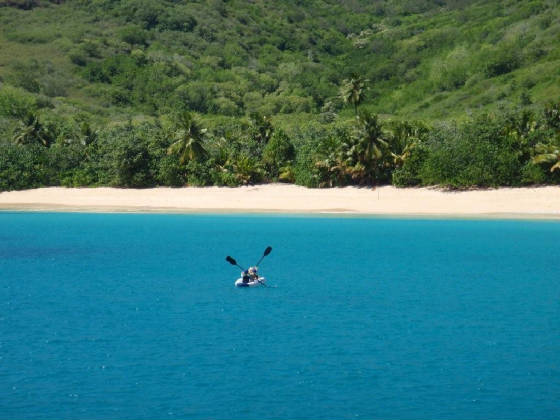 On Raroia, we enjoyed time with the kid boats Monkey Feet, Orono I, and Anemos. It was perfect for us. Since Marc and I needed to spend many hours performing repairs and then putting the boat back together, the kids played at the beach for hours with their friends. The water was so clear and the snorkeling was the best that we've seen yet. At home, in Chicago, we had a salt water aquarium and we all felt as though we were swimming in a giant aquarium with moray eels, giant angel fish, colorful tangs, and even Scar from Nemo. The most exciting things that we saw were several black tip reef sharks. Don't worry, they are more scared of us than we are of them and they swam away quickly but it is cool to swim with sharks. This atoll had only one small village on it which was on a motu opposite of where we were anchored so we basically spent the week anchored at a deserted Polynesian island. After we finished the boat repairs, we were able to relax and enjoy sun downers with our friends. Oh, and I almost forgot, we did accomplish much school and are getting closer to finishing the year…..Mom and kids are excited.

After leaving Raroia, we sailed 80 miles to the atoll of Makemo. We came to Makemo specifically to trade for carved black pearls and we were not disappointed. Our friends on Ohana Kai, who had been here 3 years ago had shown us their pearls and we were on a mission. Makemo is one of the largest atolls and has a nice size (300+ people) village. We were able to find Becko and his wife Jacqueline and order some carved pearls. They are just spectacular. French Polynesia is known for their huge black pearls. Becko and Jacqueline use the pearls with faults and carve intricate Polynesian designs using a dental tool. Each pearl is unique and they contain carvings of Tahitian Roses, surfers, mahi mahi, dolphins, tikis, Tahitian designs, etc. His artistry is amazing and they were a lovely family. We traded for the pearls for bottles of alcohol that in the Tuamotus, costs $60 US, so our $5 bottles from Panama were a good trading item. We also gave them many kids items which included among other things crocs, a Girls Rule T-Shirt, and a Cubs shirt for their children. In Makemo, we were also able to meet up with some kid boats that we know; Vagabond Heart – Australian, and Lucey Blue - Norwegian. Both kids and parents had fun spending time together. And for once, we had a number of girls together (we tend to meet many more boys than girls out here) so Caroline was in girl heaven. Imagine even hosted a girls sleepover with 4 girls ranging in age from 9-11. They watched "HS Musical" and "American Girl" movies, made fashion designs, and sang songs. What a girls' night! We did get to spend some time snorkeling, as well, but the main goal for this atoll were the pearls and catching up with friends. During our stay in Makemo, we also had the chance to go to mass. The language was a mix of French and Tahitian so we couldn't understand a thing but as with all Catholic masses the recipe was the same and you didn't have to understand anything to appreciate the incredible music and enjoy the communion with these kind and friendly people.


After our stay in Makemo, our goal was to spend three days on the atoll of Tahanea which is uninhabited and known for its incredible snorkeling and then head to Tahiti. Unfortunately Flo, our on again off again watermaker, had different plans for us. As you very well know if you've been reading our blogs, we have been having issues with Flo since Martinique. She works when she wants to and Marc has spent many hours with her (she is the other woman in our lives). Well the problem seemed to reach its max in the Tuamotus and no matter what Marc did she just doesn't want to give us good fresh water reliably. We thought that we'd be able to "limp" through to NZ but we know that we need to get it fixed now. Fortunately, for us we were able to find a Roving Rep for Spectra (our brand of water maker) who is on his boat in Fakarava which was only 50 miles from Tahanea. So after one day of great snorkeling in the coral reef, watching black tip reef sharks swim around the boat, and relaxing we lifted anchor at 4:00 AM and set off for Fakarava to get Flo to the doctor.

Although we only had 24 hours in Fakarava, we made the best of it. As soon as we anchored Rob from Spectra came over to the boat to check out Flo. He went through his checklist and determined that we had done everything that we could and that we needed to order a new membrane. This won't be an easy or cheap repair but it needs to be done. We will receive the part in Tahiti and hopefully that will take care of our water maker problems. We were fortunate that Lucey Blue and Vagabond Heart were at the anchorage so we did get to enjoy some time with friends. We also had some amazing snorkeling. We did a drift snorkel through the pass that leads into the atoll. Basically what this means is that we wear our snorkels and fins and we hold onto the dinghy as we drift through in the current through the pass. The clarity of the water was phenomenal. We could see clearly to the bottom – 100 ft below. We saw huge groupers, angel fish, black tip reef sharks, a school of trumpet fish, manta ray, and anything else that you can imagine. It was a perfect ending to our stay in the beautiful Tuamotus.

Well, we are leaving the quiet villages and uninhabited anchorages of the Marquesas and Tuamotus to head for the hustle and bustle of Papeete Harbor in Tahiti. It is with mixed emotions that we go. We absolutely loved the tranquility of the exotic lands, as well as, catching up with many of our friends on kid boats. However, our provisions are getting low. We are well into our canned veggies and meats since fresh has been hard to come by, we are on our last 2 L of soda, our last bag of cereal, our last box of wine (yes boxed wine is a must on a boat) and are dangerously close to being out of beer, so a grocery store will be a welcome sight. We also haven't eaten out in almost 2 months so a restaurant sounds wonderful to the chef. We are also so excited to catch up with Seth and Elizabeth from Honeymoon. They are actually sailing back to Tahiti to meet us since we haven't seen each other since Panama and we hope to catch up with Mike from Arielle as well. So it's time to head west and say good bye to the Tuamotus and hello to the Society Islands of Tahiti, Moorea, and Bora Bora. (Not a bad trade off)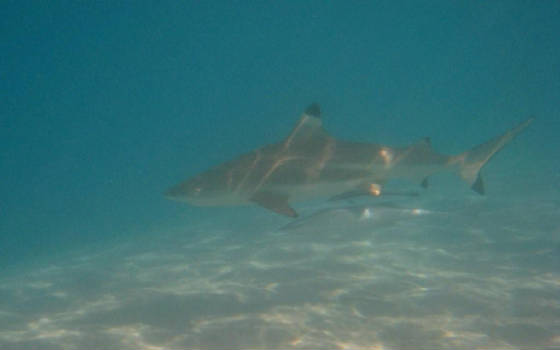 June 30, 2009 - Papeete Harbor, Tahiti


The crew of Imagine arrived back to the hustle and bustle of civilization in the port of Papeete, Tahiti on June 19. Although it was tough to come back to the noise of a city, it was great to catch up with old friends. We made the decision to come to Tahiti and participate in the Tahiti to Moorea Sailing Rendezvous after hearing from that our friends on Honeymoon were returning to Tahiti from Raiatea to participate. The Rendezvous is a sailing rally (a very laid back race) that is sponsored by Latitude 38 sailing magazine and the Tahiti Tourism Bureau to provide a venue for boats to get back together after the long ocean crossings from the west coast of North America, Panama, and the Galapagos and promote Tahiti and Moorea tourism. We arrived at the Yacht Quay in Papeete at daybreak on the day of the rendezvous and we were so excited to be met at the dock by Honeymoon, Arielle, and Orono I.


The rally was a lot of fun and was a great time to meet new friends and catch up with old friends. The kids were thrilled to meet the kids on All the Colours, Hip Nautical, and Whisper and spend time with the kids on Orono I and Gallivanter. The rally itself was a riot. We have often mentioned that Imagine is a very heavy ocean going vessel. Well the very heavy doesn't usually go along with speed especially in light winds. As you can imagine, it takes a little bit of wind to move a 40K+ pound boat. As you can guess, the winds were very light the day of the race and it was all that we could do to keep the engine off and finish the race. I think that we placed 35th out of about 50 boats but our claim to fame was that we were the only boat actually drying laundry on the lifelines when we crossed the finish line. We also can claim that we beat our friends on Honeymoon but don't look at their website…….let's just say we were very close. It was the first race that Marc and I had ever participated in and it was a lot of fun.
Moorea was a beautiful island. Picture water so clear that when you drop the anchor you can actually see it hit the bottom and watch it drag and catch in the sand. It was the perfect turquoise water that you expect in the South Pacific. The Rendezvous sponsored a day of fun for all of us to participate in traditional Tahitian games of outrigger canoe races, banana stalk relay races, coconut shelling, and rock lifting. The team of the Imaginary Honeymooners came in 6th place overall. We all did much better in the games than the actual race. Since there were so many kids there they let the kids participate in some of the activities. The kids outrigger canoe team took 2nd in their heat (actually beating 2 adult teams) and the team of Caroline and PJ (Orono I) won the kids banana stalk relay race. At the end of races, we were treated to a Tahitian Dance performance. Latitude 38 and the Tourism Bureau did a great job sponsoring the event and the crew of Imagine had a blast.

After the rendezvous, we decided to stay in Moorea with our friends on Honeymoon and Arielle for a few days. We relaxed, enjoyed the incredible water, and played euchre, of course. I'm not sure if I have mentioned the euchre challenge before in the blog. Our friends from Chicago know that Marc and I love to play euchre. When we met Seth and Elizabeth we knew that we were happy that we were meeting new, fun, smart friends but we were even more excited when we found out that they knew how to play euchre. So as usual Marc and I made the decision that it is better for our marriage not to be partners (I'll let you can guess who is more competitive with cards). So, Seth and I are partners and Marc and Elizabeth are partners. Well, I'm proud to tell you that Seth and I dominated the Atlantic Ocean tournament but since I am writing the blog, I'm not going to comment on the score of the Pacific tournament. I'll just say, that we'll have to get back together with Honeymoon soon for some vindication.
The most exciting experience in Moorea was feeding the sting rays. There is a very shallow sand bar within the reef at Opunohu Bay where sting rays hang out and wait for boats to feed them. They are wild but have become domesticated by the tour boats that come there every day. As you reach the area by dinghy, they swim right up to the dinghy and wait to be fed. You can get right in the water with them and they will come up to your chest and you can feed and pet them. It was so cool to be petting and feeding these wild animals. Noah thought that they felt like a stuffed animal, I'm not sure about that analogy but they were softer than I expected. And if feeding the sting rays wasn't exciting enough, the black tip reef sharks decided to come take a look. That's when most of us, other than Marc, decided it was time to get back in the dinghy. We can't wait to take Grandpa and Aunt Julie there in a couple of weeks.

After a fun and relaxing time with our friends in Moorea, the crew of Imagine headed back to Papeete, Tahiti to prepare for Grandpa Dave and Aunt Julie. We can't wait to see them. We hate to say good bye to Seth and Elizabeth but we think that we'll see them again soon. We have to, we have to play more euchre.