August 2010

August 4, 2010 – Darwin, Australia
Happy Birthday, Marc!!! The boys summed it up today as we celebrated Marc's BDay at the Crocosaurus Cove - "Dad, this is the best birthday that YOU'VE ever had". The Cove, an inside zoo in downtown Darwin, is home to many huge saltwater crocs and many other reptiles indigenous to
Australia. The kids loved it, as they were able to fish for the young crocs with liver (don't worry we didn't land any), hold a baby croc, watch the forceful bite of the salties as they were fed, and even meet Burt one of the stars of Crocodile Dundee. As if we didn't already, we all now have a huge respect for these pre-historic animals.

We've had a lot of fun touring the area. About a week ago, we hired (rented) a car and went on a little "vacation" around the Northern Territory. The NT (or Top End) of Australia, on the edge of the outback, is home to ancient aboriginal paintings, beautiful scenery, WWII history and lots and lots of crocodiles and wallabies. If you want to see what we've explored just rent the DVD of either Paul Hogan's, "Crocodile Dundee" or Nicole Kidman/Hugh Jackman's, "Australia" and you'll experience the Northern Territory, too.

We spent two days exploring the ancient Aboriginal sacred grounds of Kakadu National Park. At 12,000 square miles, Kakadu is Australia's largest National Park and recognized as a World Heritage Site for both its cultural and natural significance. It is believed that the Aboriginal people have inhabited this beautiful rock landscape for tens of thousands of years with ancient rock paintings to record their history. Kakadu is also home to many waterfalls, rivers, and billabongs (lakes) and in the Northern Territory that means saltwater crocs and lots of them. In fact, in 2008 they captured a 4.5 M (15 ft) croc just 300 yards from the hotel where we stayed in the park. We took a river cruise and saw many, many of these powerful, frightening animals. I probably don't have to say that we made very sure that no little Adams' hands hung outside the boat. Although, there are many beautiful plunge pools at the base of waterfalls in Kakadu, you can not "safely" swim in most of them due to crocs. Despite all of the warnings, every season tourists are killed trying to swim where they shouldn't. But there are a few safe plunge pools, where we enjoyed swimming in the cool, fresh water.

From Kakadu, we visited the Cutta Cutta Caves and the Katherine Gorge (Nitmiluk) near the town of Katherine. One of the highlights of the trip for me was the visit to this large sandstone cave system. The caves which are hundreds of thousands of years old were not discovered until 1900 when a local farmer's cows fell into it. Although, our pictures did not do it justice the glistening of the crystals from these formations that have been growing for so long beneath the earth were just beautiful.
In vast contrast to the caves, we visited the sheer sandstone rock faces of the Katherine Gorge. As we cruised through this beautiful rocks cape, we spotted many freshwater crocs which were much more exciting to the kids. The "freshies" are only found only in Australia and frequent the freshwater rivers, creeks, and pools. Unlike the salties, they are usually shy animals and only become aggressive if bothered….we still stayed away from them.

No trip to Australia can be complete without spotting some roos. Just like we've all heard, they really are as prevalent (or more so) than deer in the Midwest. In fact, at first we saw more dead ones along the road than live ones which was a little disheartening. But soon we learned that the best time to spot them is early and the morning or in the evenings when it's cool. We saw quite a few
grazing in the fields and hanging out near the tourist areas looking for food. They really quite cute and it occupied the time to play "Spot the Roo" when we were driving the many KM in the NT.
Although we all enjoyed the beautiful scenery, wildlife, and history of the Northern Territory, I think that the best part of our "vacation" for the kids was staying in the hotels. They were in heaven with beds for jumping, bathtubs, swimming pools, pizza delivery, and, of course, lots and lots of Disney channel.

The only bummer on our little vacation had nothing to do with the locations that we visit
ed but with the trip home. As we drove our little Toyota rental car toward Darwin, we had not one but two blowouts. Luckily, we were close to a "very" small town when we had the second flat so we limped into the BP station. But unluckily, Roscoe, at the little station had no tires and we would've had to wait hours for the tire to be delivered by bus from Katherine. Fortunately, the man that owned the rental car company was nice enough to drive 2 hours from Darwin to deliver us two new tires. The good news to whole ordeal is that it reminded us that land life has its downsides, as well, and we were very happy to be back to Imagine.


Now that vacation's over, we'll spend the next week finishing boat projects, working on schoolwork, and provisioning. Does this sound familiar? It will be nice, however, shopping in "real" supermarkets and actually having a car to transport the groceries. We've all had a great time in OZ but we are ready to get to Indonesia where we will encounter our fourth continent and our third ocean. Who needs a Social Studies book?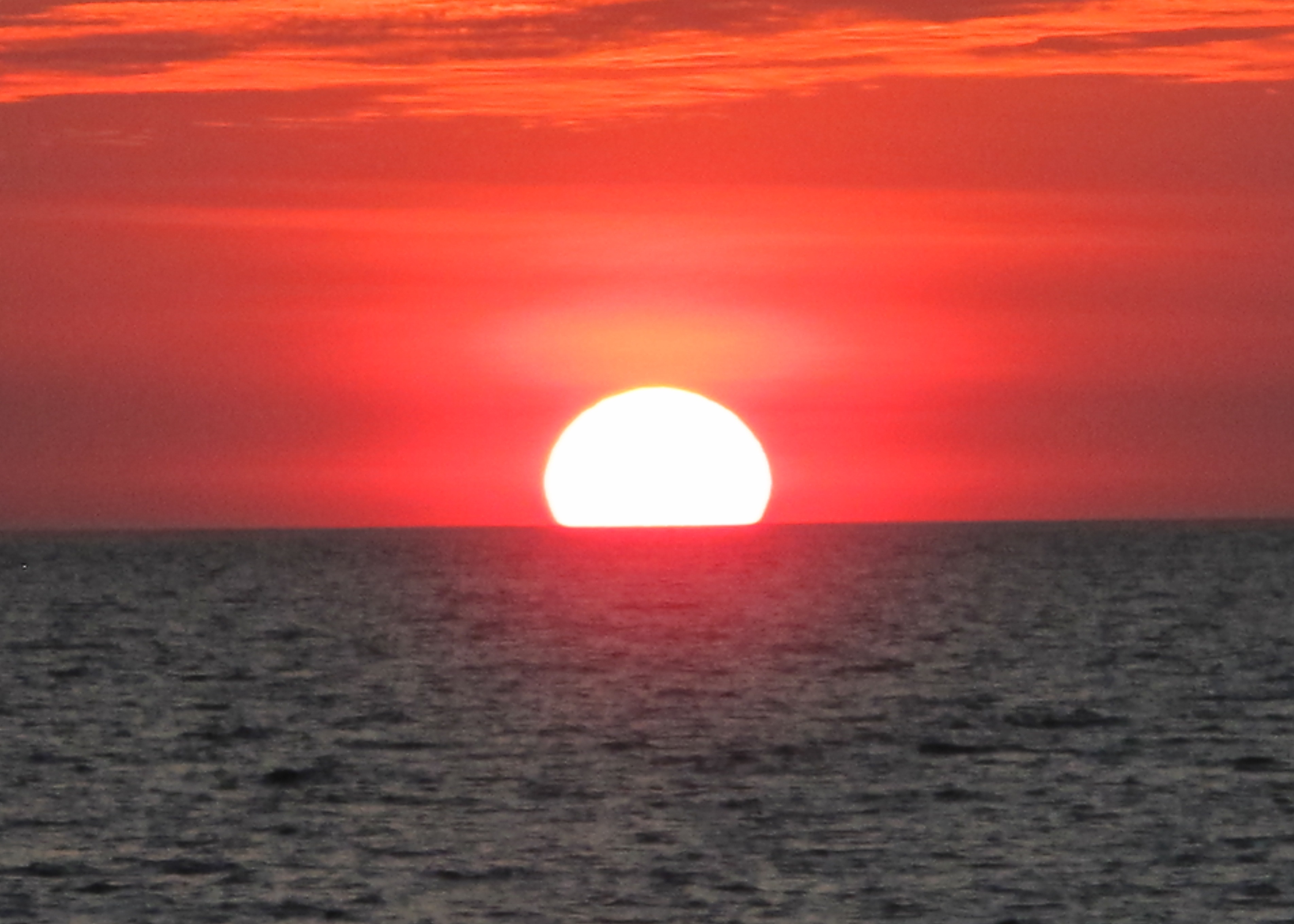 Amazing Australian Sunsets

August 16, 2010 - Kupang, Indonesia
Welcome to Asia! After a fairly easy passage, the crew of Imagine arrived in the bustling city of Kupang, Indonesia. We are excited to be on a new continent, our fourth in our two year journey, and ready to start exploring this very unique and interesting city. But, unfortunately, we first have to complete our check in procedures with the Quarantine, Customs, and Immigration officials which we have heard can be difficult at best. Cruiser rumor has it that the officials tend to forcefully requests "presents" before they will finalize your official documents to cruise the area. It's a good thing that we're from Chicago, the land of corrupt politicians. Although, at least in Chicago they speak English. Soon we'll see how Indonesia compares.


I hate to admit it but I knew very little about Indonesia before I started researching the area for our travels. It is so far away from our world in the US , both geographically and culturally, that I really knew little about the history, culture, religion, or tourist attractions. My research has piqued my curiosity to a country full of diversity, ancient traditions, modern cities, volcanic mountains, interesting animals, and beautiful islands and I can't wait to start exploring.
With an estimated 240 million people, Indonesia is the fourth most populous nation in the world - right behind number three - USA. With over 18,000 islands, Indonesia is the world's most extensive archipelago. The land mass, most of which is dominated by volcanic cones, encompasses almost 2 million sq km and rates as the 10th largest country in the world in size. This geographical sprawl of islands and mountain communities has resulted in large groups of people living isolated from others resulting in an incredibly diverse population base. Leading to a land with over 700 different languages and unique cultures and religions.
The history of these islands is as unique and diverse as the islands themselves and much to complex for me to do justice in our short blog. But in a quick nutshell, the islands of Indonesia first became a major Asian trade route as early as 500 BC. Traders from China, India (bringing Hinduism), and the Arab nations (bringing Islam) dominated the islands in the early centuries AD. It was not until the 1500's that the Europeans (bringing Christianity) first explored the archipelago when the Portuguese realized the value of the "Spice Islands" of Eastern Indonesia. They controlled this market until the 17th century when the Dutch made it their goal to control the spice trade and with it Indonesia until the mid-1900's (despite a few years of control by the French and English in the early 1800's - I told you it was confusing). The spice trade was so powerful at this time and the Netherlands desire to control it was so strong that they traded a small North American island to the British to maintain their control of Banda, a small spice island in Indonesia…..that new British island is now called Manhattan.
Although a long and established trade history, modern Indonesia is a relatively young with independence being won from the Dutch in 1949, after Japanese occupation during WWII. Although, the last 60 years have not been easy for the young country as it has endured much conflict, including; internal rebellions, religious conflict, cruel dictatorships, vast poverty, and much bloodshed. But today with Indonesia's focus on economic development and tourism it is hopeful that the democracy will finally grow into a peaceful, secure country.
So, now it's time for us to stop reading the tour books and start enjoying this vast, diverse country which is home to the famous tourist island of Bali, Komodo Dragons, Orangutans, volcanic landscape, remote villages, and hopefully, welcoming people. We can't wait…. But first we have to deal with these government officials.

August 20, 2010 - Kupang, Indonesia
As usual, the cruiser rumors were exaggerated and, although not without a little drama, the check in procedures was not near as difficult as we had heard. Or maybe we were just used to it after living in Chicago. After a quick sleep, we awoke early to start calling customs on the VHF and preparing the boat for inspections. But after a couple of hours and several attempts we heard absolutely no responses from anyone that sounded remotely official. So we decided to lower the dinghy and scout out the situation on shore. Immediately, we knew that we were in a whole new world. The minute the dinghy hit the shore, we were surrounded by Indonesian men offering to "help" us with anything we needed…..laundry, garbage, tours, dinghy assistance, and contacting officials….of course, everything had a fee. We felt like sheep at the wolves table. But even though it was quite crazy, everyone was polite, friendly, and non-threatening. So after about an hour of figuring out what to do, one of the "boat boys" had contacted customs and the five of us, three government officials, and the boat boy (interpreter) were on our way back to Imagine. So we were thinking…..this is easy. But after an hour of completing papers, making copies, finding health information (that we hadn't shown in any other country), customs announced that he could not check us in without an agent…….what? But, luckily, the customs agent just happened to have the phone number for Napa, the agent. Although, it seemed a little too convenient, it was nice not to go back to the wolves to figure it out.
So 700,000 Rupiah (about $77US) and 24 hours later, we had been officially cleared into Indonesia….at least we think so. Everything is a little sketchy here…..
(Note for the cruisers reading our site - we will post an entry in the future outlining our process for obtaining our CAIT and cruising Indonesia independently from the rally)


Kupang with a population of 350,000 people is a wild, bustling city. The mornings started everyday with the 4:30 AM call to prayer for Ramadan. Although, the first day, we were way too tired to hear it……the coma didn't last long and every morning we were awoken by that "lovely" music. But we quickly learned that this was the quieter time of the day. Kupang is a city of high-speed traffic of cars, uncountable scooters, and music blaring, horn blowing bemos (small buses). These small, crazy streets are lined with hundreds of shops all selling their wares at well below western world prices….T-Shirts for $1, shoes for $5, backpacks for $7.….even a knock off Bulls jersey for $5.
We felt like rock stars walking the streets, as this is not a tourist town and everyone loved to say "Allo" and smile and touch our very blond children. Everyone was incredibly friendly and seemed generally interested in us….at least as much as we could understand. The kids had a blast playing pool with some locals while we enjoyed a very cheap lunch for the whole family for about $15 US. Unfortunately, the other cruiser rumor that we had heard was true regarding the huge amount of litter and garbage present along the beach, through the city, and in the water. It was sad to see plastic everywhere and so hard to understand a culture that condones this. (See Noah's blog for additional comments on this).
Although, we were definitely ready to leave the litter and chaos and start enjoying the more remote areas of Indonesia, we did have fun in this crazy, wild place. Unfortunately, we didn't get a picture of our favorite sight in Kupang, we won't forget it: On our first afternoon exploring, we saw a man quickly riding a scooter down a main, busy street with a 5 ft stick slung across his shoulders and something that looked like packages hanging from it. But if you looked closely, it wasn't packages, it was a couple of dozen live chickens hanging from the stick by their feet still clucking….now that's take out.
August 27, 2010 - Maurole, Flores, Indonesia
We have been thoroughly enjoying our touring of the north coast of Flores. Although, I wouldn't consider it one of the most beautiful place that we have visited, it would be one of the most interesting. Due to the large population of Indonesia, the islands are peppered with villages and people, lots and lots of people. The local people have been delightful. All in all, they are extremely friendly and curious about us. Although, most speak very little English, they can speak enough to ask us our names, ages, and where we are from. They are a very superstitious bunch and blond hair is suppose to bring good luck so you can imagine the reception that we get. The kids are constantly being touched, petted (literally), and pinched (generally not too hard). At times it is a little overwhelming for the kids but they have handled it extremely well.


One of our highlights in Flores was our visit to Waimalung, a small village of approximately 800 people. Since this is not a rally stop, the village does not get as many boats as others and we're excited to see us. As soon as we dropped our anchor, a young man named Patrick, rowed his small wooden dug out canoe to the boat, and welcomed us with coconuts. He spoke English very well and immediately became our guide to the village. As usual, one of our first stops was a visit to the school. It was fabulous. Kids were everywhere - crowding around us asking the standard questions, smiling, shaking our hands, touching our hair, etc. etc. The kids in school sang us many local songs, with even several solos. Caroline, Grant, and Noah responded with a few American songs, including, "American the Beautiful" and "This Land is Your Land". I was very proud of our kids as it was a "little" overwhelming singing to over one hundred other kids crowding with a foot of them. They did great. Marc showed them pictures of Chicago and our travels on the computer and we ended our school visit with our kids assisting their teacher in teaching them English. After we came back to Imagine and did our own school, we went up to the beach at the village to relax……well, it was not exactly relaxing. We were greeted by 60 kids smiling and yelling, "Mister, Mister" - everyone is a mister here. What a reception! I think, that our new friend, Patrick realized that our children were starting to tire of all of the attention so he took them for canoe rides in the small dug out while Marc played catch with the American football. I think that Marc has become an ambassador for American football to the rest of the world as he introduces it to kids everywhere we go. The boys were having a blast playing catch and I can't even guess how many times Marc threw the ball that day . We concluded our stay in Waimalung with a quiet dinner on Imagine with Patrick and his wife. The are sweet couple and Patrick taught us Indonesian while we relaxed and listened to American music and learned about each other's cultures.

After our visit to Waimalung, we caught up with the rally boats in another small village of Maurole. It was fun to meet some new people but also a little overwhelming being in an anchorage with 40 other boats. We did get to join in on some of the rally activities and toured the inland areas of Flores. The trip to the volcanic tri-color lakes was very pretty but the most interesting part of the 14 hour day long tour were the tiny villages along the way. First, of all, there are small villages EVERYWHERE. To us, each village looks similar with a few hundred tiny homes, most of which are made of bamboo slats with no windows. Kids run around EVERYWHERE, too. And although the homes have no running water (collect rain water), no centralized electrical source (just generators), and no sewage systems (outhouses), they do have lots and lots of satellite dishes. Noah even noticed this. Even in Indonesia, the entertainment industry is highly valued. In Maurole, we had the opportunity to attend a wedding of a local couple. The bride was a neighbor to one of the organizers of the rally, and she graciously invited all of the cruisers to her wedding. Caroline and I attended the 90 minute ceremony, which although a little longer, was almost identical to a Catholic wedding in the US. In fact, they even sang the exact same version of the "Halleluiah" as we used to sing at St. Clement. It was quite cool to be half way around the world, listening in a totally different language, but still enjoy the beauty of a wedding mass.

August 30, 2010 - Seventeen Islands National Park, Flores, Indonesia
Finally, an absolutely beautiful spot in Indonesia. As we were sailing toward Gili Bodo beside our friends on Orono, we looked toward Flores and saw a small group of islands. They looked beautiful and like they could be a nice, calm anchorage so we quickly changed our minds and both detoured toward the clear water. And we were soooo glad that we did. With clear water, a gorgeous beach, great snorkeling, calm kayaking, and no villages, this was the perfect spot to relax for a few days. We were there with a handful of other boats including the kids boats Orono I and Finale and the kids had a blast playing in this peaceful little paradise. We were finally able to enjoy our favorite cruising activity…..bonfires on the beach with smores. The beach looked so inviting that the boys even attempted a sleepover on the beach under the stars (no tent, etc). It was a great idea at first until the rats appeared and all three of my Imagine boys decided that the comfort of Imagine was too tempting and spent the night in their own beds. But this was a great stop and a perfect respite for awhile.