January 2010

January 6, 2010 - TeAnau, New Zealand

South Island travels with the Chan-Nui's! Lisa, Ernie, and Carter (Marc's sister and family) arrived in Nelson on December 16 and we were all ready to explore the S. Island. After, days of hearing, "When is Carter going to get here", we were all thrilled to see them. We spent the week prior to Christmas tramping the Able Tasman Track. The Able Tasman is one of the seven "Great Walks in NZ". The four day/three night, 52 kilometer (32 mile) track, is known as a coastal paradise, with golden beaches, clear water, and forested hills and it met all expectations. For us, it was even more special because we were able to sail Imagine up to the Able Tasman National Park and anchor at Adele Island close to the track. We were a little (OK, a lot) nervous to leave her at anchor for the first time but after studying the weather forecasts, setting two anchors, and saying a few prayers, we made the decision to let Imagine stay in the protected anchorage while we tramped.

There were several different options available to complete the track: from carrying our own packs with tents, bags, food, cooking supplies, clothes, etc. etc. to staying in huts and having our bags including food brought to us each night by a water taxi, for a $$ fee of course. One guess, as to what option the Adam's and Chan-Nui families took….you guessed it, the least expensive way. Besides, only ninnies don't carry their own packs, right? So we packed up everything that we might need (including hot chocolate for the kids and some wine for the adults) and headed out. All of the kids carried their own packs and they were usually leading the way along the trail. They received many smiles from the day hikers and the folks that opted for the easier options and, of course, we parents were very proud. The scenery was beautiful, the weather was gorgeous, and the company was perfect - we had a fabulous time.

After the Able Tasman all of us came back to Imagine for a long, hot shower, and to celebrate Christmas. Santa found us again this year and brought plenty of legos, jewelry making supplies, games, mp3 player, and other boat friendly toys. We had a very special Christmas with family this year. We also had a chance to enjoy a Kiwi Christmas luncheon at the Franklins. It was great. Christmas is so different here, because it is summer. It actually feels a little more like July 4th with outside dining, kids swimming in the pool, and playing cricket (Ok so that's a little different). The kids actually really liked cricket and are starting to get the hang of it. It was so nice of PennySue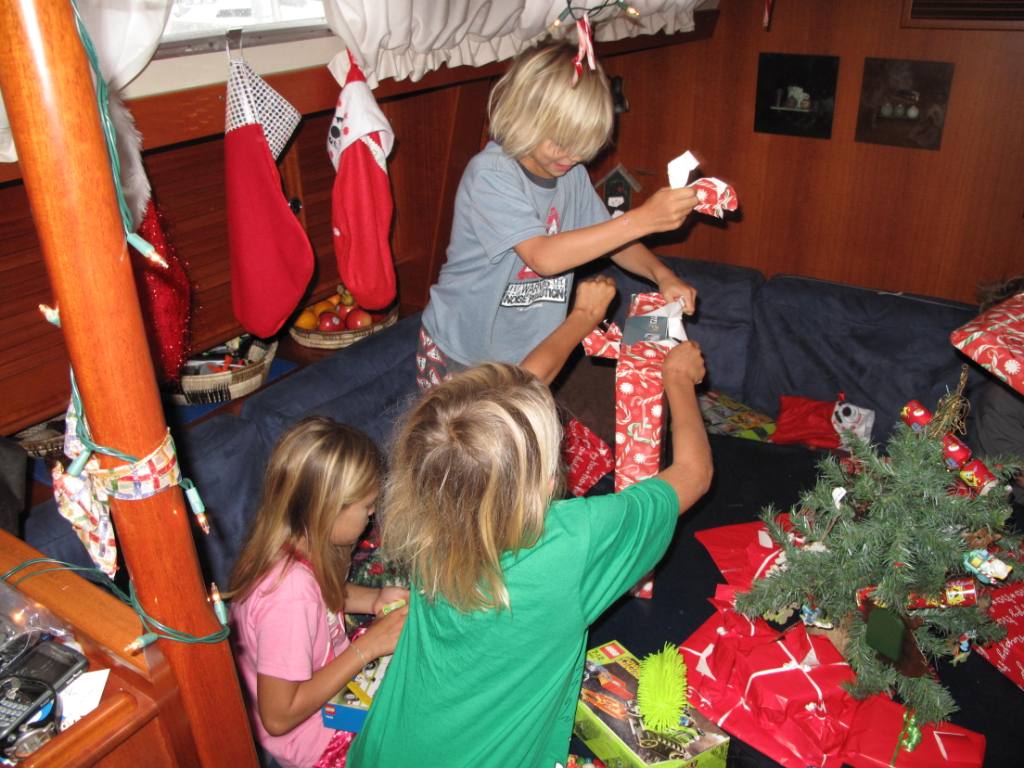 and Franko to open up their home to us and let us celebrate with their family. We had a wonderful time.
And then two days after Christmas we packed up the Subaru to the top (really to the top) and set off to camp our way around the South Island. We were already in love with the country but the more we saw the more we loved it.


West Coast - We drove from Nelson down the West Coast of the S. Island. Our first stop was a cute little town named Hokitika which is the greenstone (jade) capital of NZ. Greenstone was treasured by the native Maori people. They used it for decorative jewelry and for carving of their lethal weapons. Since greenstone is primarily found on the West Coast, it would take several months and be very dangerous for the Maori people to uncover it. Although we weren't going to make any lethal weapons, we did take in the local tradition and bought some beautiful hand carved greenstone necklaces. Our necklaces are carved into the Koru shape which is the Maori symbol derived from the unfurling fern frond and represents growth, new beginnings, and potential. We spent our first, of many nights, tent camping in the rain at a DOC campsite near Hokitika. The DOC sites vary in their facilities but almost always have toilets, running water (although once it was a stream), and some type of table (usually a picnic table but occasionally a covered or inside area). They are usually in the most scenic areas and provide a clean and reasonable way to see the beauty of New Zealand.

From Hokitika, we continued down the west coast and arrived at the Franz Josef and Fox Glacier area. Nowhere else in the world, at this altitude, have glaciers advanced so close to the sea. Although these glaciers have been retreating many of the years since they were discovered in 1865, they have actually been advancing since 1985. The two most famous glaciers of New Zealand are actually some of the only glaciers still growing in the world. Although, we were a little taken aback by the mass of tourists (think cattle train with cameras) at the Franz Josef, the massive ice and roaring rivers were still amazing sites.

We stayed at a pretty little DOC facility on a large rock covered beach called Gillespie's Beach. It was quiet and a great place for the kids to explore and we thought that it was perfect…..until the invasion of the sand flies. Sandflies are the only real pest that you will find in the New Zealand mountains. There are no snakes, leeches, dangerous spiders or any other creepy crawlies. Smaller than mosquitoes but with a bite much more painful, the sandflies can be QUITE a pest. But we loaded on the insect repellant, which really works against them, and endured. The island can't be perfect and it was worth the pain as we visited a seal colony in the area and saw the cutest baby seal which came very close to Marc – the kids think it was mistaking him for its mommy.

Wanaka - We left the West Coast of NZ and had a beautiful drive down the Haast Pass with our first views of the Southern Alps – stunning. We made it to Wanaka, which is a cute, but busy tourist town along Lake Wanaka and had our first experience staying in a NZ Holiday Park. The holiday park experience is something that anyone camping their way around NZ has to encounter. A holiday park is basically a campground on steroids and they vary widely in their size, character, scenic beauty, cleanliness, etc. etc. but what they do provide are hot showers which are very important after a couple of nights at the DOC sights, laundry facilities, a large kitchen and indoor eating facilities, and if the kids are lucky, there are playgrounds, trampolines, and even TV rooms. We celebrated New Year's Eve watching an old 80's wannabe band in Wanaka, impressing the kids with our knowledge of Cheap Trick and Blondie songs. But most of all it was just fun to ring in 2010 with family. We left the comforts of the holiday park and headed for the beautiful area of Mt. Aspiring Park. We were glad to be away from the crowds again and hiked through the picture perfect valley, through sheep farms and surrounded by a spectacular mountain range…it really resembled a postcard from NZ. It was a quiet and peaceful area with way more sheep than people to keep us company. We crossed small rivers fed by the many waterfalls and enjoyed the scenery. But, as was our luck through most of our travels, as soon as we stopped to set up our tent……it started to rain. With the wind howling through the valley, we were only able to set up one tent so the five of us had a restless night of pounding rain and thunderstorms in a three man tent. Although, it was a very long night, it was worth it as we awoke to an unobstructed, gorgeous view of Mt. Aspiring in the morning and enjoyed blue skies as we hiked back out of the valley.

Fiordland National Park - The next stop on the Adams'/Chan Nui tour was Fiordland National Park. As New Zealand's largest national park and a World Heritage Site, Fiordland encompasses the open ocean and coastal environments to high mountains peaks and sheltered valleys. The 1.25 million hectacre park includes the 14 fiords that make up the southwest corner of New Zealand. Its unique landscape is a result of the power of water. In ancient times glaciers created the rugged landscape by carving out the sheer faces of the fiords and gouging valley floors to form lakes. With 2 out of 3 days raining and over 6 M (that's almost 20 ft) of rain a year, it is also one of the wettest places in the world. We met the Chan-Nui's at a small, rustic (the only water came from a stream) DOC campground right by the edge of Gunn Lake near the Milford Sound. When we arrived it was beautiful with the kids building bridges across the small creek that separated the campground and Uncle Ernie teaching them to fly fish. After our previous night of stormy weather, we were all excited to get a good night's sleep and to set out in the AM to hike the first leg of the famous Routeburn track. But Mother Nature had a different plan as it poured all night and morning and the little creek was now flowing so strong that we had to carry the kids across it. We decided to head to the dryer area of the nearby town of TeAnau and wait out the rain at a holiday park.

Although it continued to rain in the sounds, we enjoyed our time in sunny Te Anau. One of the highlights of TeAnau was a trip to the legendary Glow Worms cave. Although Te Anau, which was named by the Maoris, means "caves with a current of swirling water", this magical cave system was not discovered in modern times until 1948. The caves are famous for their beautiful water-formed rock sculptures and formations, their rushing water and whirlpools and most exciting, for us, were the mesmerising glow worms. These little creatures are actually fly larvae (which isn't quite as cuter of a name) which glow to attract their food but their glowing provides a beautiful ceiling resembling the stars, in the pitch back, silent cave. Although we were disappointed by the rainy weather in the sounds, it provided us with an opportunity to just relax and enjoy the sunshine in TeAnau without hiking or setting up and breaking down camps. The kids enjoyed playing in the playground with their cousin, Carter, running wild, and watching the first English language Disney Channel since leaving the states (we saw it in Spanish in Ecuador and Dutch in Bonaire). The adults enjoyed the time to read some books, make some nice dinners, drink some wine, and just talk and enjoy each other's company. This was the perfect way to end our time with the Chan-Nui family as our paths separated after our stay in TeAnau. We were so sad to see them go but also happy that we got to spend so much time together. Our travels in New Zealand were even more special since we were able to share it with family.

January 24, 2009 – Mt. Cook, New Zealand
After our wonderful time with Lisa, Ernie, and Carter, it seemed a little quiet and lonely but we were excited that we had Jane's Dad, Dave, and brother, Doug meeting us in Queenstown in just a few days. We set off once again and took the opportunity in between visitors to tour the Southern Scenic Route on New Zealand.

The Southern Scenic Route is road trip from TeAnau to Dunnedin and travels along the rugged southern coast of the island. We really enjoyed it, as it was very different from the mountainous terrain where we have s
pent much of our time over the last few weeks. We stopped in the town of the Invercargill, the home of the World's Fastest Indian, which is a souped up 1920's Indian motorcycle that still holds the World speed record for a 1000CC engine. Check out the great movie starring Anthony Hopkins by the same name. We also got to see the Tuatara "lizards" here. Although these ancient animals are called lizards they are actually genetically closer a dinosaur and are believed to have been in existence for millions a year. The boys were really excited to see real live dinosaurs.



Wildlife –This area is known for its unique wildlife. We were very lucky in our quest to seek the animals out in nature, instead of heading to a zoo or a tour. On our trip thr
ough the Catlins State Park, we just happened upon a beach that is often home to the rarest penguin in the world, the Yellow Eyed Penguin. There one was feeding its baby chicks right in front of us…we all thought that this was cool. On the Otago Peninsula in Dunnedin we were able to see the giant Royal Albatross fly overhead and as one of the largest flying birds, the 10 ft wingspan was impressive. One of our coolest wildlife encounters occurred later that same night. In the same area at dark, the Little Blue Penguins are return each night to the beach to feed their chicks after being out all day fishing. We waited very patiently, well we were more patient than the chicks that we could hear calling for their food. Finally, we saw them swimming in a large group toward the beach and they waddled up the hill toward us. A DOC (Department of Conservation) worker advised us to stay very still and quiet and that they would get very close. What was amazing, is how close they came, as two of them brushed right beside Caroline and Noah and one actually stood on Grant's foot. Now that is up close with nature, amazing!!! Sorry, no pixs from this adventure (no flash photography allowed) but you can read more about this on the kids' blogs.

Queenstown – From Dunnedin, we drove across the island to Queenstown to meet my Dad and brother. We were so excited to see them. We were also happy and fortunate to be able to stay at our friend, Penny Sue's family vacation house. We hadn't slept in a bed, in a house, since we left Chicago in October 2008. Although we love Imagine, I have to admit it felt pretty good to sleep in a real bed, have a dishwasher, a bathtub, and a fireplace. We were in heaven. With the claim of the Adventure Capital of the World, Queenstown proved a perfect place for us to base our time with my family. Although, we didn't participate in the really high octane activities here like bungy jumping, parasailing, or canyoning……we had our share of fun here. We took the TSS Earnslow, a 1912 steamship, across the lake to a large sheep station where we were able to see the sheep dogs working (we've decided we want a border collie when we get home – so cute), sheep being sheared, wool being spun, and even enjoyed a real English tea. We also were able to ride horses in the Rees River area of Glenorchy. It was fun for all and just beautiful riding in the river bed with mountains all around. This area was home to much of the scenery in Lord of the Rings and we learned that the horse that Grant rode, Harry, was even in Lord of the Rings. We enjoyed some time in the actual town of Queenstown. We took the gondola up the mountain, enjoyed the views, and raced down on the luge cars. I'm not sure who had more fun the kids or the adults. Uncle Doug chaperoned Caroline and Grant as they took the new Ziptrec through the forest and mountains around the area. They even hung upside down as they glided along at speeds that mom didn't want to know. As always, we did a little hiking in the area. It is just a gorgeous area surrounded by mountains and lakes. One of the beautiful hikes that we did in this area was in Glenorchy. Penny Sue's parents (Jim & Molly - Jim pictured below with Mt. Earnslow in background from Cozy Dell) have a property between two sheep stations there and they hosted us for a splendid day of exploring, hiking, and just enjoying the perfect views of Mt. Earnslow sitting at the picnic spot.

TeAnau – From Queenstown, we took the scenic drive to TeAnau. The drive itself was stunning as we were almost always surrounded by mountains, rolling hills, and sheep farms. We decided to go back to the Milford Sound area with hopes that Dad and Doug brought the sunshine with them…..and they did. In an area, that rains 2 out of 3 days we enjoyed 3 nice days in a row. We took a day cruise in the famed Milford Sound area. The naturalist said it was one of the nicest days that they had had in weeks so we felt very fortunate. We took a late afternoon cruise so most of the tour busses were gone as we enjoyed the #1 tour spot in NZ without the crowds. Milford Sound is actually a fiord created by rivers of glacial ice and flanked on both sides by sheer rock face. The giant rugged peaks arising from the serene water of the sound as well as the many towering waterfalls made a breathtaking trip. We could not have wished for a better day. Since the weather was so good we were also able to do some tramping in one of the best hiking areas in New Zealand. We all completed the first day of the famed Routeburn track and made it to the top of Key Summit. The views along the ridge and from the top were stunning and it was the perfect hike to enjoy with Dad and Doug.

We absolutely loved exploring these beautiful areas with Grandpa and Uncle Doug but what was probably most fun was playing games, relaxing and catching up, and just enjoying our time together. It was so hard to see them go but we are thankful for the time that we spent together.

Mt. Cook – After Doug and Dad left we were back on the road and heading for the largest peak in NZ, the famous Mt. Cook. Of course, since we were back tenting, it also started to rain again. But as usual, it cleared in the morning and we were able to enjoy a beautiful hike across swing bridges and through the Hooker Valley to the glacier fed Hooker Lake. We played along the lake in the shadows of the mountains, skipping stones and enjoying the view. As the kids raced back to the campsite with Mom following close behind, Marc stayed back and enjoyed his time with the mountain. Mt. Cook, at 3795m (12,523 ft) is a stunning and dominating peak in this National Park full of 22 peaks over 3000 m. As the training ground for New Zealander Sir Edmund Hillary, the first man to summit Mt. Everest, I know what my husband was thinking as he stared quietly at the summit….I want to climb it. Well, maybe the next time that we visit NZ.
From here we will be heading back to Nelson and preparing the boat to leave the S. Island. We have had a marvelous time touring this beautiful place especially being able to enjoy it with our families. It's hard to describe what makes this place so special… is it the dramatic peaks rising from almost sea level, or the interesting animals particularly the birdlife, or is it the vast areas with absolutely no development, or the large crystal clear lakes, or maybe its the many, many sheep farms at the base of the those dramatic peaks, or quite possibly it's the incredibly friendly and open people that live here…..I am sure that it is not one of these things but all of them combined that make it such a special place.