June 2010

June 11, 2010 – Vuda Point Marina, Fiji
We had a wonderful time enjoying Fiji for the last two weeks. It really is a gorgeous place just the way you picture it. It is filled with beautiful islands, amazing beaches, and friendly people. In fact, I believe that they may be the most welcoming, friendliest people that we've met along the way. This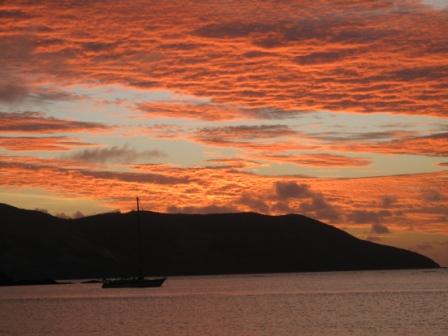 is actually quite amusing, considering historically Fiji was one of the most savage, cannibalistic nations in the Pacific. We spent the last two weeks in the island groups of Mamanuca and Yasawas. Many of these islands are frequented by tourists so I have to say that we preferred Dravuni and the islands of the Astrolobe Reef due to their remoteness. What was somewhat disappointing in these islands groups was that the locals are so familiar with yachties that they are starting to "work the system". We, yachties tend to be a generous bunch and almost every time we visit a village, we bring kids clothes, school books and supplies, kitchen items,
fishing lures, batteries, or something else that they need. But, we want to "donate" the items, not continuously be asked for them.
We really enjoyed the small island of Naviti and Somo Somo Village. The snorkeling was the best that we have ever seen there and we have snorkeled A LOT. The colors of the coral were spectacular with colorful little fish just like those from the saltwater aquarium we had at our home in Chicago. The beach was also amazing, as the only the boat in the anchorage, it was very special to have a huge sandy beach all to ourselves. It was so big that we had a great game of touch football (American style, of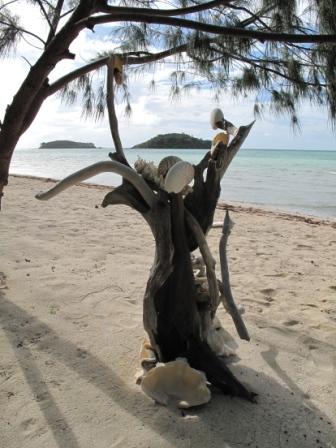 course).
A local woman and her 12 year old nephew guided us across the island to the spot where a WWII fighter plane had sunk in the shallow water. It was interesting snorkeling on the small plane. But what was more enjoyable was visiting with the elderly couple who lived at the beautiful beach. They lived all by themselves in huts without floors and little furniture. They had no electricity and collected rain water to drink. They had a separate hut with a fire grill for cooking. They made a living by making brooms that were sent to Lautoka to sell to the tourists. This very simple life may not be for everyone, but they were as happy as they could be and loved sharing their stories with us and we loved hearing them.
Despite the tenacity of a few locals, these islands were still absolutely gorgeous. We thoroughly enjoyed our time in Fiji. We (I should say Jane) had been a little nervous about Fiji because of the rumors that we had heard about its government and its many reefs and coral heads. Fiji has been under military rule since the late 1980's and in the 1990's there was much political unrest. This is certainly not the case, now, as we were met with only friendly smiles and "Bulas" even in the largest cities. We also saw absolutely no presence of the military, in fact, we saw fewer policeman than we would see in a US city. Although the Captain handled it well, the many reefs and coral heads were definitely a source of constant attention and stress. You can't just cruise from one anchorage to another without carefully following the charts, having someone on the bow as lookout, and gingerly maneuvering between the reefs. Fortunately, our CMAP charts were right on and with a little extra care we safely sailed through the waters that claim a handful of boats every year.
The biggest bummer about leaving Fiji, is saying good bye to our great friends on Catmousses. We met Rene, Dany, and their four kids in Panama as we waited to transit the Canal. Over the last year and a half we've met up with them in many anchorages and traveled heavily with them since leaving Whangarei. They are a great family and all of us - kids and parents had a lot of fun times together. As we head to Asia, they will spend another season in the Pacific. We wish them fair winds and great experiences and look forward to seeing them in another port in the future.
Although, we loved our time in Fiji, we need to sail on, if we are going to reach Asia with the favorable winds. We still have a lot to see. But these beautiful islands are definitely a place that I'd visit again. It's also a place that you could visit and really get a flavor for the area as a tourist. But, to see the real Fiji, don't stay at one of the large chain resorts in the city, stay in one of the many small resorts on one of the outer islands and enjoy. For the crew of Imagine, it's time to head west to the islands of Vanuatu.

June 21, 2010 – Tanna Island, Vanuatu
Wow!!! Is the only word to explain our awe inspiring trip to the top of Mt. Yasur Volcano. At 361 meters (almost 1000 ft) high, Mt. Yasur is one of the world's most accessible active volcanoes. From the very small town of Port Resolution, we rode in the back of a pick up truck or a better description would be that we bounced over rutted out dirt roads for almost an hour. But the road, if you can call it that, did go almost to the top of the volcano. Once at the volcano, we nervously walked the very easy (even stepped) path to the top of the volcano. The slope is covered with boulders that have been tossed from the volcano and the black dust covers everything for miles. In fact, a guide pointed out some very large boulders which had landed near the path the week before when Yasur was closed because it was TOO active. If there is truly safety in numbers, I was somewhat comfortable by the many other "crazy" tourists climbing the stairs, as people travel from all over the world just to see this volcano.
I have to say, on this particular night, it did not disappoint. The view from the top was nothing short of spectacular. We had seen pictures and videos of Mt. Yasur from some of our cruising friends but nothing could prepare us for the natural firework display that we were about to witness. As we stood at the top, we watched fire, rocks, and ash being forcefully spit out of the crater of Yasur sometimes reaching heights well above our head. At 940 degrees C (1725 F), the heat from the volcano warmed us on a cool night. We watched with excitement, with all of the other tourists, for several minutes until one very large, hot blast, made this mother decide that we were just a little too close for comfort, so we walked down the dark path to our "taxi".


When we finally reached Imagine, we all agreed that the trip to Mt. Yasur was one of the "coolest" things that we have done on our trip. It is something that we will all remember. It prompted a discussion on all of the other "cool" things that we have seen and prompted us to prepare a new list of "Imagine's Coolest". This may not include our favorite places but those sights or experiences with the biggest "Wow" factor…look forward to seeing it in the blog in the future.

We are so happy that our trip to Mt. Yasur was such a hit because the rest of our stay at Port Resolution was less than ideal. The anchorage was incredibly rolly and uncomfortable and it rained, almost continually, for most of our stay. Although, the kids had much fun collecting the rain water in buckets, the ash in the water made it impossible to use for much on the boat. Unfortunately, the weather outside of the anchorage was even worse and forced us to stay in Pt. Resolution for a couple of days longer than we had planned. When the rain finally stopped, we desperately needed to get off of Imagine so we accompanied another group to a very small village where a local firewalker does performances for small groups of tourists. Unfortunately, while we were away from the boat, the wind shifted and all of the ash that Mt. Yasur was spewing out started to blow right over our anchorage covering Imagine inside and out. Yes, we very stupidly had left the ports open on the boat because we were so happy that it had finally stopped raining. We all spent hours washing down and vacuuming every inch of the boat. Although, the trip to Mt. Yasur was well worth the stay at Pt. Resolution, we are so ready to leave this anchorage and sail to Vanuatu's capital, Pt. Villa tomorrow.


Vanuatu - Custom Dancing
Vanuatu - Custom Dancing