October 2010

October 1, 2010 – Serangan, Bali, Indonesia


Wacky, beautiful, crazy, hot, serene, dirty, sophisticated, simple, cheap, fun, and exotic are all words that we would use to describe the small, diverse island of Bali. But without a doubt boring could never be an adequate adjective. I have to admit that our first impression of this famous island with a reputation of wealth, beauty, and exclusion was far less than desirable. The anchorage that we had chosen, due to its convenience to the tourist area, was the dirtiest, nastiest anchorage we have ever encountered. With plastic bags, garbage, and even a reported dead cat floating around the boats, we decided very quickly that we would spend most of our time touring the sights of Bali off of Imagine, and we would absolutely not be using "Flo" the water maker.


We were anxiously awaiting a visit from one of my good friends, MaryJo Reynolds, and planning all of the wonderful sights that we would see with her. But before she arrived we had to provision and we heard that Bali had a "western" grocery store. So we hit 'The Mall"! Although the mall and grocery store were not quite as big as a US shopping mall, after a month in Indonesia, we were all excited. We ate at an A and W Root Beer Restaurant, bought frozen pizzas, chicken nuggets, and a case of Pringles, and all was good. We also had to check out, Kuta Beach, the largest and tackiest tourist beach in Bali. Known for its hawkers (people aggressively selling their wares on the beach), small tourist shops, and surf, Kuta is like nowhere else that we have ever visited. Think Mexico on steroids. We started our excursion, by walking down the famous street – Poppy's Gang I – which is more like a small ally than a street. It is too small for cars but some still try to make it through, scooters whiz by at full speed, and it is lined with shop after shop after shop all selling T-shirts, dresses, hats, DVD's and any other tourist "crap" (as Marc would call it) that you could imagine. As you walk down the gang, if you even slow down and make eye contact, the shop owners will be all over you shouting, "Come in, come in, cheap, cheap". This mile long "street" leads to the beach where you are immediately greeted by ladies selling more "crap" and offering to give you beach massages, manicures, and pedicures again for "cheap, cheap". We decided to hold off until MaryJo arrived to enjoy the salon services and opted for surf board rentals for the kids.
Caroline and Grant quickly remembered their lessons, provided by Seth on Honeymoon, from the San Blas and road the waves while Noah opted for hours of fun riding the waves on a boogie board. A great day was had by all!

When MaryJo arrived, we got to experience the beautiful resort area of Bali by meeting her at her hotel in Tuban. The kids loved playing in the huge pool and the adults enjoyed catching up and relaxing together. We all agreed that MaryJo had to experience Kuta Beach and the kids wanted to show off their surfing skills so we were back to crazy, tacky tourist heaven. While MaryJo enjoyed a $5 beach shoulder and foot massage, Caroline and I enjoyed a mani/pedi for $9 for both of us. Although it was a lot of fun, it wasn't very relaxing as ladies were attempting to sell us sarongs, bracelets, necklaces, ice cream, and sodas the whole time. After a beautiful and fun seafood dinner on Jimbaron beach, which was so
fresh, we picked it from a tank, MaryJo braved the nasty waters of Serangan to enjoy a peaceful night on Imagine.

The next stop on our tour of Bali was Ubud. For $45 US total, our English speaking guide Widi, took us on a day long tour in an air conditioned van through the beautiful mountainous areas of Bali. Along the way we stopped at a silverwork factory and watched 50 men sitting in very small work areas, chain smoking cigarettes, making beautiful hand made jewelry. There is no such thing as a no smoking section in Indonesia. We also, stopped at a batik factory where women hand painted silk with gorgeous layers of multi-colored wax to create works of art (one will decorate the walls on Wolfram St. someday). One of the most unique tourist attractions that we visited was the Luwak Coffee farm where they roast some of the richest, most expensive coffee in the world and made famous to us, by the movie the "Bucket List". The Luwak Coffee, or affectionately known to us as "cat poop" coffee, is made from the red
cherry beans picked and eaten by the luwak which is similar to a cat. While the beans are in the stomach, of the luwak, they undergo a fermentation process which apparently makes them more flavorful. In tact, the beans must exit the luwak, guess how, and then are collected from the forest floor, cleaned, dried, and roasted. Seems gross, I know, but we had to sample it and it was OK but not worth the $30 for a very small bag that was being asked in the gift shop….I definitely prefer Dunkin Donuts coffee.

We visited many beautiful old Hindu temples throughout our tours in Bali. The Balinese build walled Hindu temples where they worship and show respect to the spirits and ancestors. Since each village has at least three temples, each family has a clan temple, and there are many ancient sacred temples - you can see temples everywhere, many of which are hundreds of years old. One of the most exciting was at the Sacred Monkey Forest Sanctuary in Ubud where hundreds of macaques monkeys "guard" the temple. These little creatures look very cute until the bear their fangs. Don't even attempt to come between them and their food, we know of a couple of people that were bitten - Ouch.

Ubud, now famous as the Bali location for "Eat, Pray, Love", is a very picturesque, quaint town full of shops of all kinds - clothes, art, woodwork, glasswork, and, of course, some tourist "crap" too. We enjoyed it so much that we decided to stay an extra night in our very cute, rustic inn. Although, the beds weren't very good for jumping, the kids loved the pool, which turned their hair green, and loved taking long, hot baths. Everyone, except Noah who thought that it would be too ticklish, enjoyed full massages in a salon for $7 each. Wow! And the girls - Jane, MaryJo, and Caroline had a fun night out attending an enchanting Balinese dance performance which was entirely different from any dances we have seen anywhere else in the world.

The one thing that you must understand about Bali is that shopping is a full on experience. It is impossible to buy anything without bargaining. Every hawker or shop owner starts their pricing at least two times, or often more, higher than they actually expect to receive. Then it takes several minutes (sometimes an hour) of cajoling back and forth to get to a price where everyone is happy. Through this process - you often hear, "You're killing me" and "You're crazy" but it's all in good fun. Marc, of course, loved this - I did not and he handled all of our purchases. We learned before we arrived in Bali that you are marked very early as either a good negotiator or easy prey by the color of plastic bag that you receive with your purchases. Solid black means good negotiator - striped means easy prey. For those of you who know my husband, you will not be surprised to hear that we ALWAYS received black bags. Although this process was sometimes quite tiring, it was fun and I have to give the merchants a lot of credit because they work hard for every rupiah (dollar). There is much pride in working hard and, although there is much poverty here, there is virtually no begging. I'd much prefer a little harassment to purchase something than asking for handouts…so what if I didn't really need one more $1 bracelet.

After our fun and beautiful tour of Bali, we returned for one last night out with MaryJo before we had to depart Bali and she had to fly back to Michigan. We enjoyed MaryJo's visit so much - she was the perfect, easy guest. We know that it isn't easy to fly half-way around the world and we truly appreciate her visit. Thanks also to MaryJo, we have new computer power cords, a new DVD player on the boat, many new books for the kids - including all the Percy Jackson novels, new magazines for the kids and adults, and plenty of candy! Our favorite times in our travels are when we get to share our adventure with friends and family and we feel so blessed that we have had so many visitors. Thanks - or as they say in Indonesia - TERIMA KASIH for coming MaryJo!

October 6, 2010 - Kumai River, Kalimantan, Island of Borneo, Indonesia
The orangutan reserve at Tanjung Putting National Park provided another "wow" experience for all of us! Set in the jungle along the Sungai Sekonyer river, the 415,040-hectacre national park was designed to help preserve the wildlife and habitats indigenous to the island of Borneo especially the orangutans. In 1971, Dr. Briute Galdikas began a research center to study the great red ape which only exists in the wild on the islands of Borneo and Java. Dr. Galdikas' research center also became a orangutan rehabilitation center for small orangutans who were orphaned primarily by habitat destruction and the pet trade. The goal of the rehabilitation center was to train the orphans to live back in the wild. But some believe that once the orangutans have had a taste for human interaction they want to remain with humans. This definitely seemed the case with the many orangutans that we observed throughout the reserve, as many seemed more like pets than wild animals. But they are wild and very, very strong, especially the males which possess eight times the strength of an average man. So we were always alert and careful in our interactions.
Since the National Park lies on a river, the only mode of transportation into the park is by boat - and not Imagine. There are primarily two options: One of which is Klotok which is a 25 ft houseboat that
serves as transportation and a very rustic accommodation for a one or two night slow excursion up the river. The other option is a one day speedboat trip which can seat a small group and speeds up the river dodging Klotoks and anything floating in the river and takes its travelers to the two main research center stops. Since we live on a sailboat and we are used to going slow - we weighed the option of enduring the heat, eating iffy food, and sleeping on unknown mats under the mosquito nets or buzzing down the river seeing all of the same wildlife and being back to enjoy our AC on Imagine….so we whimped out and chose the speedboat. We had a blast!!!
As part of the rehabilitation process, the research center has feeding centers set up where, once a day, they set out bananas, sweet potatoes, and the other orangutan favorites and they come to feast. This is the best place to get up close and personal with the residents. One of the nice aspects of not arriving on a klotok, is that we were on a different schedule as everyone else. Therefore, we were able to enjoy Camp Leakey, the most famous camp, without the crowds for an hour. We were greeted, literally, on the path by Sisui who is a female orangutan who has grown up around the center. She sat and laid by us and even held Grant's hand. It was an absolutely amazing experience. Our guide had worked as a ranger at the center for twelve years and knew Sisui well, so we felt somewhat comfortable with the VERY close encounter. At the center, they have an information centers which explains the history of the center and its inhabitants, as well as, provided much information regarding the rainforest habitat destruction for palm-oil plantations and furniture threatening the great red ape. At the camp you can also watch a video of the BBC Nature Program filmed at the Camp Leakey called "From Orphan to King". The movie is entertaining and educational if you are interested in more information on the center or orangutans. You'll even get to meet our new friends, Sisui and Princess.
After watching the movie, we were able to take a short hike to the feeding center. It was amazing, as soon as the rangers put the food out and started yelling, the apes appeared. Throughout the hour long process we saw close to 30 orangutans, many with babies. They are tree dwelling so often they would swing, with babies attached, right above our heads. It was so very, very exciting. But the most thrilling part was the special appearance by Tom, who is the male "King of the Jungle" here and his dominance was obvious. When Tom arrived to the food platform, everyone else scurried (including us). He must have weighed 200 pounds and we watched him hang from one tree and tear down another tree with his hands - really. After witnessing that, I kept my chimps very close to me.
After our amazing adventure with the orangutans, we hopped in our speedboat, we raced down the river on a mission to see the proboscis monkeys, which can only be found in the wild on Borneo. You have probably seen these monkeys in the zoo or in magazines. They are funny looking creatures with the large "Jimmy Durante" looking nose. Although we were moving quite quickly down the river, we spotted some swinging for the trees and stopped to take a peek. They live in troops and jump, sometimes 30 feet, from tree to tree. They are not very graceful, but it is fun to watch them and they really do look like little old men with their short fur, pot bellies, and funny noses. Check out our pics, it might remind you of someone you know.


We were all exhausted but excited when we arrived back on Imagine. It was a really great day and one that reminded us of how fortunate we are to be out here with our children. But the rest of Kumai, didn't hold much attraction for us so we didn't even drop the dinghy. Instead we lifted anchor the next day and we were off on the 500 mile sail (or motor) to Nongsa Point, Batam, our last stop in Indonesia.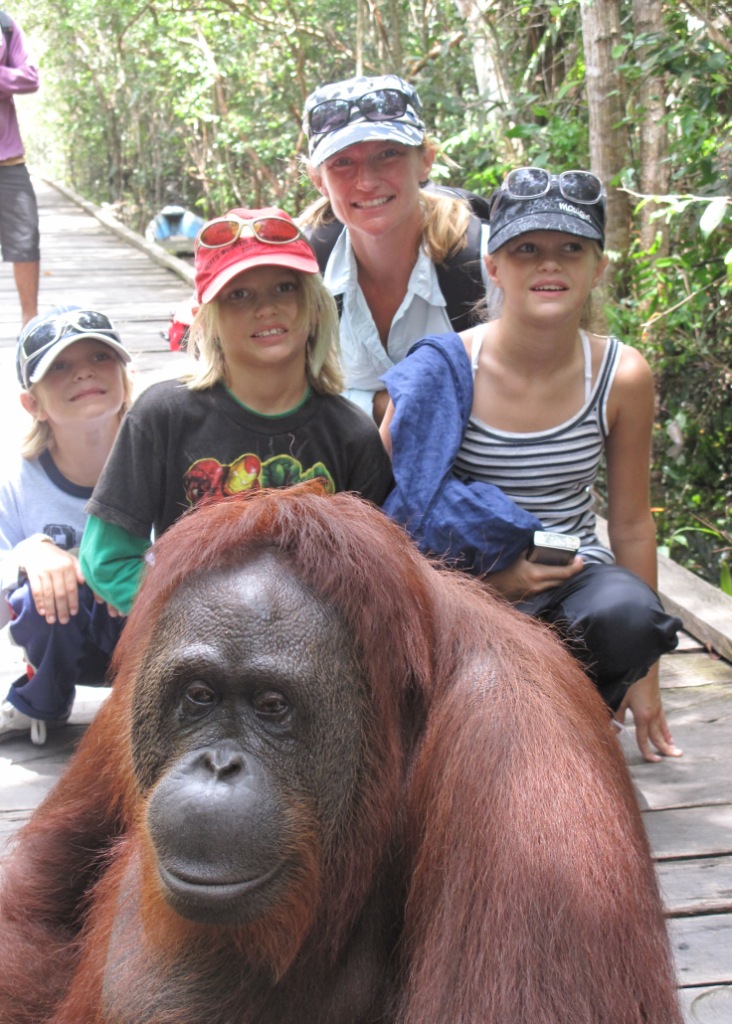 Attached are our email updates sent during our passage from Kalimanten to Batam Island, Indonesia.
October 7, 2010 – Passage to Batam
Hi all,
Well we are back out sailing. We left the island of Kalimanten, Indo yesterday morning and are headed for Batam which will be our last stop in Indonesia. Although, our stay in Kalimanten was a short one, it was memorable. We visited the orangutan reserve and got up close to the red apes....Grant even held one's hand. It was pretty amazing. We'll send pics soon.
Now we are on a 500 mile (4 day passage) to Batam. So far, the weather has been mild but the seas are busy as we are close to Singapore, one of the busiest ports in the world. Marc or I always have our eyes glued to the radar and AIS. Today we passed about 2 miles from a 1000 ft ship bound for China. We are so glad that we bought the AIS in NZ which notifies us of the position and route of all commercial vessels within 20 miles of Imagine. It is getting a workout and we're happy to have it.
Since it's calm, the kids (and teacher) have not been on vacation and we've been having full days of school.
We hope that you are all doing well and enjoying the fall. Go Bears!
Love to all,
Jane, Marc, and the kids
S02 33
E109 05
October 9, 2010 – Passage to Batam
Hey all,
Just letting you know that we are still out here doing well on our way to Batam. We had a big day today! We crossed the Equator and we are back in the Northern Hemisphere. Do we feel closer? We had a big celebration where the kids dressed up like Poseidon and toasted with Coke (usually forbidden on passages). They dropped red food coloring in the water to help make the line around the Earth and gave an offering of ginger nut cookies to Poseidon. Ginger is supposed to be good for seasickness....so we're hoping he gets the hint.
We're looking forward to getting into Batam tomorrow. We have friends there who have said that it's a very nice marina with a pool. Since we haven't been on a dock since NZ, we are excited to hook up to the electrical...which means AC as much as we want and enjoy the pool.
The passage has been OK but way too much motoring even for Jane. It's also been somewhat stressful with many rain/lightning squalls and lots of ship activity. We'll be very happy to be sleeping all night in our beds tomorrow....with AC.
We hope that you are all doing well and enjoying the weekend!
Love to all,
Jane, Marc, and the kids
N00 08
E105 12
October 10, 2010 – Passage to Batam
Hi All -
We just wanted to drop you a quick note to let you know that we arrived safely in Batam. It was quite the crazy ride with all of the boat traffic and thunderstorms but all in all everything was OK. We experienced the worst thunder and lightning storm that we have ever been in. Lightning is always scary but is definitely more scary thinking that our mast was the tallest thing going through a huge storm. What made it worse was that the storm hit us at exactly the same time we were heading into the straits where large ships maneuver. Again, we were glad to have our new AIS since radar is somewhat useless in a storm because the the huge purple blobs of the storm on the screen cover any radar from the ships.
The marina that we are in is very, very nice and we are hooked up to shore power on the dock and enjoying our AC. We are next to some new friends that we met from Las Vegas on the boat Esprit. They have a 13 yr old boy who the kids really like. They played at the pool this afternoon.
Love to all,
Jane, Marc, and the crew
October 14, 2010 – Nongsa Point Marina, Batam, Indonesia
As promised, I have put together some final thoughts and tips on cruising in Indonesia. As always, this is strictly our opinion and if you ask 10 cruisers you will get 10 different opinions. Also, as a disclaimer, the rules often change or are interpreted differently in different ports so please check all sources of information prior to your visit. For the non-cruisers out there, this may be a bit dry so for that I apologize.
First of all, to cruise with your boat in Indonesia you need a CAIT which is the term for their cruising permit. The CAIT allows your boat to be in Indonesian waters for 3 months. You must have the CAIT before you enter Indonesia and it takes about 5-6 weeks to process so this is not something that you want to wait until the last minute to do. From our research, there are only two means to obtain the CAIT: One is by contacting a company, like an agent, that will complete the paperwork for you, some of which are listed on noonsite.com under Indonesia. The other option is to join the Sail Indonesia rally which will coordinate all of your paperwork for you. From our research, you can not obtain a CAIT on your own.
If you choose to stay in Indonesia for greater than 30 days you will also need a Social Visa for all on board. In order to receive this you will need a sponsor letter which you can obtain from the same source that provided your CAIT. Once you receive the sponsor letter you can go to any Indonesian Consulate or Embassy to purchase the VISA for about $60US each. We went to the office in Darwin, where we left our passports for four days and then picked them up with the VISA which allowed us to stay in Indonesia for 60 days. This Social Visa can be extended in Indonesia for an additional 30 days for an additional fee. If you do not plan to stay longer than 30 days, you do not need to obtain a VISA before arrival.
Due to time constraints in arriving in Darwin in time for the rally start, we chose not to go with the Sail Indonesia rally and to utilize one of the companies to obtain our paperwork. We chose to use Rachel Robertson, email address glayva_4@hotmail.com. Rachel and her co-worker, Lytha were excellent and it was a very easy process. We started corresponding with them in May and wired them our payment from Western Union in Vanuatu. This payment of 2,200,000 Rupiah (approx $240 US) included our CAIT and sponsor letters for all five on board. Lytha emailed all of the documents to us in plenty of time for us to sail to Indonesia. They were very professional and helpful.
One of the very confusing aspects of cruising in Indonesia is the threat of an import bond that must be paid on your vessel as you check in to Indonesia. We checked in at Kupang and had no issues with the bond. We were required to get an agent in Kupang and we believe (it was a little confusing) that he acted as our guarantor so we did not have to pay any bond. Our agent's name was Napa, cell phone number 085239268258, but he can be found by any of the boat boys on the beach. We were able to negotiate a fee of 700,000 Rupiah ($77 US) for his services which included all of our check in paperwork. We also paid approximately 300,000 Rupiah ($33 US) as a negotiated "fee" to the quarantine officers (first time we ever "negotiated" with officials).
The other scary rumor about Indonesia, is that in every port and anchorage that you arrive in Indonesia you are hassled by officials for "presents" and endless paperwork. We had absolutely NONE of this. When we checked in, in Kupang, Napa told us that we were checked clear through to Nongsa Point and that we did not need to contact any officials in other ports. We cruised for two months in Indo and never had anyone ask for anything until we checked out of the country. It was incredibly easy and non-threatening. The only people who came to our boat were the very friendly locals selling komodo dragons carvings, pearls, or giving us coconuts. We were never once intimidated.
Now, we did we meet up with the rally in Flores and became friends with many rally boats. Most people that we met from the Sail Indonesia Rally enjoyed it greatly and were happy that they participated in it especially those that joined the Banda route to the rally. They enjoyed the many events, tours, and dinners and felt that their $500 was spent wisely. I think that it really comes down to preference and timing. If you enjoy the company of sailing with many boats in rallies and the schedule works for you than the Sail Indonesia Rally is a fine option but if you aren't a "rally person" and/or the timing isn't right, you shouldn't be afraid to cruise Indonesia in any way. With its friendly, helpful local population and intriguing sights to see, Indonesia is a great place to cruise independently.
October 14, 2010 – Nongsa Point Marina, Batam, Indonesia
Are we still in Indonesia???? It certainly doesn't feel like it. Although we have thoroughly enjoyed Indonesia, we have tired of the litter and filthy water, excessive heat, and poverty that plagued much of the country, especially since we left Gili Air. We were in desperate need of some first world accommodations and Nongsa Point Marina, just 10 miles from Singapore, was exactly what the doctor ordered. The very clean marina and resort with a beautiful pool, laundry facilities, nice restaurant and bar, and electricity to run our AC, was exactly what we all needed. What a perfect place to rest for a few days before the stressful trip across the Singapore Straits.
Although the marina and resort are fabulous there was not much else to do in the area. There is a large town with a mall and grocery store which is about 30 minutes away by taxi which can be coordinated by the resort staff. We did enjoy an adult's night out at a karaoke bar at a neighboring resort. Yes, I said karaoke. It is huge here, they even karaoke at weddings. We had our own room with Victory Cat, Esprit, and Sisutel. It was an absolute blast as Marc and the men wowed the crowd with a very robust version of "Roxanne" and Jane and Katie mellowed the night with the Carpenters.
We are docked beside the boat, Esprit, who we have sailed with quite a bit since Komodo. Chay, Katie, and Jamie, a 13 yr old boy, are a fun family from Las Vegas and we have all enjoyed each other's company.
After exactly 60 days and with our VISA expiring we must leave Indonesia. Although Indonesia is far from perfect and not the most beautiful place that we have ever visited, we accredit it as the country with the most "wow moments". With the Komodo dragons and the gorgeous water of Komodo National Park, the small villages of Flores, the charm of Gili Air, the chaotic and exotic allure of Bali, and the ability to get up close and personal to the great red orangutans make our stay here memorable. And although we had to deal with a few corrupt officials, in general, we found the people of Indonesia absolutely lovely; kind, curious, helpful, and hardworking and never threatening or unwelcoming. We all loved experiencing the wonders of Indonesia and would recommend it to all.
October 16, 2010 – One 15 Marina, Singapore
Have you ever played the video game Frogger – the little frog trying to make its way across a busy muli-lane highway without getting squashed? Well, that is the best analogy we heard to us crossing the Singapore Straits. We, along with Esprit and Victory Cat, chose a calm, clear day to cross this notoriously busy 10 mile body of water. As one of the busiest ports in the world Singapore has hundreds of boats checking in and out with their cargos daily and in order to get to Singapore, we had to cross their shipping channel. Our AIS, automated information system, which provides the boat names and information on all commercial vessels in the area, maxed out at 250 names and looked like a screen from Space Invaders. Marc, our captain, professionally and somewhat calmly guided little Imagine through the many, many ships which could be up to 1000 ft long. As I had my faced glued to the AIS, he yelled down to me, "There is one on our starboard bow, which was is going ahead or behind us… what about the one on the port side…what about the one behind us…" etc. etc. It was an exciting and pretty stressful situation, but we were rewarded greatly by our choice to go to One 15 Marina.
Wow! What a place. One 15 Marina, a three yr old marina, is, by far, the nicest marina that we have ever seen anywhere. It is attached to a large, luxury resort on Sentosa Island which is the main tourist island of Singapore. With our $25 US daily dock fee, we were allowed to use all of the resort facilities including; infinity pool, first class work out facilities, TV and movie rooms, game room, steam room, restaurants and bars, and free shuttle to mainland Singapore. After, two months in Indonesia it was like living in the lap of luxury. Not to mention, that being on a dock allowed us to use the AC again. Have I mentioned how incredibly "HOT" it is here! I'd like to say that the kids were in heaven but I have to admit that we were all in heaven!
The other benefit to going to One 15 Marina instead of other Singapore marinas is the check in process. It was SOOOO easy and CHEAP, too. After our uneventful (thank goodness) crossing of the strait, we drifted in the Western Quarantine anchorage area where we called the officials on the VHF. They quickly arrived by boat, and without ever leaving their boat, passed over a basket on a very long poll where we put our passports and boat documents. They reviewed them for a few minutes and sent the basket back with stamped passports. Really, immigration check-in was that easy. Then after tying up and getting comfortable, which included a full tour, at One15; Marc, Chay, and Tim shared a $10 taxi ride to town for the rest of check-in process. It was easy and at $30, it is one of the least expensive places that we have visited lately.
Cruiser rumors had suggested that Singapore was so difficult that you may want to just skip it. As I sit in my infinity pool and watch the kids play, I am SO glad that we didn't listen to that advice.
October 27, 2010 – One 15 Marina, Singapore
"No, don't make me leave!" I'd like to say that this was the cries of the kids but it was really me. What a place! I knew very little about Singapore before we arrived, except that it was suppose to be a modern, busy immaculate city and, wow, I was not disappointed. With a population of approximately 3 million people, the city/state of Singapore is tiny island located just south off of mainland Asia. With much of the rest of the world struggling financially right now, Singapore seems to be thriving which quickly became apparent to us with the exchange rate against the dollar – a 15 yr low for the US dollar- and the constant construction and building everywhere. Set on an island that if unkept would return to its jungle state, Singapore is a beautiful city. The mix of old Asian and contemporary architecture is stunning. One of the few things that I knew about Singapore is that gum is illegal here and I learned quickly that many other things are illegal and enforced by heavy fines, such as, eating and drinking on public transportation, spitting, and littering (big time), which is probably the reason that such a large city is so orderly and immaculate.
Although, these many rules would probably wear on us after awhile, for the short time we were here, it was so nice to enjoy a country free of clutter and litter. The public transportation system is also modern and immaculate (sensing a trend here). It is relatively inexpensive and takes you anywhere you want to go which cuts down on traffic in this highly populated area.
In the early days of Singapore's development it was a free port and led to a reputation of shopping. Now with the somewhat high prices and exchange rate, it's no bargain but the massive selection of everything, especially electronics is still here and we had fun exploring the seven story, Simlim Tower, electronic mall. We also enjoyed exploring, shopping, and eating in Little India and Chinatown. We also got our entertainment fix at the brand new Singapore Universal Studios amusement park. We all had a blast visiting "Ancient Egypt", "Jurassic Park", and "Shrek". Although it was a little smaller, it was just like Orlando except it had shorter lines, less people, cleaner, and everything was translated in Chinese.
At one point, we debated even stopping in Singapore and I'm so glad that we did. From the absolutely luxurious, first-world One15 Marina to the immaculate, modern city, to the fun of Sentosa Island – we all enjoyed our time here greatly. If we were ready to stop somewhere for awhile and work this would be the place to do it and with the amenities of the marina to enjoy, I don't think the kids would mind at all. But that's not the case and it's time to move on to the next country – Malaysia awaits.