December 23, 2010 – Phuket, Thailand
We have spent the last three weeks enjoying the beauty of Phuket and its surrounding islands with Marc's parents, Fred and Margot. One of our biggest joys is being able to share our journey with our friends and family. This scenic backdrop provided a perfect location to relax and enjoy each other's company.
Of the ten days that Fred and Margot spent with us, we spent most of our time exploring the many nooks and crannies of the islands of Phang Nga Bay. There are hundreds of small, karst like islands that dot the almost emerald green waters of this shallow bay. The best way to envision this beauty for yourself is to watch the James Bond film, "The Man with the Golden Gun." The hideout is on one of these gorgeous little islands.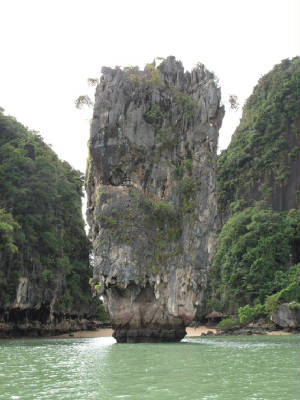 At times we felt like we were back on the remote islands of the Pacific as often we would be the only boat in an anchorage. The only real "traffic" that we saw were the many tourists going to the popular islands which we tried to avoid. We also were pleasantly surprised to have fisherman coming up to the boat selling their catch. This time instead of fish or lobster, we were able to purchase huge, fresh prawns. We purchased a kg (2.2 lbs) for about $5 US and feasted. They were fabulous and the scenery and the company made for the perfect meal.
The islands of Phang Nga are known for their "hongs" which literally translated means room. That is exactly what they are, rooms within the island. We would take our dinghy, kayak, or even walk to these rooms inside the rock walls of the islands. Some of them were just stunning.
Since Fred and Margot had to leave us before Christmas, we celebrated early. Christmas for the Adams children this year was like voting in Chicago – "go early, go often". The Adams family celebration was on one of the remote beaches that dot these islands. We enjoyed chili and a bonfire as we opened presents and sang Christmas carols. The only other inhabitants were fishermen on two small boats that were sleeping preparing for a big night at sea. When they did emerge from under the covering of the boat they smiled, waved, and seemed to enjoy watching us celebrate. It was such a special day.
We spent a couple of days exploring the big island of Phuket with Fred and Margot. One of the hits for the kids was visiting "The Big Buddha". This massive statue of sitting Buddha rests on top of the highest peak in Phuket and can be seen throughout the island. You have to drive and then walk to the base of the statue to get a real sense of its enormity as we were dwarfed by its toenail. It was also a beautiful view of the island and its many bays and beaches.
The visit with Fred and Margot was wonderful and, as always, felt too short. We thank them greatly for coming to visit us on the other side of the world and wish them a wonderful trip as they explore the rest of SE Asia.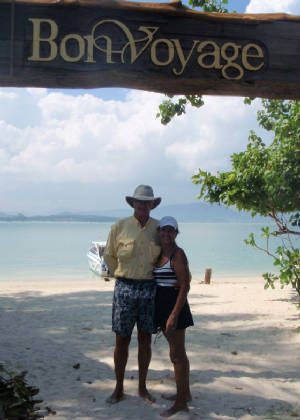 December 26, 2010 – Phuket, Thailand
Merry Christmas from Thailand!!!!! Christmas was different this year as we were not in a country primarily Christian but we were still wished Merry Christmas from everyone that we saw. We were also fortunate to be with so many of our cruising friends and especially kid boats. We spent Christmas Eve in Nai Harn Bay which was packed with about 40 other boats. The kids played in the surf ALL day long with their friends and had a fun secret Santa gift exchange with the kids from Pegasus, Orono, Anui, Red Boomer, Finale, etc. . After a gourmet meal of pizza on the beach , we hopped in the dinghy and went caroling with our friends from two other boats. What fun we had as we went from boat to boat singing the traditionals of – "Away in the Manger", "Rudolph", "Silent Night", and many, many more.
Christmas morning was just as exciting as is in any house. Noah first awoke at 2 AM and from then until 6 AM, either he or Grant were in our room every hour. Amazingly, Santa found us again and brought everyone items from their lists like an MP5 player and speakers, roboraptor, Game Boy games, Lego, and even some scuba gear. Imagine's water line is a couple of inches lower now.
Our Austrian friend, Martin on Anima, joined us for a huge Christmas breakfast, including real American bacon!! He was quickly coerced into helping the boys build their new Legos. After a fun morning, we picked up the anchor and sailed a couple of hours to meet up with another group of friends at a nearby island. We met Esprit, Tin Soldier, and Bebe and celebrated with a progressive dinner of appetizers on Bebe, a huge turkey dinner on Esprit, and pumpkin pie and cookies on Imagine. Bored of the adult discussions the kids played on the beach with Jaryd and Jamie for awhile. It was a beautiful night and we all relaxed and enjoyed our time with friends.
Exhausted, we all slept well on Imagine….though I think that Noah slept with his roboraptor. We had a wonderful Christmas but, as always, we missed our family very much. We are just so far away right now and even with computers, cell phones, and SKYPE it still feels that way on the holidays. Although, I don't want to rush our wonderful adventure, I think that it will be nice to have " Christmas in the Caribbean" next year.